Earlier this week, The Washington Post reported that the monarch butterfly, along with the manatee, is on a "big rebound." It's true that the iconic North American butterfly is in better shape today than this time last year. But it's too soon to celebrate.
A sensitive species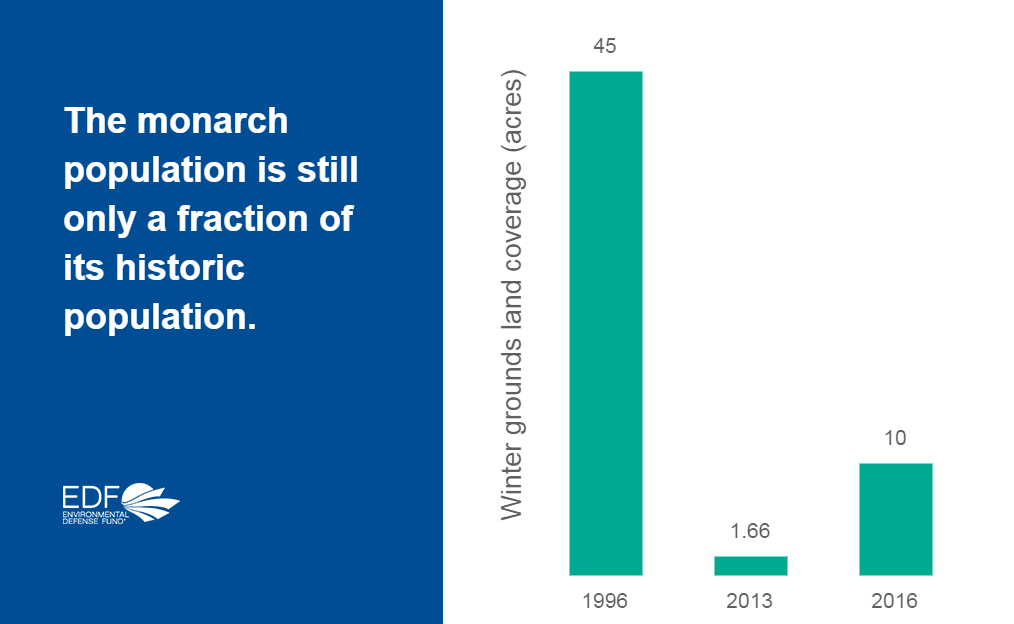 The population of monarch butterflies has historically had drastic dips and spikes. That's because the monarch is a sensitive species greatly impacted by extreme weather events.
In January 2002, the species experienced unprecedented and catastrophic mortality due to a rare freeze at its overwintering site in Mexico, killing an estimated 500 million butterflies. That's more than two times the size of today's population, even with this year's boost.
Fortunately, the monarch is as resilient as it is delicate. This year's bump in number proves that. It also shows that recovery is possible, that conservation efforts can make a difference.
Still, the general trajectory continues to point downward, with a 95 percent population decline in the last 20 years. No single good year can bring the butterfly back from the brink.
So how do we change the trajectory?
Too often, the finger is pointed at farmers. That's because much of the monarch's former foothold resided in the cornfields and roadsides of America's Corn Belt – a foothold that has disappeared due largely to increased use of herbicides in agriculture, which kills the milkweed that monarchs depend on for nectaring and breeding. But farmers are aware of this dilemma, and they are eager to help.
Since my team at Environmental Defense Fund announced plans to build a new conservation program for the monarch in January of this year, we've received dozens of emails from landowners all across the country who are interested in enrolling portions of their land in conservation.
The program is called a Monarch Butterfly Habitat Exchange. It works to provide incentives for farmers to restore and protect vital milkweed habitat on their property – allowing them to earn revenue from planting milkweed as they would for a crop.
By applying an advanced habitat assessment tool, the Monarch Butterfly Habitat Exchange can accurately determine the value of habitat on any given property and enable incentive payments to be directed to priority habitat restoration and conservation sites, ensuring maximum bang for the buck, and for the butterfly.
The butterfly's ally: Farmers
Brent Bible is one of the farmers who reached out to us after reading about the exchange in Modern Farmer. He owns a 3,000-acre grain farm in Indiana, where he's already adjusted on-farm practices to improve soil health and fertilizer efficiency.
"I just read about this program and became very excited," Brent wrote in his email. "I'd love to work with you to grow milkweed on a portion of a new farm I purchased. There is about 6 acres of currently farmed land that we would like to put into pollinator habitat through the habitat exchange."
"I think this could be a win-win-win opportunity – giving farmers a chance to bring in some additional funds to help support not losing their farm, engaging more farmers in agricultural sustainability, and ultimately helping the butterflies."
Emails like this give me great hope for the monarch's future.
Brent may be just one farmer in Indiana, but there are thousands of American farmers just like him all across the U.S. who are willing and ready to be a part of the monarch solution. With their help, I'm confident we can restore the habitat necessary to put the monarch on a more permanent path to recovery.
Related:
Monarch Butterfly Habitat Exchange >>
From California to Idaho: Protecting rural pit stops on the monarch butterfly's great migration >>