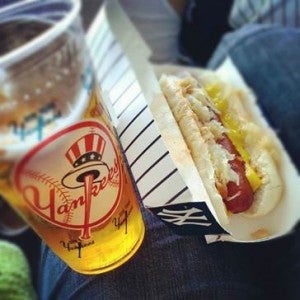 Let the games begin! America's sports teams are moving into the sustainable food arena.
A new report released by the Natural Resources Defense Council and the Green Sports Alliance highlights 20 venues that have played their part to reduce their impact on the environment. Of the 20 locations, 18 purchase produce from local farms, 17 provide organic food options, 14 compost their food, and seven use biodegradable eating utensils and plates. In order to provide the freshest food available, five venues even have their own on-site gardens.
These venues are going the distance – from the Portland Trail Blazers' Moda Center to the Pittsburgh Pirates' PNC Park – and providing fans with sustainable food options while simultaneously combating issues such as greenhouse gas emissions from food waste.
Which team's efforts are best? We asked some of EDF's sports fans (myself included!) to talk about what their favorite team's venues have done:
New York Yankees – Yankee Stadium
Stephanie Businelli, Communications Intern
My dad loves the New York Yankees. He also loves a good ballpark frank. So whenever we take a trip to see a home game, we each order our favorite stadium specialty: a foot-long hot dog with every topping imaginable. It's quite the feast. The unfortunate reality of such large portions is the remaining food, left uneaten, that often ends up in the trash. This is why I'm so excited to hear about the stadium's new locally sourced farmer's market concession stand. Not only will it provide environmentally preferable ingredients from locally sourced, sustainable providers, but all unsold food items will be donated to local community food banks after home games. Compost bins will also be spread throughout the ballpark for fans to use, so that any uneaten franks don't end up in the landfill.
San Francisco 49ers – Levi's Stadium
Sara Kroopf, Agriculture Project Manager
If you ask any resident of California what their most pressing environmental concern is, many would say it's the state's severe drought. That's why, as a 49ers fan, I was so proud to hear that my team has been doing its part to conserve water. Not only does Levi's Stadium use a Bermuda Bandera grass playing field, which requires 50 percent less water to maintain, it also uses the City of Santa Clara's recycled water system for 85 percent of its water needs. This initiative is a model of leading by example for the rest of the state and the water-stressed region.
San Francisco Giants – AT&T Park
Julie Benson, Communications Director
I'm a huge baseball fan and I've visited stadiums across the United States.  But there is always something special about rooting for your home team, and I love going to AT&T Park to see the San Francisco Giants. I was thrilled to learn that last year's MLB champions are environmental leaders as well. The stadium diverts more waste from landfills than any other professional sports team in North America and was the first MLB park to receive LEED Silver Certification from the U.S. Green Building Council. Now I can root for the home team and the home field.
Philadelphia Sixers/Flyers – Wells Fargo Center
Chandler Clay, Communications Specialist 
Philadelphia is known for its cheesesteaks, but not everyone is a fan of the juicy sliced beef and melted Cheez Whiz combo. I was a vegetarian in college, when I was at the peak of my Flyers fandom, and I remember having to plan to eat dinner before games, since there were hardly any healthy vegetarian options at the rink. I'm happy to hear that the Wells Fargo Center has now adopted a "Farm to Fan" stand dedicated to locally sourced produce, including a range of vegetarian options. With the addition of an on-site composting program and biodegradable service wear, I think I'll have to head home for a game this fall and grab myself one of the popular black bean burger wraps.
U.S. Open – Billie Jean King National Tennis Center 
Cristina Mestre, Communications Manager
Every Labor Day growing up, my family and I headed to the U.S. Open. The Billie Jean King National Tennis Center is massive, and I always remember sitting outside and grabbing lunch between matches. But we never finished all of the food. Now, the kitchens at the tennis center compost all food waste and recover 12,000 gallons of leftover grease for biodiesel. More than 180 tons of food waste are collected and sent off-site to become compost for farms and landscaping. So now this year when my husband and I enter Arthur Ashe stadium, the biggest venue in the center, we'll have more than just Roger Federer to cheer for and celebrate.