The U.S. Department of Agriculture (USDA) just announced new funding to support sage-grouse habitat conservation on working lands.
This is very promising, considering the last round of sage-grouse funding engaged more than 1,000 ranchers to conserve 4.4 million acres of bird habitat – an area twice the size of Yellowstone National Park.
That last round of funding – made available in 2010 through the Natural Resource Conservation Service's (NRCS) Sage Grouse Initiative – invested $296.5 million to restore and conserve sage-grouse habitat. Today, NRCS pledged to extend these efforts by $200 million over another for years.
Doubling down on a good investment

Folks at USDA and NRCS know farmers and ranchers, and they know that farmers and ranchers are critical to protecting the sage-grouse. After all, private lands are home to 40 percent of greater sage-grouse habitat, and many of these same ranchers have grazing leases on public lands
But they also know that the conservation activities that benefit sage-grouse can also be good for cattle ranching. Or, as USDA's Under Secretary for Natural Resources and Environment Robert Bonnie put it, "What's good for the bird is good for the herd."
So this new funding isn't just an investment in sage-grouse. It's also an investment in America's working landscapes.
Ranchers at the ready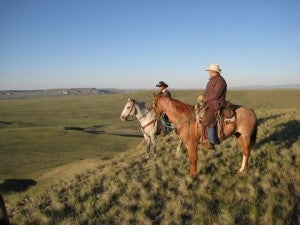 Farmers and ranchers across the bird's 11-state range recognize the central role they can play in recovering the sage-grouse. Their business, customs and culture are built on stewardship, so they are ready for the challenge.
For example, ranchers in the Upper Green River Basin of Wyoming have already been exploring the potential for a market-based solution – the Upper Green River Conservation Exchange – that can sustain both the ranch and the important riparian and wildlife habitat located on these rural working lands.
With a listing decision on the horizon, local ranchers are now working with the Sublette Country Resource Conservation District, University of Wyoming, The Nature Conservancy and Environmental Defense Fund (EDF) to develop the tools and framework to get the exchange up and running as soon as possible.
Following USDA's lead
"We're working with ranchers who are taking proactive steps to improve habitat for sage-grouse while improving the sustainability of their agricultural operations." – USDA Under Secretary for Natural Resources and Environment Robert Bonnie
We can't expect to help the greater sage-grouse without helping ranchers. That's why we at EDF are also working to make farmers and ranchers a part of the sage-grouse solution.
Through collaborative design, we are building habitat exchanges that work alongside efforts like the Sage Grouse Initiative to enlist farmers and ranchers in conservation at an unprecedented scale and pace. The hope: to secure a positive future for the greater sage-grouse and maintain a vibrant western economy.