The people over at United Suppliers are savvy. When they caught wind of Walmart's pledge to reduce greenhouse gas emissions by, in part, asking its top suppliers to reduce fertilizer losses from cropping systems, they jumped at the chance to differentiate themselves in the marketplace.
"For us, it was a no brainer," says Matt Carstens, United Suppliers vice president. "If Walmart and major food companies have identified fertilizer pollution as a business risk, it makes sense for us to help them address that risk. We want to be at the forefront of helping farmers meet these demands. It's a great business opportunity, not to mention the right thing to do.
"After all, farmers want the same thing. Reduced losses translate to increased profits and greater sustainability."
An army of advisors
United Suppliers was founded in 1963 by 30 Iowa retailers who joined forces to manufacture feed. Since then, it has grown into a wholesale organization owned by 700 locally controlled ag retailers operating 2,800 retail locations throughout the North America. This is a company with an army of field staff working directly with farmers growing corn, wheat, soybeans and other crops across 45 million acres.
So when Carstens called EDF for help in developing a program that could position them at the forefront, we rolled up our sleeves.
The result of our collaboration is SUSTAIN™, a program that will train and  authorize the company's owner retailers on best practices and precision agriculture technologies that improve nutrient use efficiency and soil health while keeping growers productive. The program takes the critical concepts of right rate, timing, source and placement of fertilizer (4Rs) to ensure more gets absorbed by crops and less ends up in water and air. Training has already begun. By the end of  2014, more than 100 field staff at the local retail level will be authorized as SUSTAIN advisors with plans to more than double that number by the end of 2015.
On the ground results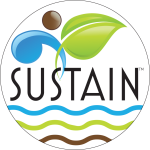 By offering specialized sustainability services to farmers, United Suppliers expects to reduce fertilizer losses on 10 million acres of cropland by 2020.
From an environmental perspective, this commitment is significant: it will cut greenhouse gas emissions by nearly 5 million metric tons and help reduce nutrient runoff into waterways, which we know causes serious problems. Growers will benefit too, through improved fertilizer efficiencies and resulting higher margins.
"We're getting the message loud and clear that sustainability in the supply chain is not a fad," says Carstens. "The sooner we ramp up, the sooner we'll be able to help producers respond to rapid changes in the supply chain.
"Today it's Walmart and a handful of very influential food companies. It's just a matter of time before other companies follow suit."