The report released this week by a group of prominent and politically diverse business leaders and public officials stood out, in part, because of the alarming losses it forecasts for America's agricultural industry.
This matters to all of us, because commodity agriculture is big business in the United States, putting food on our plates every single day.
Crop yields may drop 73 percent in some states
In the Upper Midwest, more than 520,000 farms produced nearly $136 billion worth of crops as of 2012, and accounted for 65 percent of national production of corn and soybeans alone.
According to the just-released Risky Business report, the fate of this multibillion-dollar industry is closely "intertwined with climate conditions" that are now changing in ways that will challenge sustained food production in the future.
Some of the climate change impacts we can expect in our most productive agricultural regions: extreme heat, prolonged spring downpours, and widespread and extended drought, with serious consequences for productivity.
The report's "business-as-usual" scenario projects average yield losses up to 73 percent in states such as Missouri and Illinois by the end of the century, with short-term average yield losses up to 15 percent in the next 5 to 25 years.
The Midwest region faces yield declines of up to 19 percent by mid-century and 63 percent by the end of the century.
Farmers are experts at adaptation
These findings, while alarming, may not rattle famers. They know first-hand how important it is to adapt to changing weather conditions, and have already built adaptive flexibility into their business models.
Some conventional agricultural practices such as crop switching and double or triple cropping are ways farmers are addressing weather risks today, but more is needed.
Environmental Defense Fund is working with farmers, ranchers and other industries to design cost-effective strategies that employ ecosystems to minimize rising climate risks in the future.
Advanced cropping practices such as no-till, cover crops, and riparian and wetland buffers build agricultural resilience to climate change by improving soil health, water quality and protective habitat.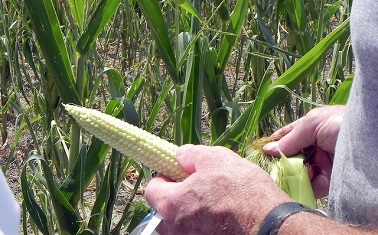 Economic incentives from emerging environmental markets and the greening of the commodity supply chain also provide new opportunities for producers to earn revenue while conserving vulnerable natural resources.

Given the importance of reducing risks to food production in the United States, and reinforced by this week's report, more emphasis should be placed on implementing these economic incentives.

As climate change puts increasing pressure on agriculture and influences land and water-use patterns, incentivizing that risk reduction and resiliency into agricultural business models will sustain farmers and the ecosystems that support and protect them.

Nobody escapes climate change, especially not farmers.