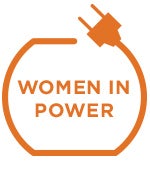 This is the fourth in a series of posts about leading women in the power, environmental science, advocacy, policy, and business sectors. To see previous installments, please use the 'Search' field in the left sidebar to search for 'Women in Power.' 
Electricity touches nearly everything we do, but most of us never contemplate what happens behind the scenes to make sure those electrons make it to our homes and businesses.
In California – just beyond the outlets, thermostats, and light switches – are more than 40,000 miles of interconnected power lines, some 1,000 generation facilities with more than 55,000 megawatts of capacity, and some of clean energy's most brilliant women in the control room.
Karen Edson is one of them and she's helping reshape California's electric grid at a critical time.
A new energy reality
A widespread drought and persistently high temperatures are taxing the state's legacy energy system – from its hydropower to its intricate web of transmission lines. At the same time, record-levels of renewable generation are flowing into the grid. Read More »