By: Greg Andeck, EDF senior clean energy manager, and Ivan Urlaub, executive director of the NC Sustainable Energy Association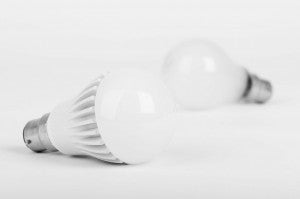 Rapid declines in the price of light emitting diodes (LED) technology suggest that the next generation of energy efficient lighting – LED bulbs – is on the verge of widespread adoption. LED bulbs will eventually make traditional, energy-hogging incandescent bulbs a thing of the past.
Price goes down, energy savings go up
In North Carolina, for example, one of the world's largest LED bulb manufacturers, Cree, recently announced a new bulb that is up to 82 percent more efficient than an incandescent bulb. The bulb sells for about $8 at Home Depot, a price that means the bulb will pay for itself in energy savings in about a year.
That's a smart energy choice in the home – and a bargain. In 2013, the same wattage LED bulb was about $13, illustrating the dramatic cost reductions that are occurring throughout the industry.
Companies adopt efficient lighting
Some of the largest companies in the world are beginning to make LEDs the default lighting choice in their buildings. Food Lion and Walmart, for example, have introduced LED lights into their in-store refrigerators in North Carolina. LEDs emit very little heat, reducing electric bills in the refrigerated section. Read More »