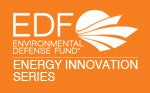 EDF's Energy Innovation Series highlights innovations across a broad range of energy categories, including smart grid and renewable energy technologies, energy efficiency financing and progressive utilities, to name a few. This Series helps illustrate that cost-effective, clean energy solutions are available now and imperative to lowering our dependence on fossil fuels.
For more information on this featured innovation, please view this video on Picarro's innovation.
With the surge in shale gas discovery and development, natural gas, which is approximately 90% methane, is a growing part of our nation's energy mix. There are now more than 40,000 shale gas wells in operation in the U.S. today – three times as many as in 2005.
Despite its great promise though, current production practices all too often impose unacceptable impacts on air, water and landscapes. Methane leakage is a key area of concern, as leaks during the production, distribution and use of natural gas have the potential to undermine and possibly even reverse the greenhouse gas advantage that natural gas has over coal or oil. This is because methane is a remarkably powerful greenhouse gas and its effect on the climate is 72-times more potent than that of carbon dioxide over a 20-year time frame. Estimates of fugitive emissions range from 1.5 to 9.0%; the truth of the matter is that no one knows for sure.
Enter Picarro SurveyorTM from the Silicon Valley start-up Picarro, which makes devices and software that detect, measure and analyze a range of gasses from acetylene and CO2 to ammonia and formaldehyde. This high-tech solution, which integrates a mobile methane gas analyzer with cloud-based, geo-informatics software, is currently in use by companies like PG&E (not to mention EDF's own scientists).
"When it comes to safety and environmental impact, we know that fugitive natural gas leaks are an important factor, which gas companies must manage carefully," said Michael Woelk, CEO of Picarro. "Our technology is making that process easier by modernizing the way these companies detect leaks along their pipelines. The result is better public safety and a healthier environment."
About the size of a suitcase, Picarro Surveyor can be installed in the trunk of a car. Additional sensors installed on the car's roof capture wind speed and direction to determine the source of even the most trace amounts of gas. The technology also distinguishes natural gas leaks from other sources of methane, such as landfills, sewers or livestock. The results are matched with GPS data via Picarro's cloud-based data processing platform, P-Cubed®, and reporting is available online to anyone with a web-enabled device and secure connection.  This allows personnel to investigate gas sources and coordinate necessary responses to repair the leaks. This real-time, networked detection system replaces the incumbent process of monitoring natural gas pipeline leaks by workers on foot patrolling areas with hand-held detectors and manually logging their results.
PG&E is currently deploying multiple Picarro Surveyors and is optimistic about its results.  "This gas detection technology is revolutionary," PG&E's EVP of Gas Operations Nick Stavropoulos noted in a PG&E video. "It is going to change the way all gas companies across the world try to find and detect leaks. It is so much more precise, so much more real-time, in terms of the information it provides us."
Picarro also layers current wind and weather data on Google Maps and satellite images, providing visual simulations that help pinpoint potential sources and predict possible affected areas.
Natural gas can have significant climate benefits over coal and oil. But only if leaks are adequately detected and quickly reduced.  New emissions detection technology, like Picarro Surveyor, make it possible for industry to implement more effective methane leak detection and repair programs today, and enables regulators to establish emission limits and detection practices that mitigate methane pollution.