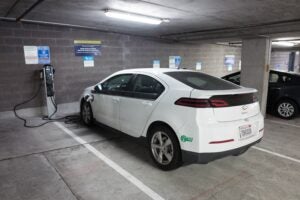 By Neda Deylami
UPDATE: Since this blog's publication on June 15, 2023, the Chicago City Council has passed an ordinance aligning and complementing its existing EV readiness ordinance with the state law. Chicago's 2020 ordinance was more stringent, requiring EV ready wiring in new residential and commercial construction rather than EV capable. Residential requirements only applied in homes of five units or more, whereas SB40 affects all new residential construction. Now, all residential parking spaces in new homes must be EV ready regardless of size. Like the state law, the updated code will require energy management systems, as well as reduction of requirements for affordable housing due to their unique permitting and funding timelines. The ordinance goes into effect for permits submitted after November 1, 2023.
The newly passed Illinois EV Charging Act will address the residential charging access gap by requiring new homes to have basic electrical infrastructure to support future EV charging and giving renters and condo owners a right to charge.
Study after study of electric vehicle owners has found that the vast majority charge their vehicles at home. The gap in access to home charging between homeowners and renters persists regardless of income. When drivers must rely on public charging, they contend with charging deserts like those seen for other public goods due to the historic legacy of redlining and disinvestment.
Transportation is the largest source of emissions in Illinois, and people of color are several times more likely to be exposed to pollution from vehicles than the average resident. With their lack of tailpipe emissions, electric vehicles have the potential to drastically improve air quality; and, as batteries on wheels, electric vehicles can help integrate more renewable energy and their lower cost of ownership will save money for drivers. However, to achieve mass adoption we need robust charging infrastructure for all.
Illinois' new EV Charging Act brings more equitable charging to renters
Click To Tweet
EV ready homes
Illinois is the first Midwestern state to have an EV building code law. EDF negotiated with a wide range of stakeholders and numerous concessions were made to ensure equity of access, which was a topline priority.
EV readiness is the idea that buildings should be built to be ready to support the demand for the EV charging we know is coming. That means reserved capacity on the panel, pipes in the wall, and depending on levels of readiness, wiring and outlets. Multiple studies have shown that building the necessary infrastructure at the point of construction adds a small marginal cost compared to the tens of thousands of dollars retrofitting existing buildings can cost.
The majority of retrofitting costs comes from burdensome and invasive construction and demolition. On average, the cost of installing an EV charging station, which includes retrofit costs, is almost twice as much as the charger itself (these "make-ready" cost savings apply to the commercial and utility sides, too).
Six states and Washington, DC have some sort of statewide EV building code law, but Illinois' would be the first to apply to every parking space in every new residence that also requires developers to plan for load management — convenient, low-cost simultaneous multi-vehicle charging for the lowest impact on the grid. While most jurisdictions require EV ready parking spaces, this legislation requires EV capable spaces instead. Because EV ready spaces include the wiring and outlets, they are more turnkey ready for charging, but slightly more expensive at the point of construction. EV capable spaces, on the other hand, are just reserved capacity and conduit, so while they will require an electrician down the line to become functional, those who choose to do so are still saving thousands in retrofitting costs.
Right to charge
Illinois is a demonstrated leader in climate legislation. In 2021, it passed the historic Climate and Equitable Jobs Act, which created transportation electrification programs and incentives aiming to put 1 million EVs on the road by 2030. CEJA elevated and prioritized equity and the needs of underserved communities. Gov. Pritzker has made concerted efforts to support EV manufacturing and jobs in Illinois, but it is not enough to just build EVs here, Illinoisans must be able to fit them into their lifestyle.
The right to charge protects renters and condo owners from unreasonable restrictions on charging from landlords and homeowners' associations. It lays out clear rights and responsibilities for everyone on crucial questions like how EV owners will reimburse electricity usage and property owners will not ignore their tenants' requests to charge. Eleven other states already have this protection for renters and condo owners.
Tackling barriers to access will make a meaningful impact on transportation emissions, air quality and people's livelihoods. Lessons learned from this effort can be translated to medium- and heavy-duty vehicles to futureproof sites and prime warehouses and other truck-attracting facilities for electrification to mitigate their pollution impact. The consequences of our fossil fuel-based transportation system are definitely not evenly felt, but whether you have easy access to one of the solutions — a clean, convenient personal vehicle — should not depend on what your house looks like or where you live.