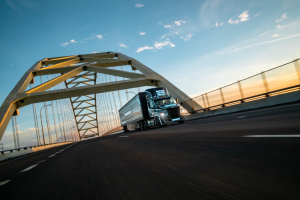 By Larissa Koehler and Alice Henderson
This week, the Environmental Protection Agency is hearing from scientists, mothers, healthcare professionals, public health and environmental advocates – including EDF – and many others who submitted comments in support of California clean truck standards.
As EPA works toward finalizing federal heavy-duty emission standards proposed earlier this year, the agency has been accepting public comment on its notices considering Clean Air Act preemption waivers for California clean truck standards, including the Advanced Clean Trucks and Heavy-Duty Omnibus NOx (low-NOx) standards. Several other states have already adopted these standards in recent years to reduce health-harming pollution from new freight trucks and buses. The ACT requires an increasing percentage of new trucks and buses to be zero-emission through 2035, while the low-NOx standards aim to reduce nitrogen oxides from new diesel trucks.
Taken together, these protections will prevent almost 5,000 premature deaths, save California billions of dollars in health care costs and create thousands of new jobs by 2035. But the Truck & Engine Manufacturers Association — a trade group of the nation's largest engine manufacturers, including Volvo and Daimler — has opposed these safeguards at the state and federal level, and is now challenging in court California's ability to implement the low-NOx emission standards.