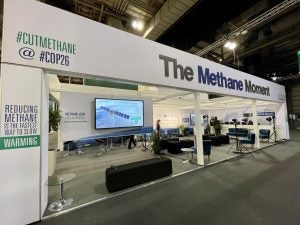 Methane had a major moment on the world's stage last week at the annual United Nations climate conference when more than 100 countries pledged to reduce global methane emissions by 30% this decade. Not only that, we also saw the U.S. Environmental Protection Agency propose enhanced protections to reduce methane pollution from oil and gas infrastructure nationwide. Both actions are critically important to help rapidly cut emissions of a potent climate pollutant that's driving at least a quarter of current global warming.
The acute focus on the world's methane problem — and consequently what to do about it — was elevated in the most recent assessment by the Intergovernmental Panel on Climate Change. But it's also been the result of tireless decades of work and effort led by scientists, policy experts and environmental advocates who have been actively studying the major sources of methane emissions in search of potential solutions. Many stopped by the Methane Moment pavilion at COP 26 to share insights about what led to this moment, and where we go from here.
Some highlights from week one:
Methane Momentum at COP26: What you missed and what's ahead
Click To Tweet
Week two of COP is already underway, as is a full suite of more methane programming, discussions and insights. Don't miss these past and upcoming VIP methane panels:
To stay up to date with everything that's happening around methane at this year's climate conference, visit methanemoment.org, subscribe to the Methane Moment YouTube channel, or follow along on twitter with #COP26 and #CutMethane.