By Rosalie Winn and Matthew McGee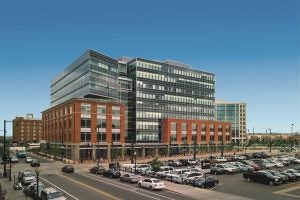 Last month, EPA held its one and only public hearing on a proposed rollback of federal methane protections.
The Trump Administration's attempt to gut rules that cut methane pollution from new and modified oil and gas facilities—the first step of a two-pronged effort to eliminate federal regulation of methane altogether—was met by near-universal condemnation from the scores of individuals who testified at EPA's Denver headquarters.
Opposition to the rollback came from many corners: parents concerned for their children's health, tribal members worried about the toll on their native lands, and investors and scientists alarmed at the threat to our economy and climate.
Protecting our health and future
Many who testified at EPA's hearing were worried about the threat of oil and gas pollution, and its impact on their families' health.
The current methane rule includes sensible, cost-effective steps that curb dangerous emissions. But EPA's proposal dramatically weakens these safeguards and puts families like the Worthingtons at risk.
Jane Worthington was clear on the need for stronger, rather than weaker EPA action. "We don't feel like there is enough protection," she said, "for EPA to rollback what we do have. Well, we feel like the EPA isn't taking care of our family."
Members of tribal communities also spoke out, pointing to the outsized impact of oil and gas production on their native lands and the threat posed to future generations.
You have until December 17 to add your name to those speaking out against EPA's methane rollbacks.
Shaina Oliver of the Navajo Nation testified that it's EPA's duty to "protect my inherent rights as an indigenous woman on this land. I have an obligation to voice these rights so that my children will continue to retain them."
Ms. Oliver, a member of Mom's Clean Air Force, also emphasized that "it's the responsibility of every man and woman who create a child to protect that child's right to clean air, land, and water."
Students also weighed in on the threat EPA's rollbacks would pose to future generations' health and environment. "I reject this proposal in the name of those whom I love and in the name of this single world that we inhabit," said Megan Thompson of Defend Our Future, "I reject this proposal because it directly threatens the future of those who come after us."
Energy experts and business leaders agree
As the world demands cleaner energy options, EPA's rollback undermines natural gas' competitiveness and its role in a low-carbon economy.
Ned Harvey of the Rocky Mountain Institute observed that, "we must anticipate a market-based premium will emerge for low-emission gas, as such, it's in our national interest to ensure U.S. gas sets the bar globally for low-emissions gas."
The investor group, As You Sow, seconded that sentiment and added that "the proposed rollback jeopardizes natural gas' reputation as a clean fuel and calls into question the role it can play in a low-carbon future."
The truth, as Lila Holzman of As You Sow put it, is that "methane emissions also pose a major risk to investors in the oil and gas industry." Industry-wide standards like EPA's methane rule are needed to mitigate that critical risk.
Curbing methane pollution is also a major economic opportunity, which EPA's rollbacks ignore.
With over 130 companies and 570 facilities in the U.S., the methane mitigation industry not only helps cut pollution, but according to Jacob Schlesinger of the Center for Methane Emissions Solutions, "has created thousands of high-skill, high-pay, and geographically-diverse jobs that cannot be offshored."
Add your voice
You have until December 17 to add your name to those speaking out against EPA's methane rollbacks.
As the Trump Administration moves toward the wholesale elimination of federal methane regulation, it's critical that we send a clear message that the American people—from western Pennsylvania to the Navajo Nation to New York boardrooms—do not want more pollution and waste.
EPA hearing illustrates broad support for methane rule
Click To Tweet