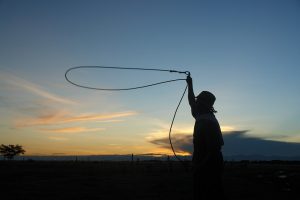 The American Lung Association released its annual State of the Air Report today, revealing what many communities have known for quite some time: air pollution from oil and gas operations is a growing concern.
Air pollution has often been a challenge for highly-populated areas of the United States, but it is an issue rural communities have largely been able to avoid. However, that seems to be changing according to the ALA's findings.  La Plata County in Colorado and Duchesne and Uintah counties in Utah all received an "F" grade due to high levels of ozone.  None has a population over 60,000 people, but each is home to significant amounts of oil and gas production.
Oil and gas operations often emit compounds that can form ozone, also known as smog. This is a major public health concern as it can increase the likelihood of developing asthma, respiratory disease and other problems. In 2013, the MIT Laboratory for Aviation and the Environment published a study that found air pollution is responsible for 200,000 premature deaths in the U.S. each year.
This isn't the first time we've seen high smog levels in rural areas brought on by oil and gas development. Just a few years ago in the rural town of Pinedale, Wyoming, excessive pollution from oil and gas facilities at times created smog rivaling that of Los Angeles – which routinely tops the charts as one of the nation's most polluted cities.
In Wyoming, Governor Mead led his regulators to quickly put sensible standards in place to require companies in the most polluted region of the state to reduce their emissions. As a result, local air pollution has stabilized and the economy and communities have continued to thrive.
Will progress continue or stagnate?
It remains to be seen, however, if this kind of progress will be replicated for other counties across the region. Standards from the Bureau of Land Management, which would reduce methane and other smog-forming emissions from oil and gas facilities on public lands, are in the process of being weakened, and efforts to reduce smog-forming pollution at the state level are uncertain.
Currently, Wyoming is poised to move forward with a project that would bring 5,000 new oil and gas wells to Converse County (currently an "A" grade on ALA's clean air listings), but without extending clean air controls statewide, Converse County could experience the same air quality degradation that plagued the town of Pinedale.
Similarly, Utah's air quality is being negatively impacted by oil and gas development. Last fall, the Division of Air Quality implemented a new regulatory framework for controlling emissions from oil and gas facilities – a good step — but left out some key elements that would have made the rule significantly more effective.
[Tweet "What ALA's most recent State of the Air Report reveals about oil and gas air pollution in the Western U.S."]
Utah's local air is so poor at times that the Environmental Protection Agency is on track to step in.  Each year the agency reviews smog data for counties across the U.S. and determines which counties might be in violation of the nation's clean air laws. Largely as a result of unchecked oil and gas pollution, Duchesne and Uintah counties are now on EPA's short list. EPA is expected to make its final decision by the end of the month, which will create an opportunity for Utah to step up and get air back to healthy breathing levels.
Pollution moves with the wind

These air quality reports underscore the importance of federal rules to address regional problems. Even if states move forward with tighter air quality controls, as they should, it may not solve air quality problems across the board – largely because air pollution doesn't adhere to state lines, it moves with the wind.  And the poor grades in La Plata County, Colorado reflect that.
In 2014, Colorado started requiring oil and gas companies to reduce emissions of methane and smog-forming pollutants.  But according to this report, La Plata — which is located on the border between New Mexico and Colorado — hasn't fully reaped the benefits of the state's efforts. This could be attributed to the fact that emissions from heavy oil and gas activity in neighboring New Mexico – which does not have strong clean air rules for oil and gas facilities – are increasing pollution levels in La Plata.
Because air pollution is free-flowing and can impact a wide swath of communities, stronger air pollution standards are needed across the board. The Bureau of Land Management is currently accepting public comments on a proposed rollback of its methane rule, which, in addition to reducing methane waste, could also bring significant clean air benefits to many counties across the American West.  If clean air and smart energy development is a priority in your community – let BLM know here.