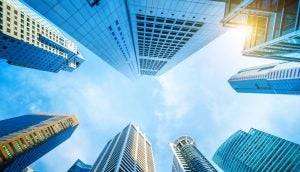 Cities around the world are taking the lead on fighting climate change, making huge commitments to reduce pollution and meet the goals of the Paris Agreement. And it's a good thing they are.
According to C40 Cities Climate Leadership Group, 75 percent of global greenhouse gas emissions come from cities, and about half of this pollution comes from buildings alone. All in all, buildings account for about 40 percent of all energy use – and up to half of this energy is wasted. With 70 percent of the world's estimated 9 billion people expected to live in urban areas by 2050, addressing energy use in buildings (and the carbon emission it creates) is essential to catalyzing cities' efforts. Reducing "building emissions" will require a toolbox of policy, finance, and engagement with public and private sector building owners, managers, and investors.
This week, a tool Environmental Defense Fund (EDF) began designing about five years ago to help investors weigh and value energy efficiency projects is becoming a global underwriting standard for building upgrades. Following successful momentum in the United States, Europe, and Canada, the Investor Confidence Project (ICP) officially joined the portfolio of global certification programs delivered by Green Business Certification, Inc. (GBCI) including LEED (for green buildings), GRESB (for real estate portfolios), and WELL (for healthy buildings).  GBCI is now providing world-class training and support for ICP's Investor-Ready Energy Efficiency ™ (IREE) certification.
[Tweet "Investor Confidence Project is the new global green building certification for underwriting energy efficiency projects worldwide."]
This is a big step forward for energy efficiency and will help cities value the energy efficiency upgrades they'll need to reduce their carbon emissions.
The energy efficiency market is valued at $1 trillion dollars, and millions of buildings are in need of investment. It should be second nature for investors to jump at the opportunity to upgrade them. But retrofit projects are complex, and the lack of uniformity for verification of environmental and financial results make investments harder to quantify financially.
Standardization is key if cities are to scale energy efficiency from a one-building-at-a-time approach to a portfolio approach. This is where the ICP comes in. It provides a basis on which to aggregate building retrofit projects in a way that makes them more investor-ready.
EDF conceived, incubated, and developed ICP to increase investor confidence in the environmental performance and financial returns of building energy efficiency upgrades. We identified investors' and building owners' need for standards that increase the reliability of projected energy savings and created a system to give them performance risk assessment tools to invest in energy efficiency far and wide.
To do this, EDF and our team of experts sought input from many of the world's leaders in engineering, finance, and real estate. We brought transparency and accountability to the energy efficiency upgrade market and standardized project processes using rigorous measurement and verification metrics in a way that makes them more attractive to investors and building owners alike.
ICP offers investors and developers a standardized roadmap to assess risk and deliver on project results by optimizing performance and monitoring the outcome of energy efficiency investments to generate financial savings. By streamlining transactions and increasing the reliability of projected energy savings through its IREE certification, ICP reduces overhead costs to bring energy efficiency projects to market.
ICP has become an award-winning framework with a powerful network of allies in the finance, energy efficiency, and building sectors. EDF's vision has always been to establish ICP as a "go-to" system that can be adapted through partnerships into key markets in cities worldwide. As part of GBCI, ICP can now give private and public investors the confidence they need to partner with cities and help make their pollution-free vision a reality.
Reducing emissions from public and private buildings will be a core component of cities' environmental strategy. We are confident that ICP, as part of GBCI, will help them make better, smarter, and faster decisions.