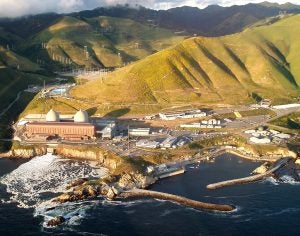 Last week, the California Public Utilities Commission (CPUC) issued a momentous final decision to close the state's last nuclear power plant, Diablo Canyon. This outcome represents the culmination of over a year of effort initiated by Pacific Gas & Electric (PG&E) in 2016. When PG&E first brought this to the commission, they called for the closure because the plant had become uneconomic in the face of customers increasingly leaving the utility for Community Choice Aggregators, like CleanPowerSF, and a changing electric grid that relies more on flexible, distributed energy resources like wind and solar.
With its recent decision, the CPUC agreed with PG&E, stating that renewing Diablo Canyon's license to operate beyond 2025 would not be cost-effective.
[Tweet "California says goodbye to its last nuclear power plant. What will replace it?"]
What does the decision entail?
More specifically, the decision includes the following allowances and restrictions as part of the shut-down process:
Employee retention and retraining. The decision authorizes approximately $172 million for employee retention and retraining to ensure the plant has an adequate number of employees through the end of its license. What's more, it gives employees who want to remain at PG&E the skills they need to take on new roles.
PG&E gets paid for relicensing activities. PG&E can recover almost $20 million for the work they did through April 2011 to renew the plant's license.
Residents do not get paid for property tax impacts. The commission denies funds for the Community Impacts Mitigation Program, designed in part to compensate San Luis Obispo County area residents for the loss of property taxes resulting from Diablo Canyon's closure.
Regulators will decide replacement in another proceeding. The decision shifts where the commission will consider and decide what resources will replace the plant to the Integrated Resource Plan (IRP) proceeding. This effort is already underway, and PG&E, along with other utilities, will submit their plans this June.
Where does this leave California?
At Environmental Defense Fund (EDF), we recognize nuclear energy can provide greenhouse-gas free electricity. However, we also agree that under these circumstances, continuing to operate an aging and increasingly unnecessary source of baseload power – or power that cannot ramp up and down quickly – doesn't make sense. Additionally, PG&E and the commission need to replace the plant carefully in order to ensure Diablo Canyon's closure doesn't come with the unintended consequence of increasing harmful carbon emissions from fossil fuels.
To that end, EDF will continue to push PG&E and the commission for an exact and clear plan about how they intend to fill the gap left by Diablo Canyon with diverse, clean energy resources. PG&E's original plan to only use energy efficiency and utility-scale renewable resources to replace the nuclear power is not strong enough on its own to achieve California's clean energy and climate goals reliably.
EDF will continue to push PG&E and the commission for an exact and clear plan about how they intend to fill the gap left by Diablo Canyon with diverse, clean energy resources.
In addition, the state needs energy management solutions like
demand response
, energy storage, and
time-of-use electricity rates
to better integrate more renewables and adapt to the state's evolving energy mix. As demonstrated by
Lawrence Berkeley National Lab's Demand Response Potential Study
, these solutions can shift energy demand to when cheap, clean resources, like solar, are abundant through price signals that make it more or less attractive for California businesses and residents to use electricity at certain times of day. They also offer a critical solution to steep increases in energy demand. Rather than turning to polluting natural gas plants to serve periods of high demand, meeting it with these clean energy solutions helps California use more renewables and rely less on fossil fuels.
In the case of energy storage, electric vehicle batteries, for example, can charge when wind and solar are available and draw on that electricity at other times when it would otherwise be powered by natural gas. Shifting how people use electricity with these tools reduces the cost of the entire system, in part because they help the state use existing, cheaper resources more efficiently.
With careful planning, the closure of Diablo Canyon will not deter California from continuing on its path as a clean energy leader for the country. In fact, replacing this aging nuclear plant with clean energy resources will continue to accelerate the transition to a clean, affordable, and sustainable electricity system.