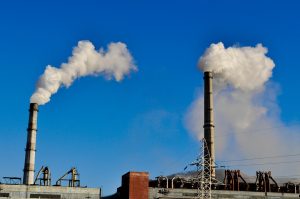 One state surprisingly stands out for reducing carbon emissions from electricity.
Ohio saw an impressive 37.7 percent drop in its power sector's carbon emissions from 2005 to 2015. Despite not having a stellar track record on clean energy, the Buckeye State, in fact, has become the nation's carbon-reducing powerhouse: In absolute terms, Ohio slashed its carbon pollution by 50 million metric tons (MMT) during that decade – far more than any other state.
No doubt the steep drop in natural gas prices during this time period played a starring role in this change, forcing numerous dirty Ohio coal plants to close. Yet, despite recurrent challenges from subsidy-seeking utilities, Ohio's deregulated electricity market and clean energy standards are also to thank. Imagine the carbon reductions that could be achieved if Ohio fully embraced clean energy technologies, and stopped trying to gut the state's clean energy standards and bail out aging coal plants.
[Tweet "This Midwestern state is the surprising standout on cutting carbon pollution."]
The numbers
The U.S. Energy Information Administration recently reported on all 50 states' carbon dioxide emissions, showing how they've changed over a decade and breaking the information down by energy sector.
It's important to look not just at the percent and absolute change in the carbon emissions of Ohio's electricity sector, but also to compare to nearby states. As the chart below indicates, although all of these states experienced significant drops, Ohio is steps ahead, especially in absolute terms.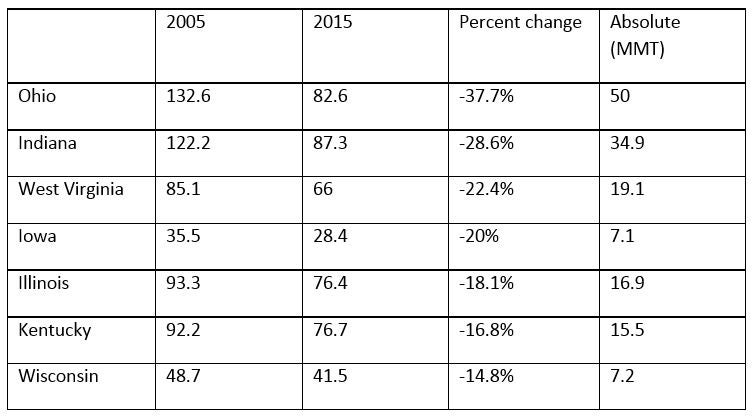 Three noteworthy reasons
As noted above, natural gas is certainly a huge factor at play (and Governor Kasich's leadership on addressing air pollution from the oil and gas industry should be commended, and we hope he continues to make progress to reduce the industry's emissions). But for all the positive action occurring, there's also been a good deal of playing defense. Here are three more factors worth mentioning.
Protecting a competitive electricity market: Beginning in the late 1980s, Ohio and 16 other states opened up electricity generation to competition, enabling customers to choose their power supplier. Competition has resulted in prioritizing cheaper fuel sources (like natural gas and increasingly wind and solar). It's also resulted in more-efficient power plants and, for customers, more-affordable electricity bills. The region's wholesale market price is at its lowest recorded level . A recent study found that since 2011, competition has enabled $15 billion in customer savings in Ohio. Yet, recently, many electric utilities have grown tired of competition, and are seeking a return to the comforts of guaranteed profits. In the past few years, leading utilities FirstEnergy and AEP have discussed "re-monopolizing" the state's electricity market, while consumer, environmental, and manufacturing advocates have introduced legislation for more competition.
Maintaining clean energy standards: In 2008, Ohio enacted its clean energy standards, which require utilities to get a certain percentage of electricity from low-carbon renewables and to increase the efficiency of operations. The Buckeye State soon became a clean energy powerhouse, creating jobs and bringing in investment. But in 2014, the state legislature shot itself in the foot and put a two-year freeze on the standards, bringing growth to a screeching halt. In 2016, some state lawmakers fought to extend this freeze indefinitely, which would have severely hampered Ohio's clean energy economy, even landing a bill on the governor's desk. Fortunately, Governor Kasich put economic growth over politics and vetoed the bill.
Beating back bailouts: As new competitors continue to challenge our century-old electricity system, some utilities have come looking for handouts to stay afloat. Nowhere is that more apparent than Ohio, which has seen multiple bailout attempts from AEP, Dayton Power & Light, and FirstEnergy, the poster child of subsidy-seekers. There were no new bailouts in 2016, but not for lack of trying from the politically-powerful utilities. Thanks to the efforts of Environmental Defense Fund and its consumer, manufacturing, and independent-generator allies, attempts to subsidize the Ohio Electric Valley Cooperative's 1950s coal plants and FirstEnergy's aging, uneconomic nuclear reactors all went nowhere. Yet this is an ongoing fight, and FirstEnergy in particular continues to sniff out subsidy opportunities. Expect the attacks to continue in 2017.
Ohio made impressive reductions in its power sector's carbon emissions from 2005-2015, and did so while keeping electricity prices low. But many state utilities and lawmakers keep trying to interfere with the market and put Ohio back on a carbon-heavy diet. Competition, bailout rejections, and the clean energy standards have brought savings and cleaner air to the Buckeye state. Ohioans could tap into myriad more benefits, if state leaders start embracing new, cleaner technologies and let the market work.