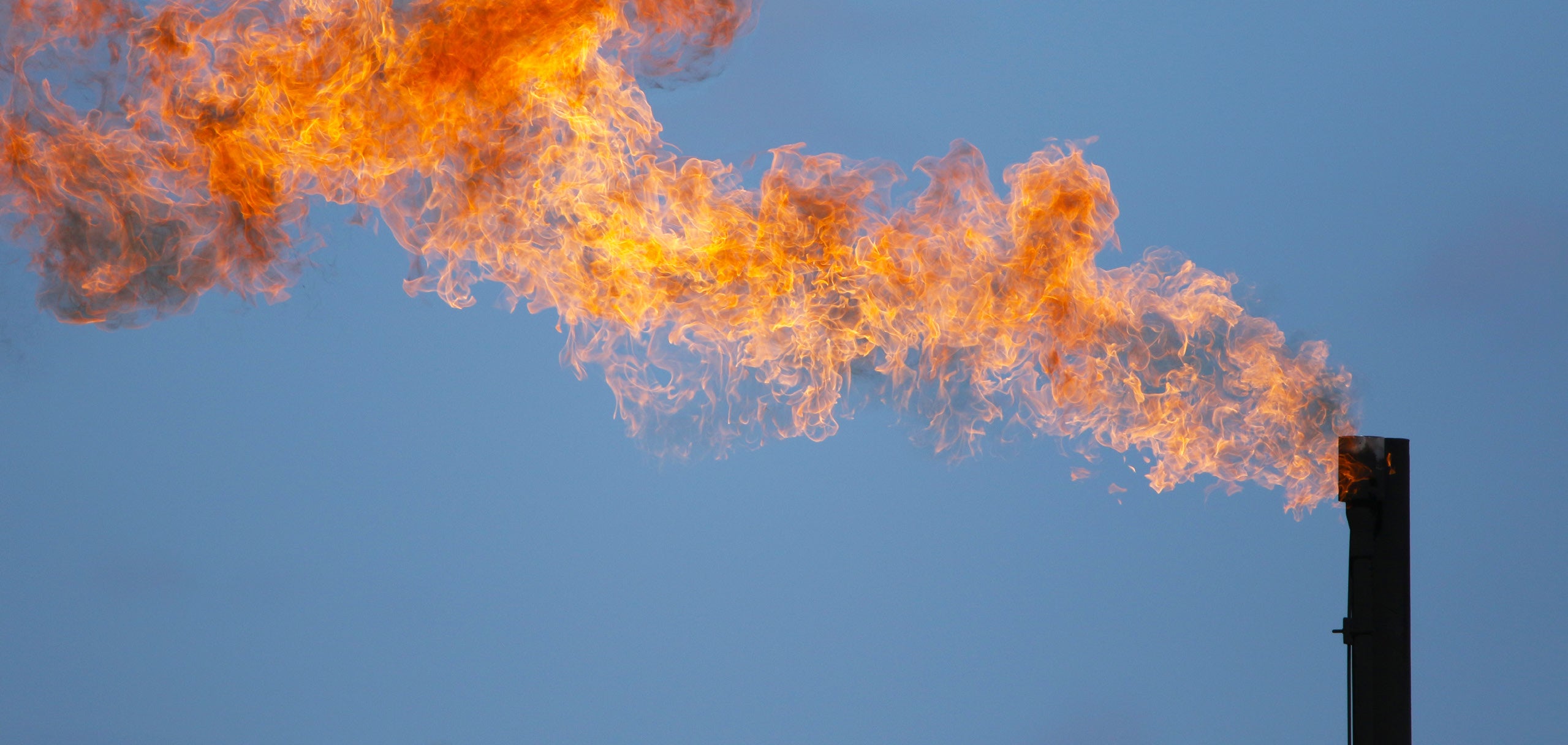 As companies flock to West Texas' Permian Basin to cheaply drill for and extract oil and gas, some operators are flooding the night sky with natural gas flares, polluting the air with unhealthy and climate-altering pollutants, and wasting copious amounts of this important, domestic energy resource.
The Permian Basin, which stretches across 75,000 square miles in West Texas and southeastern New Mexico, is in the midst of one of the largest energy booms of the century. An estimated 60-70 billion barrels of recoverable oil is located in the area, which is worth roughly $3.3 trillion at current prices, according to IHS Markit. Oil isn't the only resource in abundant supply. EIA estimates that operators in the Permian are producing 7.3 billion cubic feet of natural gas per day. But a rush to produce higher value oil has some Permian drillers simply flaring the gas instead of investing in gathering and pipeline infrastructure.
A new EDF flaring report, released this week, has uncovered a wide discrepancy between flaring rates among the top 15 oil and gas producers working in the Texas Permian Basin. Some of the oil and gas producers studied in the report are wasting close to 10 percent of their produced gas due to flaring practices, highlighting the fact that the oil and gas industry continues to struggle to control natural gas waste.
Background
Flaring is a practice by which oil and gas operators burn off natural gas (usually gas that is associated with oil production) rather than putting it in a pipeline or otherwise putting it to beneficial use. Flaring produces both carbon dioxide and particulate matter pollution and, because no flare is 100% efficient, un-combusted methane, a powerful greenhouse gas. Most oil and gas producing states flare less than one percent of associated gas.
Oil and gas industry groups have long insisted methane emission regulations are unnecessary because the industry has the economic incentive to save their own natural gas product. Yet in 2015 alone, Permian operators in Texas flared 45.5 billion cubic feet of natural gas, enough to serve all of the household needs in Texas Permian counties for two and a half years.
It should be noted that some Permian operators are doing a good job of avoiding wasteful flaring.  In fact, more than a third of the operators studied in the report generated consistent, minimal flaring rates, indicating companies and policy makers can do more to reduce gas waste and pollution through better flaring practices and policies. There may be valuable lessons from these high performing operators that should be applied and replicated throughout the Basin.
The EDF study analyzed venting and flaring practices in the Permian Basin during the high production years of 2014-2015. We then assessed how top producers performed compared to the region's average flaring rate in those two years.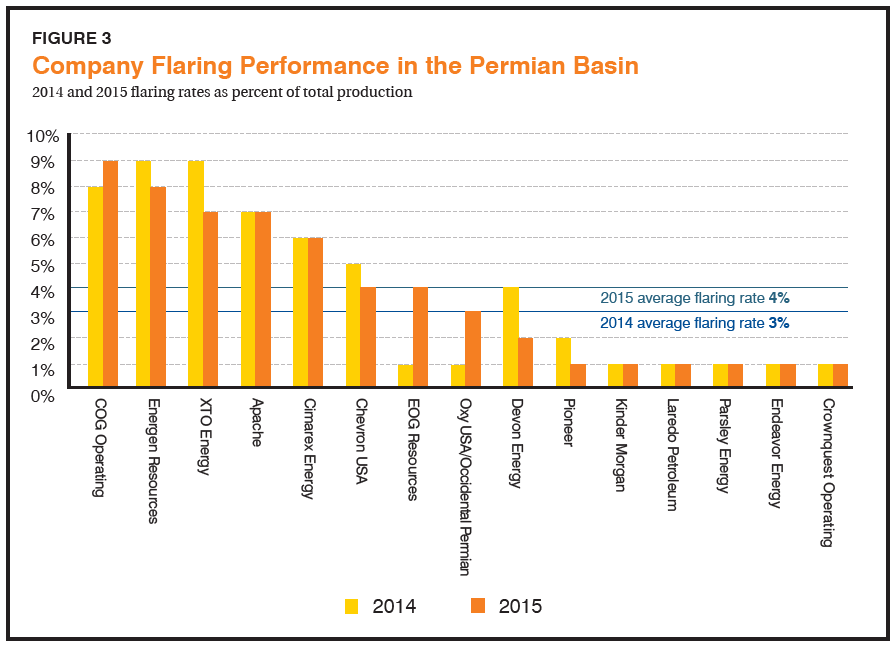 Impact on health and dark skies
With Permian oil production exceeding 2.5 million barrels per day, the report suggests that some operators are more concerned about extracting the oil as fast as possible instead of adhering to best practices to reduce waste and protect the environment.
The level of unnecessary flaring taking place in the Permian can come with a hefty environmental and health price tag for nearby communities. In addition to wasting a valuable natural resource, flaring produces methane emissions which contribute to climate change and the combustion emissions can have serious public health impacts. A Clean Air Task Force study ranked seven of the Texas Permian Basin counties in the U.S. top 10 worst counties for asthma attacks.
The new EDF report also highlights that oil and gas flaring is affecting nighttime visibility at the University of Texas McDonald Observatory, located in the Davis Mountains. The observatory is located in one of the darkest spots in the U.S. Those dark skies are under threat along with the world-class science the observatory produces.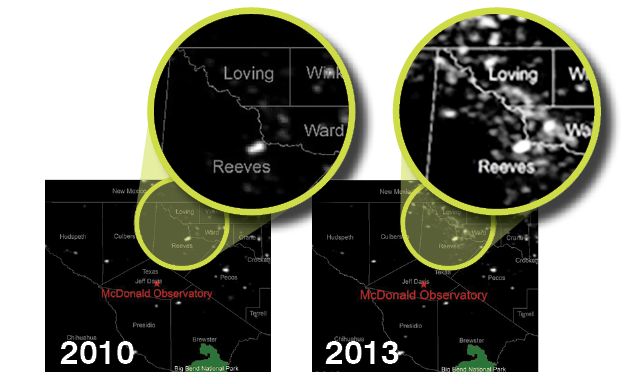 Satellite images show light visible at night increased dramatically from 2010 to 2013, with much of it attributable to oil and gas flaring in the region. Apache Corporation's "Alpine High" discovery in Reeves County will push oil and gas development to within 40 miles of the observatory.
Technology can lead the way
Many technologies already exist to help companies minimize flaring without impacting production yields. In fact, the EDF analysis found that much of the Permian's venting and flaring problem can be dealt with by handling a relatively small number of high producing leases.
More than 30 percent of Permian oil leases could deploy gas recovery solutions at minimal to no cost. And 32 percent of the leases are responsible for over 95 percent of the vented and flared gas in the state of Texas.
Regulatory recommendations
Regulations can help turn leading practices into the standard practice and not put companies doing the right thing at a competitive disadvantage. The report recommends implementing several solutions for both operators and state officials, including treating wasted gas as a viable resource, eliminating permanent flaring permits, requiring new technologies, and improving reporting processes and requirements.
The findings reiterate the need for responsible regulatory policies, especially considering the massive size and scale of the Permian energy reserve.
The full analysis of company rates of flaring in the Texas Permian is available at: https://blogs.edf.org/energyexchange/wp-content/blogs.dir/38/files/2017/11/Permian-Flaring-Report-2017.pdf