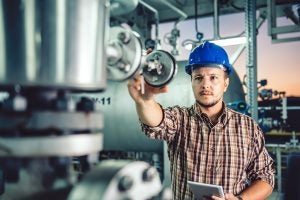 Be Prepared. It's not just the Boy Scout motto, it's also the way most smart businesses try to operate. Better to anticipate future compliance issues today and bake them into your forward planning, than to be caught flatfooted tomorrow.
That is a big part of the reason major multinational oil and gas producers like ExxonMobil and Shell have said they are already following methane pollution rules finalized by the U.S. Environmental Protection Agency last year. Despite EPA Administrator Scott Pruitt's best efforts to delay implementation of these rules, the courts have repeatedly ruled in favor of their speedy and complete implementation.
Most recently the DC Circuit last week rejected the latest attempt to undermine methane pollution limits for sources in the oil and gas sector and put those standards into full force and effect. It's a decision that shows the wisdom of ExxonMobil's and Shell's strategy to lean in on regulatory compliance (and highlights the danger for other oil and gas producers that seem to be content dragging their feet and exposing their investors to compliance risk).
A second policy shift last week again underlines the benefits of proper prior preparation from the oil and gas industry. Last Wednesday, the Pruitt EPA withdrew its attempt to extend the deadline for compliance with the new, more protective, health based standard for ground-level ozone, commonly known as smog. This decision came one day after a coalition of 16 state Attorneys General joined a lawsuit challenging the delay (EDF and partners also challenged the delay). This means that EPA will now again have to meet an Oct. 1 deadline for determining which areas of the country fail to meet healthy air standards.
This ozone decision is terrific news for residents of areas that struggle with smog pollution tied to under-regulated oil and gas development. With this decision, EPA and states should now have the impetus to continue working on a more expedited timeline to reduce oil and gas pollution and restore healthy air.
It's also a workable development for the forward thinking oil and gas companies since compliance with EPA's methane rules will also help reduce the emissions that lead to the formation of unhealthy smog. By thinking ahead on methane, these producers have also put themselves in a better position to address smog problems.
There is a real danger for the oil and gas industry in this era of federal regulatory uncertainty. By pushing the pendulum so far toward deregulation, the worst actors in oil and gas may find themselves creating the very regulatory confusion they and their investors loathe. But you don't have to take our word for it, as Kevin Book Managing Partner with ClearView Energy Partners recently told Pamela King of E&E News, "If the Trump administration veers more toward a 'rip it up' approach to rulemaking, the implication could be that uncertainty limits future investments."
A stable regulatory environment, investment certainty and cleaner air. Addressing methane is the smart move for the oil and gas industry no matter how you look at it.