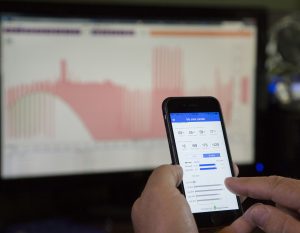 The U.S. electric grid is old and frayed, yet innovative technologies – modern sensors, smart meters, and advanced telecommunications – offer hope to update it to become more modern, efficient, and clean. What all these smart-grid tools have in common is data. How we utilize the enormous quantities of information about how we move and use electricity will have major impacts on markets, customers, the environment, and our future electricity system.
The Illinois Commerce Commission (ICC) recognized this when, in mid-February, they approved an energy data-sharing program for Illinois' largest electric utility, Commonwealth Edison (ComEd). The program, developed and advanced by Environmental Defense Fund (EDF) and Citizens Utility Board (CUB), allows companies and researchers access to anonymous energy-use data from ComEd's nearly 4 million smart meters.
This will encourage the development of energy-saving products and services designed to help Illinoisans save money. The data also will allow rooftop solar companies, energy efficiency providers, non-profits, researchers, cities, and other clean energy innovators to see which neighborhoods and blocks have the greatest potential for money-saving clean energy projects ─ ensuring no community is left behind. Moreover, this information will spur new offerings from smart home and appliance manufacturers, energy management specialists, HVAC and lighting companies, as well as market researchers.
Deeply-rooted benefits
Much like the economic and customer benefits from digital phone data, electricity data benefits multiple bottom lines:
Customers –On one level, data can empower electricity consumers, allowing them to save money and reduce pollution. That's why EDF and CUB created an Open Access Data Framework that sets the standards by which consumers can gain access to their data and work with third-party providers to act on it. The framework incorporates the Green Button Initiative that enables customers to download their energy usage data and use it to take advantage of online energy management services. Some studies have found the availability of real-time energy-use data leads to energy-efficiency gains of 15 percent.
[Tweet "How Electricity Data Can Clean Up the Economy"]
Utility companies – Data can also help traditional power plants improve operations. More information about both utility transmission and distribution systems can enable small and intermittent generators, like rooftop solar panels and wind turbines, to integrate smoothly onto and bolster the electric grid.
Entrepreneurs – The sharing of distribution-level data can fundamentally change the way utilities and third-parties operate, creating a more level playing field and opening the door for entrepreneurs to offer innovative new services to customers. As Val Jensen, ComEd Senior Vice President of Customer Operations, put it, "One of the great benefits of smart meter technology is the availability of data that will enable a growing sector of energy tech companies to design new products and pricing programs that will help customers save money and meet the growing interest for more choice and personalized services."
Researchers – Anonymous usage data – the type in the newly approved ComEd program – compiles energy usage statistics without including any personal information about customers. By ensuring confidentiality, the new program will open access to unidentified interval energy usage data for all zip codes where smart meters have been deployed. This type of information will be invaluable when assessing which areas and neighborhoods could benefit themselves and the grid the most from clean energy projects.
Illinois leading the way
Illinois is not the only state embracing the financial and environmental benefits of electricity data. A similar effort is being considered in New York as part of the Reforming the Energy Vision proceeding currently before state regulators. With states like Illinois and New York determined to prove what access to power data can do, we have even more hope in modernizing our electric grid and building the foundation for a clean economy.