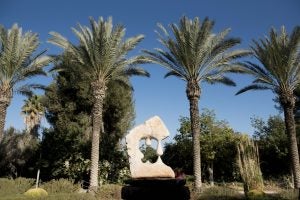 On a warm December day, I stood in a jojoba field in the Negev Desert in southern Israel and watched water slowly seep up from the ground around the trees. First a tiny spot, then spreading, watering the plants from deep below. This highly efficient system is known as drip irrigation, and I was there to meet with the world's leading drip irrigation company, Israel-based Netafim.
Naty Barak, the Netafim director who I met on the visit, notes that if the world's farmers increased their use of drip irrigation to 15 percent (up from just under 5 percent now), the amount of water available for use worldwide could double.
Drip irrigation saves more than water. Whereas traditional irrigation typically uses quite a bit of energy, drip reduces the pressure (and power) needed to get the water to the crops while reducing the need for energy-hungry fertilizers. Plus, due to the inextricable link between water and power, saving water results in further saved energy.
Texas has already enhanced its water efficiency, but it could go further and take a page out of Israel's book. By investing in thoughtful drip irrigation now, Texas could lead the nation on expanding this innovative technology and significantly reduce the energy footprint of its irrigation sector, while protecting water supplies for our growing cities and creating more sustainable farming practices.
Opportunity for enhanced efficiency
First, a little context. In the US, about 33 percent of our water is used for irrigation (compare that with 45 percent for thermoelectric power). Texas ranks second in the country, after California, for agricultural products and has more than 10 percent of the irrigated acres in the US, with about 57 percent of water used in Texas for irrigation. Due to efficiency and technology advancements in the irrigation sector, that amount of water use has remained about the same since the 1970s, despite increases in crop yield.
Yet nearly all of Texas still relies on technologies that use more water than necessary, such as sprinklers, flood, and furrow irrigation. Only about 3 percent of Texas fields are irrigated with drip irrigation. In comparison, 75 percent of Israel's crops are irrigated by drip – a huge increase over Texas, and even over California's 30 to 40 percent.
Clearly, the Lone Star State and the rest of the country have the potential to significantly increase the use of this energy- and water-efficient technology. And further technological advancements are in the works, with Texas at the forefront. In 2015, James Bordovsky, one of the senior scientists at Texas A&M AgriLife Research, received an international award from Netafim for his decades of practical research into increasing water efficiency in the cotton production areas of the High Plains region of West Texas.
Protecting food supplies
If deployed thoughtfully, drip technologies could help ensure the sustainability of farmers in the state and other dry areas.
[Tweet "Saving Energy and Doubling Worldwide Water Supplies – One Drip at a Time"]
For example, a potential game changer is the use of drip irrigation in rice cultivation. Netafim has introduced drip systems in India, China, and other countries that produce rice. By switching from traditional flood irrigation, these farmers can expect both water and power savings of 60 to 70 percent. In Central Texas, rice farmers weren't given their water allotments for four years during the most recent drought because their rights were junior to others, such as cities. With drip technology, they would be able to farm with less water and drought conditions wouldn't present as big of a threat.
Additionally, during both Texas and Israel summers, the hot, dry conditions mean crops may need additional water. At the same time, increases in electric demand for air conditioning adds pressure to already stressed and thirsty grids. Lowering irrigation's water and energy demand can help ensure crops get the water they need, and people have the power they need.
Growing demands
Drip irrigation worldwide could help us meet our food, water, and energy demands for a growing population. For example, the Dallas, Austin, and Lower Rio Grande Valley areas of the state are expected to increase municipal water demand by 90 percent by 2060, due to population growth. Texas needs to ensure that water supplies are available for all its needs, and increasing efficiency in the agricultural sector can help us meet cities' demands, too.
Increasing water and energy efficiency in the agricultural sector can help meet Texas' needs.
It should be noted that sometimes drip irrigation actually increases the total amount of water a crop uses. This is because the technology improves how well a crop can grow, thus increasing crop productivity and water use. That said, thoughtful use of drip irrigation can be highly valuable.
Netafim has created an oasis in the Israeli desert, a powerful image compared to pictures of a barren, extra-terrestrial landscape that existed before drip irrigation. To ensure the sustainability of Texas farmers, an easy step for state policymakers would be to support – financially and practically – incentives and efforts to help farmers take advantage of this water- and energy-saving process. Support could come in the form of teaching the technology's benefits, especially to smaller farms, technical training, and financing for the initial purchase of drip irrigation equipment. Doing so can protect our food, water, and energy supplies. In a changing climate, a vision of an oasis in the desert is a comforting thought.
Editor's note: Kate was a guest of Vibe Israel, a non-profit organization leading a tour called Vibe Eco Impact in December 2016, which explores sustainability initiatives in Israel.
Photo source: Shani Sadicario