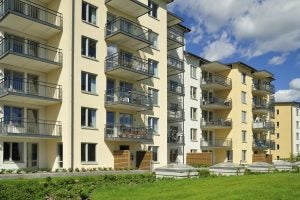 By Laura Sanchez, EDF Climate Corps 2016 Fellow
Like many booming cities, Texas' capital is experiencing overwhelming demand for affordable housing. Austin's Mayor Steve Adler highlighted the affordable housing crisis shortly after taking office in January 2015, and urged the use of Property Assessed Clean Energy (PACE) to help encourage affordability. PACE enables commercial, industrial, and multifamily property owners to improve the water or energy efficiency of their buildings – without having to worry about steep upfront costs. Investing in these types of upgrades can reduce a property's operating costs, as well as tenants' utility bills.
That's why I spent this past summer with Environmental Defense Fund (EDF), as an EDF Climate Corps Fellow with Texas PACE Authority, the PACE program administrator in the state. In June 2016, Mayor Adler created a committee of housing experts to determine how to leverage PACE for affordable housing. Alongside the committee, I worked to size up the opportunity, benefits, and challenges of using PACE to help pay for upgrades to affordable multifamily-housing properties.
After conversations with officials and program administrators from over 30 public for-profit and non-profit entities, we found there are significant opportunities – in Texas and nationwide – for the affordable multifamily-housing sector to leverage PACE. We are proud to present a new whitepaper that can serve as a guide to unlocking water, energy, and cost savings.
Using PACE for Texans' affordable housing
The affordable-housing sector desperately needs upgrades: The U.S. Department of Housing and Urban Development (HUD) reports a $26 billion nationwide backlog of deferred maintenance projects in public housing authorities alone.
[Tweet "Affordable Housing Can Save Money, Water, and Energy with this Innovative Finance Tool"]
In Texas, one potential solution lies in PACE, a market-based financing program. Local governments and the private sector work together to fund energy and water savings projects, using a property assessment that ties the financing obligation to the property itself.
There is not enough affordable housing in the United States. For every 100 extremely low income households, there are only 29 adequate, affordable, and available rental units. -Urban Institute
Prior to accepting this fellowship opportunity, I hadn't worked in the affordable housing sector. My years in the finance industry, however, taught me to cash in on a good deal when I see one. It became clear that PACE, as a standalone or complementary tool, can enhance housing affordability, the living conditions of tenants, and property owners' net operating income.
Plus, there are undeniable environmental rewards from investing in energy and water efficiency retrofits, as well as onsite power generation: PACE projects can significantly cut a building's energy or water footprint (or both!), which lowers waste and pollution. All of these benefits are realized with no out-of-pocket costs for property owners.
EDF explores these opportunities for affordable multifamily-housing properties in the whitepaper, which does the following:
Introduces PACE as a financing tool for energy and water efficiency retrofits and investments in distributed energy resources, like home solar;
Provides guidance to stakeholders in the affordable multifamily-housing sector for using PACE to help finance rehabilitation projects; and
Identifies potential pilot projects in Central Texas that serve as examples of how PACE financing might be used within the affordable multifamily-housing sector.
Accelerating PACE
Despite the many benefits of PACE financing to property owners and tenants, barriers to its widespread use remain. One critical barrier has been the lack of information and experience with new PACE programs. The affordable multifamily housing sector contains complex layers of funding – from local, state, and federal funds, to private capital – which can make adding new financial structures appear difficult or cumbersome.
To address these concerns, the paper makes several recommendations on how to effectively utilize PACE and the role policymakers can play in this effort. For one, Texas should amend the Texas PACE Act to make government-owned affordable housing buildings – both existing and new — eligible for PACE financing.
Nationally, HUD should revise its methodology for utility allowance formulas so property owners have economic incentives to invest in energy and water efficiency. These are just two ways we can accelerate PACE's progress.
A cleaner, more affordable future
Beyond the environmental benefits of clean energy and water conservation projects, there is a clear economic value in making PACE investments. It was impressive this summer to see how receptive the community was, from property owners to private lenders and associations. That said, policymakers have a long way to go. Public agencies, at the local and state level, have created regulatory hurdles in the financing structure of affordable housing properties, which discourage property owners from investing in energy and water efficient solutions.
There remains a huge opportunity in Texas and nationwide to activate PACE as a financing tool for energy and water savings projects in affordable housing. Although the EDF whitepaper focuses on the Texas market, other states can use the approach taken here – creating a coalition of public and private entities to explore PACE opportunities – to determine the benefits the program can offer.
Armed with the right tools and information, governments, property owners, and PACE administrators across the country can maximize the potential of PACE, leading to cleaner, more affordable housing for all. We hope this whitepaper will help achieve that future.
Learn more in our PACE for affordable housing factsheet.
Photo source: iStock/a40757
This post originally appeared on our Texas Clean Air Matters blog.