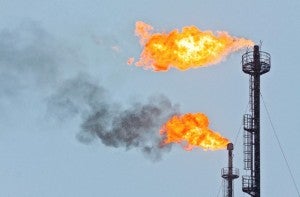 A new report reveals that harmful emissions from oil and gas development are increasing.  This is bad news for Pennsylvania families who have been repeatedly told by industry trade groups that pollution is under control.
According to the Department of Environmental Protection, in 2014 oil and gas companies emitted nearly 110,000 tons of methane – a powerful climate pollutant that's rapidly accelerating global warming. That represents an increase over the previous year. With 2016 on pace to be the warmest year ever recorded, we should be reducing methane emissions, not increasing them.
The uptick in methane emissions is not the only red flag. The DEP reports that other pollutants known to create severe health problems are also on the rise.  According to DEP, industry emitted more than 6 thousand tons of smog-forming Volatile Organic Compounds – a 25% increase over the previous year. For the nearly 1 million Pennsylvanians who suffer from asthma, this rise in smog-forming pollution is especially troubling.
While alarming, these figures still don't represent the full scope of pollution created by this industry.  The data released by the DEP merely reflects what was reported.  Many scientific studies reveal that emissions are likely much higher.  One study in Texas, for example, revealed that emissions were almost twice as high as official estimates.
Fortunately, there is clear evidence that regulations can help drive down emissions. In 2012 the EPA started requiring companies to practice "green completions" on new gas wells.  Since then, reported data indicates completion emissions in Pennsylvania have declined by over 80%.  Colorado also serves as a textbook example: in 2014, the state began regulating oil and gas methane emissions and that same year methane emissions from oil and gas production declined 10% according to data from the Environmental Protection Agency.
With oil and gas emissions going up in Pennsylvania, it's clear that the state should get serious about the problem. In January, Governor Wolf and the DEP committed to regulating industry's methane and VOC pollution but these protections have yet to become a reality due largely to counterproductive efforts from the state legislature.  How much higher do emissions have to rise before Pennsylvania communities can get the protections they were promised?
Left to its own devices, oil and gas companies have made air pollution in Pennsylvania worse.  And while we may still not know the full scope of Pennsylvania's emissions, these new figures make it abundantly clear that we need more oversight of the oil and gas industry in order to protect Pennsylvania from the rising risks of expanding development.