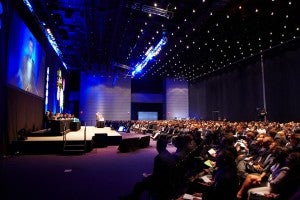 More than 1,000 people gathered in Nashville, TN this week for the summer meeting of the National Association of Regulatory Utility Commissioners (NARUC). The meeting is one of three yearly where thought leaders gather to socialize the knottiest issues of the day in regulated utility industries, including telecommunications, electricity, natural gas, and water. Two electricity debates dominated the stage and the halls during this summer's meeting: nuclear power and rate design.
NARUC meeting participants represent state public utility commissioners and their staffs, federal energy agencies, regulated industries, and special interest groups. The meetings are a place to define issues, float solutions, and begin to understand and narrow disagreements.
Nuclear power and rate design were hot topics at this summer's meeting because of cracks in the present electricity system created by new technologies and environmental regulation.
Nuclear conversation
Making electricity using nuclear energy and whether – and how –  states can keep open existing nuclear power plants were among the most debated topics of the meeting. The big question: Can existing nuclear power plants compete in the current market structure and stay open to deliver carbon-free electricity as we transition to a new clean energy economy?
Nuclear energy currently produces 62 percent of all U.S. emission-free electricity. In states with competitive electricity markets, market rules do not factor in the value of carbon benefits associated with nuclear power, and existing nuclear plants can't compete on price with new, cheaper gas and renewable energy. As a result, the owners of nuclear power plants in Illinois, Pennsylvania, New York, Connecticut, and New Jersey have publically stated they will need to retire these units unless the market rules are changed or states step up and make out-of-market payments to prop up the source until a solution can be found.
The rubber hit the road at the NARUC summer meeting when participants faced this real dilemma of carbon-free electricity plants closing on the one hand, while the country sets goals to further cut emission through state policies and the Clean Power Plan (the nation's first ever limits on carbon pollution from existing power plants) on the other.
[Tweet "Hot Topics at the Summer's Biggest Electricity Meeting"]
Chris Crane, CEO of Exelon, laid out the issue during a plenary session. He said Exelon has argued to put a price on carbon, but "we're not there and we are at a critical point." Subsequent panels got into details, exploring recent Supreme Court cases, like Hughes vs. Talen, that reveal the conflict between federal and state authority over power production within states that have competitive electricity markets. The Hughes ruling was narrow and did not offer a bright-line test for where authority lies. Some state action supporting in-state generation that does not directly set the wholesale rate may be doable, and other actions may not, but which are which is not immediately clear. State options, like bilateral contract structure, that promote certain generation within their borders, were discussed.
Different opinions were offered on the long-term impact of state action in regional electricity markets and on other market participants. A discussion between former Ohio state regulators gave two perspectives on the current Ohio debate, which centers on state action within competitive electricity markets. The only area of consensus seemed to be that additional litigation will arise as we work through the issues related to what generation actions states can take in competitive electricity markets.
Rate design
Historically, electricity rates have been designed around the idea that power companies collect money from customers for utilities. New technologies are changing the fundamental idea around which rates are designed. For example, with residential solar, a homeowner might not only buy electricity, but sell it to the local grid operator. Solar companies have grown their businesses using an existing policy called "net metering" to manage this new buy-sell relationship between homeowners and grid operators.  The continuing role of net energy metering is the current focus of debate as we struggle to find pricing that will fairly compensate solar customers and utilities.
Issues of revenue erosion for the utility and equity for all customers abound as parties to the issue try to find common practices for reform. But net metering will not be the only issue to resolve as the market brings more options to the grid: energy management technologies, demand response (a conservation tool that rewards customers for shifting their energy use to off-peak hours), energy storage, electric cars, and future technologies we cannot yet predict. The meeting included vigorous sessions focused on net metering, demand charges, and a glimpse into the potential energy data and data analysis holds in enabling this revolution.
Our way forward
The meeting didn't solve any of the issues of the day. But a recent letter submitted by Environmental Defense Fund, consumer and environmental advocacy organizations, as well as advanced electricity distribution companies, urging NARUC to continue the conversation on rate design, may offer a path forward. At the same time, the meeting did what it does best: educate, explain, narrow, test, and explore in a rapidly changing environment. It also offered a safe place for conversation and relationship development necessary to find answers that will advance the public interest.
Photo source: Cydcor/flickr