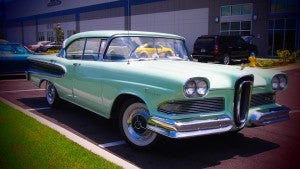 Ford launched the Edsel in the late 1950's as a new, top-of-the-line luxury car. But the project was doomed from the start because the car's design was outdated and shunned by customers. Ford closed production after only three years, losing nearly $3 billion as measured in today's dollars. Today "Edsel" is synonymous for a project that is a total failure.
Fast forward to modern day Ohio, where utility giants FirstEnergy and AEP are trying to bail out several old, uneconomic power plants, some of which also were built in the late 1950s. They are asking the Public Utilities Commission of Ohio (PUCO) to guarantee the purchase of power from these outdated plants. The FirstEnergy and AEP bailouts are a bad idea, like the Edsel, yet if the PUCO approves the bailouts, why not subsidize and bring back the Edsel too?
The main rationale for keeping the power plants open is to have a diverse supply of energy resources in Ohio – regardless of whether they are cost-effective or profitable. The utilities' definition of diversity seems to be having a mix of both modern and ancient generators. So why not bring back the Edsel in order to improve diversity? It would give car buyers more choices, even if it's a slow, unattractive choice.
The other rationale for the bailouts is to protect jobs in Ohio, where most of the power plants are located. No doubt jobs are a critical component to consider, so why not build a new Edsel plant in Ohio that would protect Ohio jobs, too? Except that would be creating jobs in a factory that makes a car from the 1950s, rather than one with modern, forward-looking technology. By approving the bailouts and propping up outdated technology, the PUCO is severely limiting the creation of new jobs in the modern-grid economy. A new report shows Ohio had 100,782 jobs related to clean energy last year, up 13 percent from the prior year. It also predicts these type of jobs will increase five percent this year. Ohio should prioritize these types of jobs in a growing, thriving industry rather than those in a stagnant sector, which has been losing jobs in recent years.
Like the power plant bailouts, why not guarantee the Edsel's success by forcing everyone to pay for the Edsel plant, even if they buy their cars from other dealers? FirstEnergy and AEP's deals would make customers pay for this polluting energy in the form of rate increases, even when cheaper, cleaner electricity is available from newer, more efficient power plants. Utilities still have a monopoly on service territories, so FirstEnergy and AEP will deliver your electricity if you live in their territory – even if you buy your electricity from another supplier. Likewise, the Edsel plant would stay open, even if no one buys the cars.
Finally, the Edsel lost billions of dollars the first time around, and would probably do so again. The Ohio utility deals are set to cost Ohioans nearly $6 billion in higher costs.
Reintroducing the Edsel, and pumping billions of dollars into out-of-date technology, may seem completely unnecessary and irrational. But if the PUCO believes the bailouts are a good deal for customers, let's bring back the Edsel.