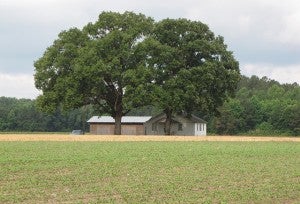 Most Americans think their electricity comes from large power companies. In North Carolina, my home state, that might mean Duke Energy or Dominion Resources. But did you know that 42 million people in 47 states get their electricity from electric cooperatives? These member-owned electric utilities were first formed back in the 1930s to provide electricity to people living in rural areas and small towns.
Today, there are more than 900 not-for-profit electric cooperatives. Their mission remains the same today as it did back then: deliver safe, reliable, and affordable electricity to rural families and businesses.
In rural areas, housing and commercial buildings tend to be older and less energy efficient, increasing energy bills. Often energy efficiency improvements, such as insulation, are overlooked when residents are faced with hard decisions about where to spend money.
Plus, qualifying for a loan to finance efficiency improvements is more difficult in economically distressed rural areas. Addressing this reality poses a significant challenge for electric cooperatives, which serve 93 percent of the nation's persistent-poverty counties, according to the National Rural Electric Cooperative Association. 
Energy efficiency is one of the most cost effective ways to have healthier homes and businesses, reduce energy use, and save money. Electric cooperatives often assist residential and commercial customers with analyzing energy use and consumption and designing programs to help facilitate the purchase of efficiency upgrades.
Some North Carolina electric cooperatives, such as Roanoke Electric Cooperative and Brunswick Electric Membership Corp., have programs that enable customers to pay for energy efficiency upgrades on their utility bills. The energy saved helps cover the cost of upgrades.
[Tweet "Electric Cooperatives Expand Energy Efficiency in Rural America"]
These programs are known as "on-bill financing." Funding comes from banks or credit unions, the cooperative itself, or even public sources, such as the Energy Efficiency Conservation and Loan Program from the U.S. Department of Agriculture.
In North Carolina, a partnership of non-profit groups formed in early 2015 to help on-bill financing programs expand across the state. The core working group includes Appalachian Voices, EDF, the Environmental Finance Center at UNC-Chapel Hill, Southern Alliance for Clean Energy, Southeast Energy Efficiency Alliance, and Southern Environmental Law Center.
Rural areas are crucial to meeting state and national clean energy goals.
Known as the North Carolina On-Bill Working Group, the coalition recently received a two-year grant from the Z. Smith Reynolds Foundation. The grant enables the working group to help rural co-ops establish on-bill financing programs and help develop resources for other co-ops considering similar programs.
In total, North Carolina has 26 electric co-ops that serve more than 950,000 households and businesses. Co-ops serve customers in 93 of the state's 100 counties.
Rural areas are crucial to meeting state and national clean energy goals, and new ways to finance energy efficiency can create jobs and provide other economic benefits for communities. On-bill financing is an effective clean energy solution that electric cooperatives can provide.
Cooperatives continue to find innovative ways to meet the needs of their members and share information with each other. On-bill programs are sprouting up around the country. They are a big win for residents, who are reducing energy use, saving money, and enjoying more comfortable living conditions. Businesses enjoy similar advantages.
Photo source: Flickr/Gerry Dincher