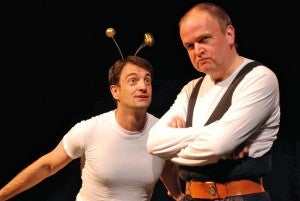 Ohio utilities FirstEnergy and AEP, as readers of this blog know too well, want the Buckeye State to bail out their uneconomic power plants. Combined, their proposals before the Public Utilities Commission of Ohio (PUCO) would run Ohioans nearly $6 billion in increased costs. We understand where the companies' greedy desire for subsidies comes from, but the arguments for them have become downright silly.
Let's review why FirstEnergy and AEP's bailout justifications don't hold up:
[Tweet "Debunking silly arguments for utility protectionism"]
AEP does say it's willing to support a few hundred megawatts of solar and wind power, but its requested subsidies would ensure dirty power plants continue operating and spewing more than a few thousand megawatts worth of pollution.
Their strongest – although unspoken – argument seems to be political influence. The powerful utilities have made generous campaign contributions and hired trusted advisors to key elected officials, but the proposed "deals" are bad for business, reliability, customers, and the environment.
The PUCO should see right through these silly arguments and reject FirstEnergy and AEP's requests for subsidies.
Photo source: Wikimedia/Joan Bryans