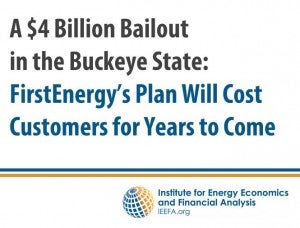 FirstEnergy's plea to keep four aging power plants alive will cost Ohio customers almost $4 billion, according to a new study out today by the Institute for Energy Economics and Financial Analysis (IEEFA). The proposal is currently in front of the Public Utilities Commission of Ohio (PUCO).
The report, entitled A $4 Billion Bailout in the Buckeye State, outlines in clear terms how the utility giant hopes to force Ohioans to subsidize the continued operation of its outdated power plants, put customers on the hook for those plants' escalating costs, and ensure future profits for FirstEnergy executives and shareholders.
FirstEnergy executives know economics are not on their side
Specifically, FirstEnergy's Ohio utilities have proposed what they call a Retail Rate Stability Rider (otherwise known as a "bailout") through which the costs and risks of three coal-fired plants (named Sammis, Clifty Creek, and Kyger Creek) and one nuclear reactor (named Davis-Besse) would be passed on to the utility's captive customers. According to the IEEFA report,
These plants were all spun off to a deregulated affiliate created in 2000, when FirstEnergy expected that it would be able to earn substantial profits by selling energy and capacity into the competitive wholesale PJM markets. However, FirstEnergy clearly does not believe that the units are currently profitable. Nor does it believe that expected market conditions will make the units profitable in the coming years."
In other words, FirstEnergy once embraced competition, thinking it could make lots of money selling power into regional markets. The corporation instead made lots of bad business decisions, like doubling down on coal investments. Not only are several of its generators no longer profitable, but they will remain uneconomic for years to come. FirstEnergy executives, says the report, "recognize this reality, which is why their proposal aims to transfer costs and risks to consumers."
That is, the utility's well-paid executives realize market forces are aligned against them. Consider, for instance, "the precipitous recent decline in natural gas prices and the decline in the cost of generating power at natural gas-fired power plants." Other headwinds include the dramatic drop in renewable-energy installation costs and the flat growth in electricity demand because customers are cutting their waste by increasing efficiency.
Moreover, the report points out how FirstEnergy's power plants are old – and getting increasingly expensive to operate. As generators age, their maintenance costs rise, they need additional capital investments, and their performance degrades. Utility executives recognize these facts, too, and they'd prefer shifting those rising costs to their customers.
Report findings reinforce high costs and big risks
The report also addresses the cost implications of the bailout. FirstEnergy claims its subsidies eventually will produce $561 million in benefits, yet IEEFA notes the utility has failed to make public its calculations and economic assumptions. Based on testimony before the PUCO, FirstEnergy is assuming natural gas prices will rise significantly, allowing their now-uneconomic power plants to better compete. As mentioned above, gas prices have been falling because new exploration and drilling technologies have increased supplies substantially. There is no sign of low natural gas prices going away.
Using more realistic assumptions, IEEFA calculates the subsidies will result in extra charges – at the hefty price of $4 billion – rather than benefits. This staggering cost mirrors the $3.9 billion predictions of the Ohio Consumers' Counsel.
By looking at the economics of coal-fired power plants in other parts of the country, the report offers further evidence that FirstEnergy's proposal is risky. The market for merchant, coal-fired power plants is essentially in free fall. According to the study,
Dynegy bought the Danskammer plant in Newburgh, N.Y. (along with a partial share of the Roseton plant) for $900 million in 2001. When the plant was resold in 2013, its value had plummeted to $3.5 million. Dominion Resources sold its 1600 megawatt Brayton Point coal plant in Southeastern Massachusetts for an estimated $55 million in 2013, shortly after spending $1 billion to complete capital upgrades on the plant. One month after acquiring the plant, the new owner announced a decision to retire Brayton Point in 2017."
The same market forces that have reduced the value of these coal plants also apply to Sammis, Clifty Creek, and Kyger. FirstEnergy's solution: transfer the costs and risks of those plants to customers.
The report makes several other important and telling points:
FirstEnergy claims its proposed deal would promote resource diversity, when it actually would merely subsidize the continued operation of uneconomic generating units and expose customers to significant risks. The intention of resource diversity is to reduce risk.
The bailout is a piece of FirstEnergy's larger strategy to "re-regulate" (what we have called "re-monopolize") some of its struggling power plants by shifting the costs and risks of those plants to ratepayers, while guaranteeing a 10.38 percent return on equity each year for FirstEnergy and its shareholders on the plants in question. Higher returns mean bigger bonuses for executives and larger dividends for stockholders.
The FirstEnergy proposal is "a bad deal for Ohio customers:" It would lock Ohio into subsidizing the continued operation of aging and uneconomic power plants, while hindering opportunities for lower cost and cleaner energy resources that could provide jobs and significant economic benefits for the state.
Any which way you look at it, the subsidy plea only favors FirstEnergy – and leaves Ohioans to shoulder the brunt of the deal. Here's hoping the PUCO commissioners read the report carefully.