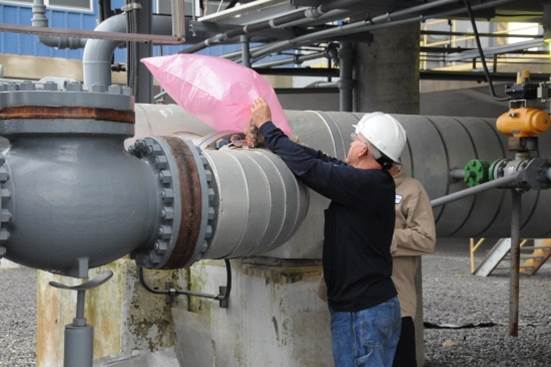 A study published today in Environmental Science & Technology confirms official figures from the Environmental Protection Agency showing that an enormous amount of methane – about 80 billion cubic feet per year – is escaping from thousands of key nodes along the nation's natural gas interstate pipeline system. This equals the 20-year climate impact of 33 coal-fired power plants and more than $240 million worth of wasted natural gas per year, enough to meet the yearly heating and cooking needs of over a million U.S. households.
The study also shows the limitations of voluntary measures to address the industry's methane problem. Companies that volunteered for this study, for example, reported emissions 30 percent lower than companies that were not involved. For some equipment, the difference was more than seven-fold. The performance gap between volunteer and non-volunteer companies reinforces doubt about industry claims that it can manage methane emissions on its own, underscoring the need for standards that create a level playing field across the sector.
Major Challenge, Big Opportunity
The study also confirms that major emission sources are widely distributed, intermittent, and unpredictable. In this case, a relatively small number of large leaks from ill-performing equipment and facilities accounted for 40 percent of the methane leaking from the country's pipeline transmission and storage infrastructure.
The problem is that it's incredibly hard to predict when and where these emissions sources occur – at any time, various pieces of equipment can be leaking, so the real-world challenge for operators is finding and fixing malfunctions quickly. Once again, this finding suggests the need for a broad-based monitoring and repair requirement.
The oil and gas industry is the nation's largest industrial source of methane pollution, with emissions leaking out from various points across the supply chain (production, gathering, transmission and distribution). This latest study reports emissions for the transmission and storage sector, the industry's hub and spokes, that includes over 2,000 compressor stations distributed along 300,000 miles of pipeline traversing the nation with underground storage facilities and other associated equipment.
Evidence for Action Builds
Methane is a short-lived, powerful greenhouse gas pollutant, and because it is the main ingredient in natural gas, also represents a waste of a valuable energy resource. The study release comes at a time when federal and state regulatory agencies are considering a range of measures to potentially limit emissions from oil and gas operations.
The new study is the second published based on research led by Colorado State University, which involved the most comprehensive on-site measurement campaign to date of this sector. It was organized by EDF as part of a groundbreaking series of 16 studies examining how much methane is escaping from the natural gas supply chain and where it's coming from.
Proof of What's Possible
The results of this study suggest that transmission companies have made site improvements since the 1990s like replacing old reciprocating compressors with newer devices that emit substantially less methane. Determining the rationale for those changes (i.e., whether they were intended to reduce leaks or for other purposes) was outside the study scope. Efforts by companies to upgrade infrastructure are nevertheless encouraging, and show what can be achieved through technology improvements – when and if those steps are actually taken.
The researchers' model also indicates facilities subject to EPA reporting — those with annual greenhouse gas emissions greater than 25,000 metric tons carbon dioxide-equivalent – actually emit over twice the methane they reported. Researchers attribute this to the program's reporting requirements, suggesting opportunities exist to ensure significantly more complete accounting from the transmission and storage sector.
Good News/Bad News
While this study reveals some encouraging findings, it also indicates that not all in the industry are making the same effort. The best way to ensure that all companies are taking necessary steps to best identify leaks and update equipment is through comprehensive regulation. BLM, EPA and several leading states are already in the process of developing regulations, and as this study indicates, it is important to include in those rules rigorous requirements for finding and fixing the leakiest equipment.