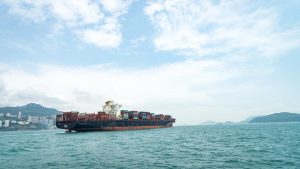 After decades of sailing under the radar, international shipping and its climate impact is gradually getting more attention from other actors than just environmental non-governmental organizations. The shift has also been obvious at the most recent UN Climate Change Conferences.
Last year in Glasgow, signatory countries of the Clydebank Declaration pledged to establish green corridors, i.e. routes between two ports that offer bunkering options for vessels running on low or zero-carbon fuels to decarbonize international shipping. Since then, we have seen over 20 such corridors proposed. This effort was ramped up by this year's launch of the Green Shipping Challenge by the representatives of Norway and the United States at COP27 in Egypt. More than 40 countries, ports and companies made announcements addressing the shipping industry's transition at the policy and technology levels. The Challenge also involves a significant pledge to establish U.S. green shipping corridors, including a new green route between the U.S. and the Republic of Korea, and between the U.S. and the United Kingdom. However, the question remains whether the pace and focus of these corridors are impactful enough to navigate the global sector towards decarbonization.
Green shipping corridors: criteria for success
Click To Tweet
International shipping must reach zero-emission by 2050 and align with the 1.5°C temperature goal of the Paris Agreement. For this to happen, the emission curve will have to start bending during this decade and decrease rapidly over the next 20 years. This means the sector needs to replace fossil fuels with alternatives that do not emit greenhouse gases at any point in their lifecycle. There is currently no one-fits-all solution on the horizon — it is possible that several different fuels will be used to power ships. Taking into account that the lifespan of a ship is around 25 years, vessels being ordered and manufactured today should be compatible with these future fuels as they will likely still be in operation in the mid-2000s.
Green corridors can play a major role in shipping's energy transition. But considering the existing pledges, much more needs to be done. It is important for the many shipping stakeholders — including regulators, governments, ship owners, operators, charterers, cargo owners, ports and port communities, fuel providers and investors — to work together to achieve decarbonization goals.
When designing new clean shipping routes, the following criteria should be considered:
Inclusive vessel type focus
Most of the proposed green corridors focus specifically on container ships, which are the most climate-polluting shipping segment. They are often referred to as a "low hanging fruit" due to their predictable sailing schedule, more straightforward stakeholder mix (owner and operator are usually one company), and that they transport more relatable cargo, making it easier to justify increased costs to end consumers. Container ships, however, only account for less than a quarter of the sector's emissions (Figure 1). Due to the nature of the goods they transport, most of these ships sail between East Asia and Europe or the United States. These predictable routes are reflected in many of the announced green corridors, for example between Singapore and Rotterdam, and Shanghai and Los Angeles.
Other ship types are more challenging due to their less predictable routes, but a more pragmatic approach can include them in the green corridor movement. While some ships — such as cruise ships or ferries — typically move between two ports, or along a given route, this is not the case for many other ship types, especially tankers or bulkers. Even these ships, however, show some patterns based on the cargo they carry. The highest concentration of bulk carriers can be found in ports close to places where their cargo originates, like mines, and are typically located along the coast of South America, the southern part of Africa, Australia and South and East Asia. For oil tankers, these hotspots would be in oil-exporting countries (Figure 2). Therefore, creating a green network of ports in these regions could help trigger a clean transition for the types of vessels that are currently overlooked.
To date, only one bulker and one tanker corridor have been proposed, between Western Australia and East Asia and between Rotterdam and Algeciras, respectively. Many more corridors of this nature are needed, and they must be set up in a coordinated effort to include key ports. This collaborative effort can ensure that ports offer the same alternative fuel option, which in turn will increase the segments' confidence in alternative fuels and send a clear message that zero-carbon fuels work for all ships, not just containers.
Figure 2 – Map of the main oil, coal and grain exporters, 2020-2022. Aggregated data from the International Energy Agency (oil exports 2022, and coal exports 2020) and from the Observatory of Economic Complexity (grain exports, 2020)[2].
Geographic distribution and equitable transition 
The transition away from fossil fuels will not happen overnight and we cannot just wait and see how green corridors work out in the global north before we begin acting in the rest of the world. More must be done to bring developing countries on board and suitable financial instruments must be applied to support them.
The current geographic distribution of green corridors is related to the major emphasis on containerships. They cover some of the world's largest and busiest ports and are heavily focused on goods heading to markets in developed countries, or trading between developed countries. Examples include the European Green Corridors Network, an initiative to create a network of green corridors in Northern Europe and the Baltic Sea, and a similar project in North America which would establish a green corridor between Alaska, British Columbia and Washington. This is a good start, but shipping's clean transition must be inclusive and accessible to all countries.
For years, Environmental Defense Fund has argued that the shift to clean fuels will attract investment and other socioeconomic and environmental benefits, especially to developing countries. For that to happen, developing countries must be included in the green corridor movement. Many have excellent conditions to become electro fuel producers, and that should be leveraged.
Some may argue that including the global south in the transition now will increase the cost of shipping and have an overall negative impact on developing and least developed economies. However, when the International Maritime Organization adopts a carbon price, shipping will become more expensive regardless. Eventually, fossil fuels will be completely phased out, ports will have to start offering clean fuels and ships will have no option but to use them. Moreover, many developing countries have the right conditions to become fuel producers. By including them in green corridors, this opportunity can materialize and they can boost their economies while decarbonizing their maritime and possibly other sectors.
Currently, the supply of very low and zero-carbon fuels is extremely limited. Before production is scaled up, there is likely to be supply competition, not only within shipping but in some instances, competition with other sectors. Being an early mover in the context of green corridors and decarbonization can guarantee a supply of a given fuel, an opportunity that should be afforded to developing nations, who may not be able to financially compete down the line.
3.Rethinking ports and their impact on communities
 Communities in port cities, especially those in developing countries, suffer from adverse environmental impacts of shipping. Despite at least 15 of the world's largest 20 cities being ports, only Shanghai has been covered by a green corridor initiative to date.
Decarbonizing shipping brings many environmental benefits, including but not limited to improved air quality and noise levels. Green corridor plans must consider more than simply offering a zero-carbon fuel or being able to accommodate zero-emission vessels. They should create a new, future-proof design that will work not only for shipping but also for port communities.
Transforming ports into zero-carbon fuel hubs brings many challenges, some of which we may not even be aware of yet. In addition, some alternative fuels can be very dangerous if not handled properly, as shown in our upcoming study on the impact of ammonia spills on the marine environment. It is possible that the logistics in ports will have to be altered and, especially in multifuel ports, they may involve major landscaping changes. This brings an excellent opportunity to rethink how our ports are designed and used and what the implications for port communities are. It is also a chance to improve ports' resilience. Our report Act now or pay later shows that ports face major challenges due to sea level rise and more frequent and severe storms. The costs of adaptation to these phenomena can reach up to US$176 billion by 2050[3]. Taking all these factors into account can result in resilient, climate and environment-friendly ports with flourishing communities.
Worldwide impact 
The pathway to decarbonization shows that zero emission fuels need to make up 5% of the international shipping fuel mix by 2030 to enable decarbonisation in line with Paris goals (see Figure 3). While this may be achievable, we must ramp up our efforts in terms of covering more geographies, shipping segments and stakeholders, to reduce the risk of failure.
Green corridors have become very popular and being involved in one is now almost a matter of prestige. It has almost turned into a race to see who joins in sooner, and perhaps the initial ambition of green corridors has been forgotten. It almost seems that obtaining the green corridor status has become more important than decarbonizing the sector. With resources currently limited, both in terms of finance and fuel availability, it begs the question of whether we really need over 10 green ports across Europe at this time, some being less than 30 miles apart, and whether they would be more impactful elsewhere.
Another question is whether establishing a green corridor to eventually service a handful of ships is good enough to move toward decarbonization. Most corridors currently on the table are in the feasibility study phase, which has to successfully conclude before seeing changes on the ground. Most of these projects are aiming for a demonstration project — it is important to look out for what happens after the demonstration project, and whether the project transfers into a lasting solution.
Green corridors are an excellent tool that will, together with other measures and policies, help navigate the shipping sector towards decarbonisation. However, it's important to focus on the goal of decarbonisation in these projects and work to create a more coordinated, inclusive and better-distributed network of green ports to support shipping's decarbonization and ensure that their communities and environment thrive.
[1] It is worth noting that the only green corridor targeting the tanker segment is looking at green hydrogen carriers, and is not looking at decarbonizing the existing fleet of oil/fossil fuel tankers.
[2] For the purpose of this figure, "grain" gathers cereals (wheat, meslin, rye, barley, oats, grain sorghum, buckwheat, millet, canary seeds and other cereals) as well as oil seeds and oleaginous fruits; miscellaneous grains, seeds and fruit, industrial or medicinal plants; straw and fodder.
[3] Prediction based on RCP8.5 scenario which assumes little action is taken to tackle GHG emissions globally.