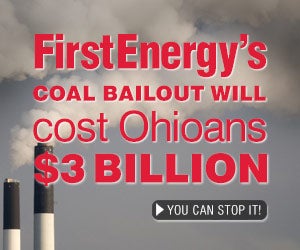 In the past few weeks, I have written extensively on the $3 billion bailout proposed by FirstEnergy, the giant utility that provides electricity across Ohio and multiple other states. For those of you who want to catch up on what FirstEnergy is up to and why the proposal is such a bad idea, take a look at our recent blog posts on the topic.
But we haven't just written about FirstEnergy's nefarious antics. A few weeks ago, Environmental Defense Fund (EDF)began running online ads in local Ohio markets and on some of the web's most influential financial news sites. Since we launched, our ads have generated more than 2 million impressions on computers, tablets, and phones across the country. And, we're just getting warmed up.
Thank you to the nearly 1000 EDF members who have already urged the Public Utility Commission of Ohio to reject FirstEnergy's proposed bailout. If you see one of the below ads online, we hope you consider taking the same action!