By: Karin Rives, editor of EDF Voices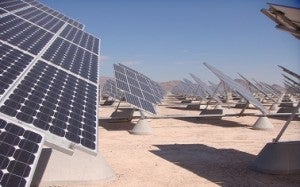 The solar industry is booming and the U.S. Department of Energy's loan guarantee program, chastised after several high-profile cleantech companies went belly up in 2011, has more than recovered.
In fact, leading venture capitalists, some of our largest banks and brands, and – lately – private investors are expected to continue to invest heavily in clean energy projects this year after the market rebounded with a vengeance in 2014.
Here are five reasons why.
Federal loan program delivers
The Energy Department's $25-billion loan guarantee program turned a profit in 2014 – something it was technically never expected to do – and the agency has reported it expects to collect more than $5 billion in interest over the life of its outstanding loans.
Automaker Tesla's decision to pay back its $465-million loan nine years ahead of schedule, with interest, has been among highlights in recent years.
The Energy Department's Advanced Technology Vehicles Manufacturing program also takes partial credit for the fact that America's best-selling pick-up truck now comes with a fuel-efficient engine. Most recently, the agency approved a conditional $259-million loan to Alcoa Inc. to support development of advanced cars.
Not all investments are successful, as Solyndra showed us, but that goes with the territory. This is a loan program that delivers – for American taxpayers and for corporate America.
Clean energy is a resilient industry
In the United States, clean energy investments reached nearly $52 billion in 2014, up from $10 billion a decade ago.
The market continued to grow through the 2007-2009 economic recession, and in spite of a decision by the U.S. Congress to let a major tax credit program expire in 2012. In the last year, and against all odds, the clean energy market then grew amid dropping oil prices.

More than 62 percent of new electricity coming online this year will come from wind, solar and other renewable sources. Such growth doesn't go unnoticed.
Investors are onboard
As the market grows, so does market confidence.
During the first quarter of 2015, a number of high-profile investments have already been announced, including $250 million in U.S. residential solar investments by Morgan Stanley, and a $350 million deal between JP Morgan and SolarCity. Google also announced $1.5 billion in various renewable energy projects.
Yieldcos, meanwhile – a new financing model where a utility parent company bundles clean energy projects to lower risk to investors – are on track to become a $100-billion market.
Venture capitalists aren't sitting on the sidelines, either. Start-up capital for U.S. cleantech companies reached $20 billion in 2014, up 39 percent from the year before.
Cost of solar and wind continues to drop 
Since 2009, the cost of solar panels has declined 89 percent and the cost for wind installations dropped by 48 percent, Bloomberg New Energy Finance reports.
At the same time, new business models are making renewable energy purchases affordable for middle-income households and small businesses.
SolarCity, one of the biggest installers of leased solar systems, says it's now signing up a new customer every three minutes and the company is hiring hundreds of new workers nationwide to keep up with demand.
New energy policies bring new opportunities
In 2014, the United States and China, the world's two largest economies, reached an agreement to each accelerate the adoption of renewable energy.
The Clean Power Plan, which will impose the first-ever greenhouse gas limits on U.S. power plants, is expected to do its share, too: By 2020, there could be 274,000 new jobs created in the energy efficiency sector as states seek to comply with the law, one analysis found.
With new energy policies come new solutions for the electric grid and for how, when and where consumers purchase power – a transformation of our energy landscape that, in turn, will open up countless new opportunities for smart entrepreneurs and investors.
Driving this change are not politics or crony capitalism like some will have us believe. It's business savvy, plain and simple.
Photo source: Flickr/theregeneration
This post originally appeared on our EDF Voices blog.