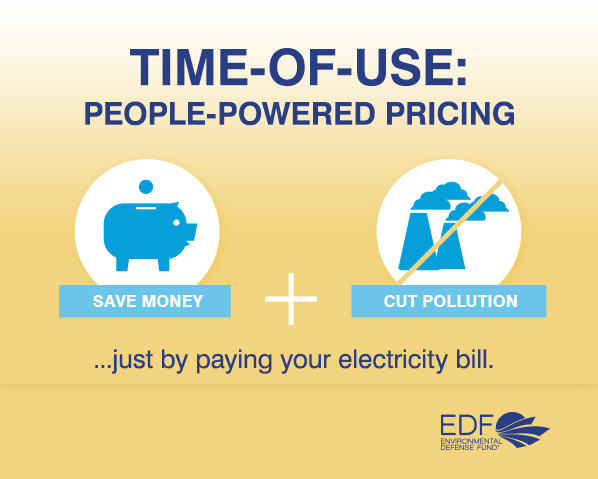 This week I submitted testimony in support of a petition by the Citizens Utility Board and, my shop, EDF, to urge the Illinois Commerce Commission to require Commonwealth Edison (ComEd) and Ameren, two of Illinois' biggest utilities, to provide families and individuals with new ways to reduce their energy bills: electricity pricing based on the hour of the day. This "Time-of-Use" (TOU) option provides times of the day when electricity will be much cheaper than the all-day, "flat" electricity pricing currently used today. Such electricity rates would reward energy-efficient customers and those who shift electricity use away from "peak" hours—when demand is high, prices skyrocket, and power plants produce the most pollution.
Our petition to the Illinois Commerce Commission, which is in charge of regulating electric utilities in the state, asks for ComEd and Ameren to offer optional rate plans beginning 2016. With voluntary TOU electricity pricing, families with digital meters can enjoy lower electric bills by running certain appliances, like the dishwasher, when electricity is cheapest, such as early in the morning or late in the evenings. However, the benefits go far beyond households that participate. Cutting energy use at high-demand times, like the afternoon, lowers electricity prices for everyone, reduces stress on the power grid, and offsets the need for expensive, polluting power plants.  
[Tweet "People-Powered Pricing: @cubillinois & @EDFEnergyEx are pushing for Time-of-Use plans to save $, cut pollution #ToU http://ow.ly/JdkZG"]
Even though market prices plunge to just a few pennies per kilowatt-hour or lower at certain hours of the day—most Illinois residents cannot take advantage of these low prices because they are locked into rigid, "flat" rates that only change with the season (e.g., summer, non-summer).
EDF has been looking carefully at different electricity pricing plans because they are the currency for rewarding people (and their third party service providers) for clean energy investments, such as energy efficiency and self-generation, like solar rooftop panels.
A well-designed and effectively implemented TOU electricity pricing plan would provide at least five concrete benefits to Illinoisans:
Give families and individuals the opportunity to reduce electricity bills by running certain appliances when energy is least costly, simply by providing more information that ties the cost of electricity production to the timing of energy use.
Charge families and individuals for the electricity they use, not their neighbors. In the current flat-rate pricing structure, the cost of electricity is the same for everyone, and energy-hungry neighbors may drive up the cost of electricity for everyone. With TOU electricity pricing, savvy families will be rewarded for their conservation efforts and help lower the overall price of electricity for everyone.
Reduce energy use at "peak" hours, offsetting power companies' need to purchase the highest-priced electricity, as well as avoid the need to build more power plants. In turn, greater efficiency at existing power plants means improved cost-effectiveness for power companies.
Improve air quality by helping reduce the need for fossil-fueled power plants, especially inefficient, high-polluting "peaking" power plants that only run a few hours every year. Instead, Illinoisans can choose to use electricity when renewable energy is available and opt for other money-saving, clean energy solutions like energy efficiency.
Increase the power grid's ability to integrate more renewable energy by signaling to families when they should use and avoid using energy, effectively reducing the need for expensive "peaker" power plants.
While TOU electricity pricing may be new to Ameren and ComEd customers, there is an enormous history of successful TOU programs in the US and abroad. Consequently, we know what to expect in terms of participant response, as well as what program features to include to spur enrollment and to maximize the number of families who see their bills decline from people-powered pricing options. In addition to those who adopt the TOU electricity pricing plan, all Illinoisans stand to gain from a billing structure that better reflects the cost of producing electricity.
Some of those features include:
Use best practices for outreach and marketing people-powered pricing programs as learned from other electric utilities.
Try-it-Before-You-Buy-It: Use "shadow" billing, where individuals and families can see what they would have paid under a flat rate as compared to TOU electricity pricing plan. Providing shadow bills for several months will help Illinoisans plan for and adopt new technologies (such as programmable thermostats) and habits (such as running the dishwasher when you go to bed instead of immediately following dinner).
Provide a period of bill protection after the switch to TOU electricity pricing, particularly if shadow billing suggests a customer may experience a bill increase.
Ensure low-income customers are provided with every opportunity to benefit from TOU electricity pricing, including access to newer, energy efficient appliances and building weatherization technologies.
Provide Illinoisans who voluntarily enroll in TOU electricity pricing programs with set-it-and-forget technologies. Several pilot programs, including in the Sacramento Municipal Utility District's service territory, indicate that the provision of advanced thermostats – user-friendly thermostats that can precool homes in advance of high-demand, expensive times – help people plan around times of peak energy prices. The ICC has already directed ComEd and Ameren to make the piloting of in-home devices a part of the utilities' energy efficiency programs. Such programs could be coupled with efforts aimed at enrolling families and individuals in a TOU electricity pricing plan.
With so many options to save Illinoisans money and help the environment, EDF, in partnership with CUB, Ameren, and ComEd, urges the Illinois Utilities Commerce Commission to investigate Time-of-Use electricity pricing options today and continue to advance the Land of Lincoln's clean energy economy.