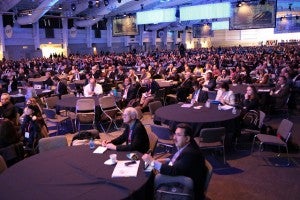 Each month, the Energy Exchange rounds up a list of top clean energy conferences around the country. Our list includes conferences at which experts from the EDF Clean Energy Program will be speaking, plus additional events that we think our readers may benefit from marking on their calendars.
Top clean energy conferences featuring EDF experts in February:
Feb 16-18: Energy, Utility & Environment Conference 2015, San Diego, CA
Speaker: John Finnigan, Attorney
The 18th Annual Energy, Utility, and Environment Conference is the U.S.'s largest professional networking and educational event of its kind, held at the San Diego Convention Center. The technical program consists of over 400 speakers in 10 concurrent tracks. Topics include "GHG Regulation for Everyone – Not Just Utilities," "Avoiding Emissions from the Electric Sector through Efficiency and Renewable Energy," "EPA's Proposed Clean Power Plan," and more.
Feb 16-20: UT Energy Week 2015, Austin, TX
Speaker: Mica Odom, Communications Director
Many of the world's top scientists conducting research on an array of energy issues call The University of Texas at Austin home. Join these and other experts in academia, industry, government, and the non-profit world for a reality check on some of the most vital energy issues facing society in this unique, week-long critical examination of the latest research findings, emerging trends, and new technologies. UT Energy Week 2015 is co-hosted by the Energy Institute and the student-led Longhorn Energy Club with the participation of various schools and colleges engaged in energy related research on the UT Austin campus.
Feb 19-20: NC Clean Tech Summit, Chapel Hill, NC
Speaker: Greg Andeck, North Carolina Senior Manager, Clean Energy
The 2nd annual NC Clean Tech Summit will bring together professionals in business, policy, and academia from across the state for two days of problem-solving and planning to foster leadership and growth in North Carolina's clean tech industry. Hosted by the University of North Carolina at Chapel Hill's Institute for the Environment and Kenan-Flagler's Center for Sustainable Enterprise, the Summit promises to highlight the industry's latest innovations, trends, and challenges, with an eye on our future competitiveness.
Feb 19: Demand Response Virtual Summit 2015, Online
Speaker: Jamie Fine, Senior Economist
Advances in automatic demand response (ADR) coupled with developing capabilities of the smart grid and customer desire to cut energy costs are leading to significant new opportunities for ADR applications. As variable-generation energy resources continue to require greater flexibility from the grid, network planners are looking to demand response as a potentially valuable tool to meet this growing need. The 4th Annual Demand Response Virtual Summit 2015 is a one day, 100 percent online event that brings together key thought leaders and practitioners to examine the current the opportunities and challenges associated with achieving DR's full potential.
Feb 21: Tufts Energy Conference 2015, Medford, MA
Speaker: Michael Panfil, Attorney
The Tufts Energy Conference (TEC) brings together experts from the private, public, and nonprofit sectors with students and professionals to discuss critical global energy issues. The conference is entirely organized by students from a broad range of backgrounds in engineering, international affairs, urban planning, and economics. From a two-panel event in 2006, TEC has grown into one of the largest entirely student-run energy conferences in the region. Experts from the private, public, and nonprofit sectors, students, and professionals are all invited to attend TEC 2015, which will focus on breaking barriers to a clean energy future.
Other top clean energy conferences across the U.S. in February:
Feb 2: Smart Grid Consumer Collaborative Annual Consumer Symposium, San Diego, CA
Held in conjunction with DistribuTECH 2015, SGCC's 5th annual Consumer Symposium: Consumer Value in Action is a must-attend industry event that comes at a time when consumer engagement around the smart grid is more important than ever. Attendees at the Consumer Symposium will gain insightful information and tactics on creating new and innovative solutions to help engage consumers about the smart grid in 2015. Moreover, industry stakeholders will learn the proactive approaches in communicating the value of smart grid investments to consumers in order to fulfill consumer expectations and drive engagement. Additionally, attendees will have the first look at the 2015 State of the Consumer Report.
Feb 16-18: Smart Energy Summit 2015, Austin, TX
Smart Energy Summit: Engaging the Consumer examines the expanding market for energy solutions and home controls and its impact on utilities, service providers, retailers, manufacturers, and consumers. At this annual conference, analysts, media, and industry leaders evaluate new partnerships, strategies for consumer engagement, and deployment plans for energy management solutions in the connected home. The summit agenda features executives representing utilities, telecom and security companies, retailers, and original equipment manufacturers OEMs presenting on the state of the market and the emerging consumer and business opportunities.
Feb 17-19: GreenBiz Forum, Phoenix, AZ
Success is all about the power of partnerships — internal, external, supply chain, NGO, public-private, and more. The tasks are simply too big to go it alone. The 2015 GreenBiz Forum will leverage our vast networks, insights, and domain expertise to bring you the brightest thinkers and most influential leaders. You'll get an unparalleled, in-depth look at the key challenges and opportunities facing sustainable business today. The Forum is framed by the annual State of Green Business report, the eighth annual edition of GreenBiz's acclaimed accounting of key sustainability metrics and trends. The report, combined with the high-wattage stage presentations, workshops, and networking opportunities that have become hallmarks of GreenBiz events, makes the 2015 GreenBiz Forum an unforgettable event.
Feb 17-19: Sixth Conference on Innovative Smart Grid Technologies, Washington, D.C.
The Sixth Conference on Innovative Smart Grid Technologies, sponsored by the Institute of Electrical and Electronics Engineers Power and Energy Society, will be a forum for participants to discuss state-of-the-art innovations in smart grid technologies and will feature plenary and panel sessions, as well as technical paper presentations and poster sessions. Tutorials by international experts on smart grid applications will also be available. The overall theme for 2015 is "Smart Grid – Present and Future", focusing on the future migration path for the smart grid as new and emerging technologies converge with power system developments to create smart energy systems.
Feb 27-28: MIT Energy Conference, Cambridge, MA
In the ten years since the MIT Energy Conference's inception, more changes have occurred in global energy than in the 100 years prior. As a key contributor to the development of solutions at the knowledge frontier, MIT brings together energy visionaries and a host of creative, passionate, motivated individuals for fact-based discussion and innovative problem-solving. This year's conference unites leaders from industry, government, and the scientific community to align on actions we can take today to address tomorrow's energy challenges. We will explore ways by which technological development, novel policy, and finance innovation enable the disruption of legacy value chains and convergence of global economies.
Photo source: Flickr/National Retail Federation