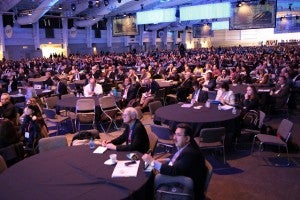 Each month, the Energy Exchange rounds up a list of top clean energy conferences around the country. Our list includes conferences at which experts from the EDF Clean Energy Program will be speaking, plus additional events that we think our readers may benefit from marking on their calendars.
Top clean energy conferences featuring EDF experts in October:
Oct 2: 2014 Energy Competition Symposium, Columbus, OH
Speaker: Cheryl Roberto, Associate Vice President, Clean Energy
The future of competitive retail and wholesale energy markets, product innovations for retail customers, and improving the shopping experience for consumers are among the larger themes to be explored at the Retail Energy Supply Association's 2014 Energy Competition Symposium, a half-day event exploring the leading issues affecting retail energy competition nationally.
Oct 6-7: 2014 Utility Environmental Benchmarking Forum, Charlotte, NC
Speaker: Cheryl Roberto, Associate Vice President, Clean Energy
Since 2010, Tennessee Valley Authority (TVA) has hosted the Forum which has provided a platform for the electric utility industry to benchmark their performance on environmental metrics. Now, TVA and Electric Power Research Institute (EPRI) are teaming up to ensure the Environmental Benchmarking Forum will continue for years to come. Discussion topics include environmental performance measures and data, lessons learned from leading utility companies and energy providers, and sustainability programs, profitability, and effective implementation.
Oct 6-8: SXSW Eco, Austin, TX
Speakers: Mark Brownstein, Associate Vice President & Chief Counsel, US Climate and Energy Program; Rory Christian, Director, New York Clean Energy; Diane Munns, Senior Director, Clean Energy Collaboration; Kate Zerrenner; Project Manager
SXSW Eco attracts a global community to explore, engage, and co-create solutions for a sustainable world. A uniquely inclusive platform for professionals, SXSW Eco examines the critical challenges of our times through a kaleidoscopic lens of design innovation, policy tipping points, technological breakthroughs, conservation practice, entrepreneurial spirit, and a culture of creativity to transform inspiration into action.
Oct 13-15: Demand Response World Forum, Orange County, CA
Speaker: Jamie Fine, Senior Economist
The Demand Response (DR) World Forum will bring together professionals from around the world to explore the latest auto-DR (ADR) technologies and strategies for meeting the changing energy landscape of the 21st Century. Technology innovators and business leaders will meet in Orange County, CA to discuss the evolving role of ADR in enabling an integrated and flexible network that is responsive to a wide range of energy resources, marketplace entities, and customer energy demand and generation.
Oct 15: More Than Smart Conference, Sacramento, CA
Speaker: Gavin Purchas, Policy Director, Clean Energy
Join Greentech Leadership Group for the More Than Smart Conference "California's Energy Network Grid: A Look to the Future". 100 of the top energy policy-makers and industry innovators will discuss how California's Network Grid is evolving and what it will mean for future efforts to implement California's climate change, energy, and grid reliability efforts. This is the 3rd in a series of conferences co-led with the CPUC and California's Governor's Office. The conference will also be webcast live in partnership with Greentech Media on their website.
Oct 15-17: 21st Border Energy Forum, Monterrey, Nuevo León
Speaker: Drew Nelson, Senior Manager, Natural Gas
More than ever, the potential of clean energy like natural gas and renewables combined with traditional oil production is boundless in the ten border states. The Border Energy Forum is a collaborative effort among these 10 border states along the U.S. / Mexico border. The original idea for the Forum was to gather 50 people from both the United States and Mexico once a year to exchange information about the best ways to produce and consume energy in our fast-growing region, forge new partnerships, and help each other work together on our twin goals of economic development and environmental protection.
Oct 22-24: Greenbuild International Conference & Expo, New Orleans, LA
Speakers: Jamie Fine, Senior Economist; Matt Golden, Senior Energy Finance Consultant
Greenbuild is the premier event for sustainable building. Featuring three exhilarating days of uplifting speakers, unmatched networking opportunities, showcases, LEED workshops, and tours of green buildings in New Orleans, Greenbuild offers a place for thousands to gather and renew their commitment to the green movement.
Oct 29: Forum 20/20, Boston, MA
Speaker: Cheryl Roberto, Associate Vice President, Clean Energy
The clean energy economy, built on the strength of innovations in technology, policy, and finance, continues to expand and adapt to the ever-changing forces at work in the global energy market. Forum 20/20 brings together leaders from the energy industry, policymakers, major corporations, investors, and academia to describe a vision of the clean energy market's growth over the next decade.
Other top clean energy conferences across the U.S. in October:
Oct 1-2: Making Energy Work Conference, Charlotte, NC
Clean energy has arrived and the majority of North Carolinians support it. The energy choices we make today will have complex social, political, economic and environmental impacts – both now and in the future.  But how do we work together to ensure our energy future is affordable, reliable and sustainable? The answers to these important questions are being shaped today at Making Energy Work 2014: Securing the Future. Join the NC Sustainable Energy Association and over 500 attendees from across the US to gain access to the latest information, solutions and technologies impacting our energy future and tap into a highly informed and engaged network of public and private sector leaders driving the success of North Carolina's clean energy economy.
Oct 6-7: Global Cleantech 100 Summit & Gala, Washington, DC
Each year, the Global Cleantech 100 Summit & Gala brings together, showcases, and celebrates the leading entrepreneurs across the breadth of the clean technology and resource efficiency theme. Joined by leading corporations, investors, government leaders, and professional service firms, this is an inspiring 24 hours. Both inspiring and learning from each other are the central objectives of this intimate 200-person event. This plays out in the agenda's mix of awards, keynotes, entrepreneur presentations, and more intimate round-table discussions on the key topics facing growing sustainable innovation companies.
Oct 9-10: The Southern California Energy Summit, Palm Springs, CA
The Southern California Energy Summit is the preeminent forum bringing industry and community leaders together to discuss trends, advocate for clean energy issues, and highlight the region as the epicenter for renewable energy. #SCES2014 will feature a blend of educational sessions, keynote presentations, and panel discussions from a wide array of experts. Learn about new energy opportunities, explore interactive exhibits, and network with over 600 regional leaders and business stakeholders from throughout Southern California.
Oct 20-22: Emerging Technologies Summit, San Francisco, CA
The biennial Emerging Technologies Summit gathers more than 500 stakeholders in the energy efficiency and demand response emerging technologies sectors for a 2-day interactive conference to learn, ideate, and debate the intersection of utility programs, technology, market drivers, customer engagement, policy, and implementation in order to impact the advancement and adoption of emerging technologies.
Oct 27-30: VERGE, San Francisco, CA
Sustainability's next tipping point: Interconnected technologies for energy, buildings, and transportation that enable radical efficiencies and huge opportunities. VERGE reveals these opportunities, bringing together corporations, entrepreneurs, and public officials for practical, scalable, solutions-oriented conversations.
Photo source: National Retail Federation Flickr