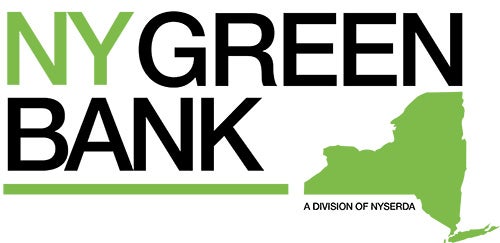 Clean energy finance is thriving in New York State. This week, Governor Cuomo announced the New York Green Bank's first set of deals, totaling an impressive $800 million in clean energy investments across the state. The projects funded by this investment will yield an impressive annual reduction of 575,000 tons of carbon dioxide emissions, roughly equivalent to removing 120,000 cars from the road or planting 15 million trees per year. This move helps cement New York's role as a leading state in the clean energy economy.
By offering attractive interest rates and other incentives to stimulate interest from the private sector, green banks encourage investment in clean energy projects that may otherwise have difficulty obtaining private financing. Ideally, these initial deals then set the stage for an active and self-sustaining market in renewable energy and energy efficiency finance.
And the NY Green Bank is starting off swinging: its initial investment of $200 million catalyzed $600 million more in investment from prominent financial institutions, such as Bank of America Merrill Lynch and Deutsche Bank.
The Green Bank's first seven transactions, which will close over the next few months, finance a wide range of low-carbon, clean energy projects. Among them is an investment in a company that builds and operates small-scale combined heat and power units in hospitals and office buildings, as well as an expansion of a bank's energy equipment financing portfolio. The diversity of projects shows a clear appetite for clean energy investment in the state, which will deepen in the coming months as we see more of these transactions.
Public and private partnership is key to addressing the broad issue of financing clean energy in our state. The Green Bank aims to provide financial support for projects that meet the state's clean energy goals, but can't be completed on private investment alone. By combining public and private funding, the state is ensuring these projects have the support to meet their goals.[Tweet "New #GreenBank deals help cement New York's role as a leading state in the clean energy economy. http://ow.ly/Dekgj "]
Other states, such as Connecticut and Hawaii, are already making substantial investments in clean, low-carbon energy through green banks, and now it's New York's turn to take a (big) first step. As we approach next week's second anniversary of Superstorm Sandy, we can see why undertaking efforts to mitigate climate change – such as the Green Bank – are so important to our state.
By financing low-carbon energy projects, New York is making significant strides in cutting emissions, spurring jobs, and investing in our state's future through the Green Bank. This, coupled with the ground-breaking utility reform happening in New York's Reforming Energy Vision (REV) proceeding, is making the state one of the country's leaders in clean energy.