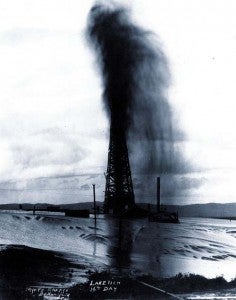 In the frontier days of drilling in the 1900s, discoveries such as Spindletop in Texas and the Drake in Pennsylvania heralded a new era of energy for America. Back then, the gaseous by-product produced at the wellhead was considered a nuisance and flared (burned) or released into the air. Today, it's considered a valuable energy source and routinely harnessed, which results in economic and  environmental benefits. Capturing gas cuts emissions that contribute to ground-level ozone, cause cancer, and contribute to climate change.
Given that it's 2011, we're way past the conditions of the 1900s. But, whereas the process of capturing natural gas as an energy source has come a long way, many improvements must still be made to ensure producers capture the maximum amount of natural gas "upstream" at wellheads and throughout the gas processing and transportation network.
Just because the gas can't be seen doesn't mean it isn't hazardous. In the last three years, new data shows that natural gas leaks might be twice as high as previously thought. This means that a lot more air pollution is fouling the air we breathe.
The pollution comes from equipment on-site (tanks, valves, compressor engines, flanges), at processing plants (where raw natural gas is purified for residential and commercial use) and throughout the pipeline system.
If you know anyone that lives near drilling sites — such as the Barnett Shale in Texas, the Marcellus Shale in Pennsylvania, Piceance and big chunks of Colorado and Wyoming — you've likely heard stories about their public health and environmental impacts.
EDF sponsored a study showing that the emissions produced by natural gas operations around Barnett Shale rival those from 4 million cars and trucks in the Dallas-Fort Worth metro area. Around the country, those who live nearby drilling sites have reported higher incidents of health concerns including respiratory and skin irritation, neurological problems, dizziness and headaches. And in some instances, elevated levels of benzene — a known carcinogen — have been detected.
The Environmental Protection Agency (EPA) has proposed rules that would require use of technologies and practices to capture more of the natural gas now being allowed into the air. These clean air standards are sensible, which makes you wonder why it's taken a century to put these rules into place at the national level. It also makes you wonder why industry would fight them when they can capture more natural gas and bring it to market. Indeed, in addition to the health and environmental benefits of the rule, there are economic benefits.
A number of natural gas companies already use the practices that the EPA is proposing to cut methane and are touting the resulting economic benefits.
Similar requirements to those the EPA proposed have been in place in Colorado and Wyoming without adverse affects on companies' profits. Who isn't for a win-win solution?
I'll be blogging more about this proposal in the coming days. Please get involved by writing to the EPA in favor of updated clean air protections. We also invite you to join us and share your thoughts with the EPA at the upcoming public hearings in: Pittsburgh, Sept. 27; Denver, Sept. 28; and in Arlington, Texas on Sept. 29. If you can't make the hearings, you can submit comments online until Oct. 24.
There's no better time than now to make your voice heard and show your support for clean air.