Mercury pollution from coal-fired power plants is extremely dangerous — it causes brain damage in babies and is associated with heart disease and many other serious health issues.
Fortunately, mercury pollution has fallen significantly since EPA finalized the Mercury and Air Toxics Standards in 2012. However, despite the success of the standards in reducing pollution as a significantly lower than projected cost, many power plants continue to emit mercury and other dangerous air pollutants in large quantities. That means stronger safeguards are needed to protect the health of Americans across the country.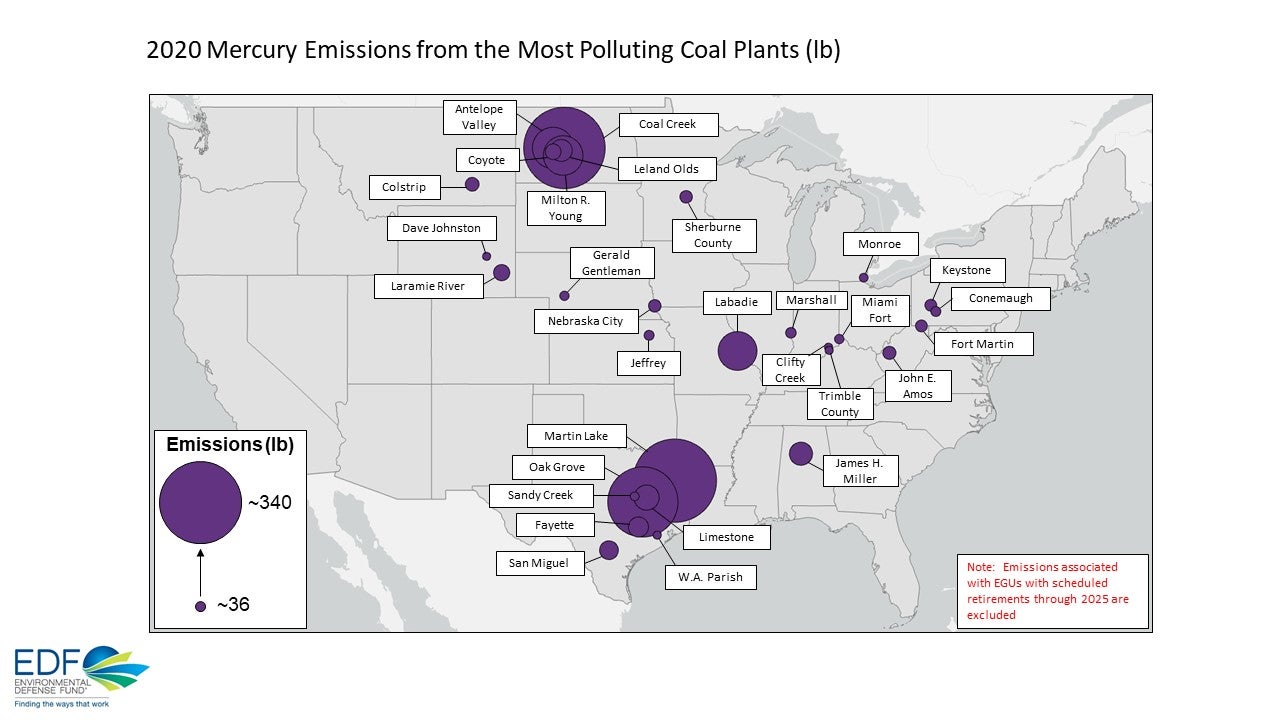 The top 30 power plants for mercury pollution
Coal-fired power plants continue to be the largest source of mercury pollution in the United States, accounting for approximately 8,800 pounds of mercury emissions in 2017 alone. Mercury is emitted in the combustion process of coal and other fossil fuels. Coal has much higher mercury concentrations than other fossil fuels, which explains why coal-fired power plants often emit larger quantities of mercury pollution than do power plants that burn other fossil fuels.
Mercury pollution from coal plants is particularly severe in certain parts of the country. EDF just published the above map, based on estimates calculated using publicly available data from 2020. It shows the top 30 power plants emitting the highest amount of mercury pollution in the country.
As you can see, the highest mercury-polluting coal plants are concentrated in North Dakota and Texas, with other large polluters in Appalachia and the Midwest.
The highest emitter of mercury pollution by pound is the Martin Lake coal plant in East Texas, which emitted an estimated 338 pounds of mercury in 2020 alone. It's followed by the Coal Creek plant in North Dakota, which emitted an estimated 329 pounds of mercury in 2020, and the Oak Grove plant in East Texas, which emitted approximately 285 pounds of mercury in 2020.
Lignite, or "low-rank," coal is especially high-polluting. The five highest-polluting coal plants on our map burn lignite coal, even though lignite coal accounted for only eight percent of total U.S. coal production in 2019. However, lignite coal is subject to less stringent standards under the Mercury and Air Toxics Standards – something EPA should correct to protect the health of all Americans.
A few more notes about our map:
The largest circles on the maps are the largest polluters — the circles are not meant to illustrate the area affected by pollution.
The pounds of mercury emitted were estimated by multiplying the heat output and rate for each unit and adding together units within each plant to get the total emissions in pounds for each plant.
We omitted units that are expected to retire by the end of 2025, since they are less likely to be significantly impacted by stronger air toxics protections.
More about mercury
Mercury travels both locally and globally — robust  scientific evidence shows that mercury is not only a "global pollutant," but also has significant regional and local impacts. People living in communities near coal-fired power plants bear a disproportionate burden of mercury pollution. Still, mercury's ability to travel means that despite the regional concentrations depicted on our map, mercury pollution remains a concern for communities across the country.
After being released into the atmosphere, mercury contaminates lands, oceans, and streams where it is then converted into a harmful toxic, methylmercury, that can accumulate in our food and, eventually, in us. Because of this, and the widespread distribution of mercury, all fish from U.S. waters have detectable levels of mercury and there are consumption advisories in place in all fifty states.
Mercury exposure is associated with neurological and cardiovascular damage as well as endocrine disruption, diabetes risk, and compromised immune function. For pregnant mothers, mercury exposure can lead to neurocognitive problems in their children — there is no safe  level of mercury exposure below which these effects are known not to occur.
The neurocognitive issues alone that are associated with mercury exposure cost our country approximately $4.8 billion per year as of 2017 – although of course there is no dollar value we could ever put on protecting our children from devastating health problems. Given the severe health impacts and societal costs, reducing mercury pollution is imperative for protecting communities across the country.
Next steps for reducing mercury pollution
EPA recently released a proposal to reverse a harmful Trump-era action that would have undermined the Mercury and Air Toxics Standards.
EPA's proposal finds it is "appropriate and necessary" to regulate mercury pollution, which restores the legal basis for these lifesaving standards.
In its proposal, EPA concludes "that regulation of [hazardous air pollution] emissions from [power plants] under [Clean Air Act] section 112 greatly improves public health for Americans by reducing risks of premature mortality from heart attacks, cancer, and neurodevelopmental delays in children, and by helping to restore economically vital ecosystems used for recreational and commercial purposes."
In addition, in its proposal, EPA confirms that the cost of the Mercury and Air Toxics Standards has been dramatically lower than initially projected. The proposal points out that pollution controls installed at regulated power plants are "likely both less expensive and more effective than originally projected," with the initial cost estimations being overestimated by billions of dollars.
Since the Mercury and Air Toxics Standards were established in 2012, there have been significant improvements in technologies that allow for increased pollution control at reasonable costs. A recent study analyzed how available methods of controlling mercury pollution from power plants have experienced large advances since 2012.
Conclusion
Our map adds to the growing mountain of data showing that EPA should reaffirm that protecting the public from toxic air pollution from power plants is appropriate and should update the Mercury and Air Toxics Standards to reflect the latest science and available improvements in pollution-control technology.
The science is clear that mercury imposes significant burdens on communities across America, as well as enormous societal costs. The power plants on our map, as well as other coal-fired power plants operating across the United States, will continue to endanger the health of both communities they are operating in and communities around the country if stronger protections are not put in place.