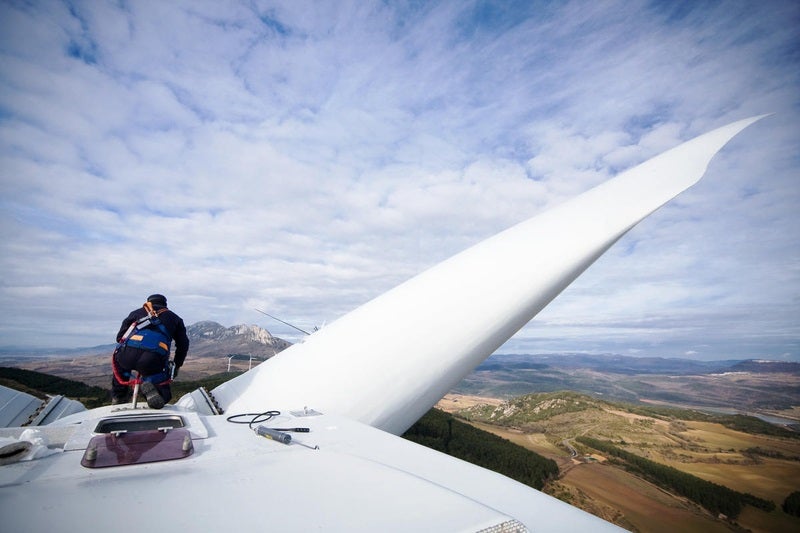 As federal lawmakers continue to debate different approaches for jump-starting our economy in the wake of the COVID-19 pandemic, they must also consider how the investments we make today can be designed to avoid the worst environmental, social and economic impacts of climate change in the long run. Amid much disagreement, one promising area of investment continues to stand out: clean energy.
A big investment in clean energy, clean transportation, energy efficiency deployment and R&D can generate substantial returns on job growth and emissions reductions. Boosting these areas now can be a critical step toward building a 100% clean economy over the next 30 years, a science-based goal that calls for allowing no more climate pollution produced than can be removed from the atmosphere across all sectors of the economy.
Here are four reasons to include major investments in clean energy in our recovery plans: 
Clean energy jobs have been increasing rapidly…
First and foremost, federal policymakers should recognize that clean energy jobs were already growing rapidly before COVID-19. From 2015-2019, the clean energy sector was adding jobs 70% faster than the overall US economy. Before the pandemic, 3.4 million Americans across all 50 states and the District of Columbia worked in clean energy occupations — renewable energy, energy efficiency, grid modernization, clean vehicles and fuels. That means there are more people with clean energy jobs than work in real estate, banking, or agriculture in the U.S. and three times the number that work in fossil fuels.
But like many sectors, the clean energy industry has been hard hit by the pandemic, with more than 500,000 clean energy workers still unemployed, about 15% of the pre-pandemic clean energy workforce. Immediate support from federal lawmakers is needed, and given the upward trajectory before COVID-19, it could help get the industry back on track.
… and clean energy jobs have much more room to grow
Multiple analyses reveal that stimulus support for key elements of a clean economy is a smart way to generate good-paying jobs that can help lift the US out of the recession and sustain long term growth. One study found that clean energy investments create three times more jobs than an equivalent investment in fossil fuels. According to a new report from E2, federal clean energy stimulus investments totaling $99.2 billion — with targeted and strategic investments in renewable energy, energy efficiency and grid modernization — could generate 860,300 full time direct, indirect and induced jobs that would last at least five years (a total of 4.3 million job-years). This level of stimulus and the resulting jobs would add $330 billion in economic activity, more than triple the amount of investment. And if anything, this may be an understatement: the Department of Energy conservatively estimated, based on third-party evaluations of six key clean energy R&D portfolios, that a taxpayer investment of only $12 billion yielded net economic benefits of more than $388 billion, nearly 33 times the initial investment.
Investments in energy efficiency have an additional benefit: Besides creating jobs, these investments create energy savings that can pay back the initial investment and more. A recent analysis from the American Council for an Energy Efficient Economy found that several proposed energy efficiency investments could result in 165,000 jobs per year for four years through 2023 over the lifetime of the investments and savings. Over time, these investments would result in more than $120 billion in energy bill savings while reducing more than 900 million metric tons of CO2 emissions.
Moving toward a cleaner, more efficient transportation sector can also lead to significant job creation. Tax incentives for electric vehicles, which includes expanding tax credits for electric passenger vehicles and charging stations and creating a new credit for electric trucks, could generate 10,000 jobs per year for the first four years. Furthermore, key labor stakeholders, including the BlueGreen Alliance and UAW, believe that the transition to EVs can represent a big opportunity for domestic manufacturers, with minimal job disruption, if the appropriate policies are in place to support domestic workers.
All in all, big investments now could lead to even bigger returns.
Enormous environmental and health benefits
The economic rationale for investing in clean energy is clear, but the climate and health benefits make it a slam dunk. A new report from the Environmental Defense Fund and Datu found that the number of annual severe weather disasters, including hurricanes, floods, wildfires and other events has increased four-fold since 1980, costing US taxpayers more than $1.75 trillion. The frequency, severity, damage — and costs — from these severe weather events will only worsen without strong action to curb emissions. And we know from past experience, like with Hurricane Harvey in 2017 or with searing heat waves over the last few months, these impacts will not fall on Americans evenly — the most vulnerable, such as communities of color and low-income households living in flood-prone areas, will bear the brunt of inaction.
The health benefits of a clean economy cannot be overstated either, and policies must be designed to address systemic inequities that put people of color at greater risk for the impacts of pollution. The transportation sector, including cars, buses and trucks, as well as the energy sector, including coal-fired power plants and refineries, comprise some of the largest sources of harmful air pollution in the US, which increases rates of asthma, heart disease and other health issues. All told, estimates reveal that air pollution causes between 90,000 to 360,000 deaths a year in the U.S.
But this burden is not borne equally. Research from the Rhodium Group estimates that the average Black American is exposed to 46% more diesel particulate matter emissions and 22% more air toxic respiratory hazards than the average white American. For Latino Americans, that exposure is 41% and 17% higher respectively. And studies continue to highlight how indigenous communities experience an unjust burden of environmental pollution, including from agricultural, mining, waste dumping, and more. EDF found that oil and gas methane emissions on Navajo Nation were 65% higher than the national average.
Air pollution exacerbates the heart and lung conditions that make COVID-19 more deadly, and it's no coincidence that communities bearing the brunt of this pollution — Black, Latino, and Indigenous communities — are the same ones suffering the most from the pandemic today. A shift toward clean energy can help lift these heavy burdens from pollution and not only improve these communities' health outcomes, but also help build a stronger, healthier and more equitable workforce.
Clean energy is popular on both sides of the aisle
Many federal policymakers and candidates are already taking notice of the preponderance of evidence justifying clean energy investments — and they are responding with serious and ambitious proposals. In July, House lawmakers passed the $1.5 trillion Moving Forward Act, an infrastructure package that includes $70 billion in clean energy investments as well as clean energy tax credit extenders and provisions to curb emissions. As discussed, this level of investment could spur significant job growth, while getting the US on a path to a 100% clean economy. And more than ever before, candidates are running on clean energy as a key pillar of their economic plans and calling for dramatic cuts in pollution across major emitting sectors, like transportation, buildings and industry.
Extending clean energy tax incentives and investments has long been a priority for many Congressional Democrats, but recently, a group of Senate Republicans also voiced support for policies that will bolster jobs and innovation across the clean energy economy. At the same time, polling continues to reflect widespread bipartisan support for clean energy: According to a June 2020 Morning Consult poll, 66% of voters believe clean energy investments will strengthen the US economy and benefit workers.
Support for clean energy is ultimately only one piece of a complete policy package that can rebuild our economy in a way that tackles critical climate, health and equity challenges. Policymakers must also look at ways to bolster adaptation, resilience and innovation — and ultimately, enact a comprehensive policy solution that limits climate pollution across the economy.
In short, while there is much work to be done to get the US on the path toward recovery and a stronger, 100% clean economy, investments in clean energy are a vital step.