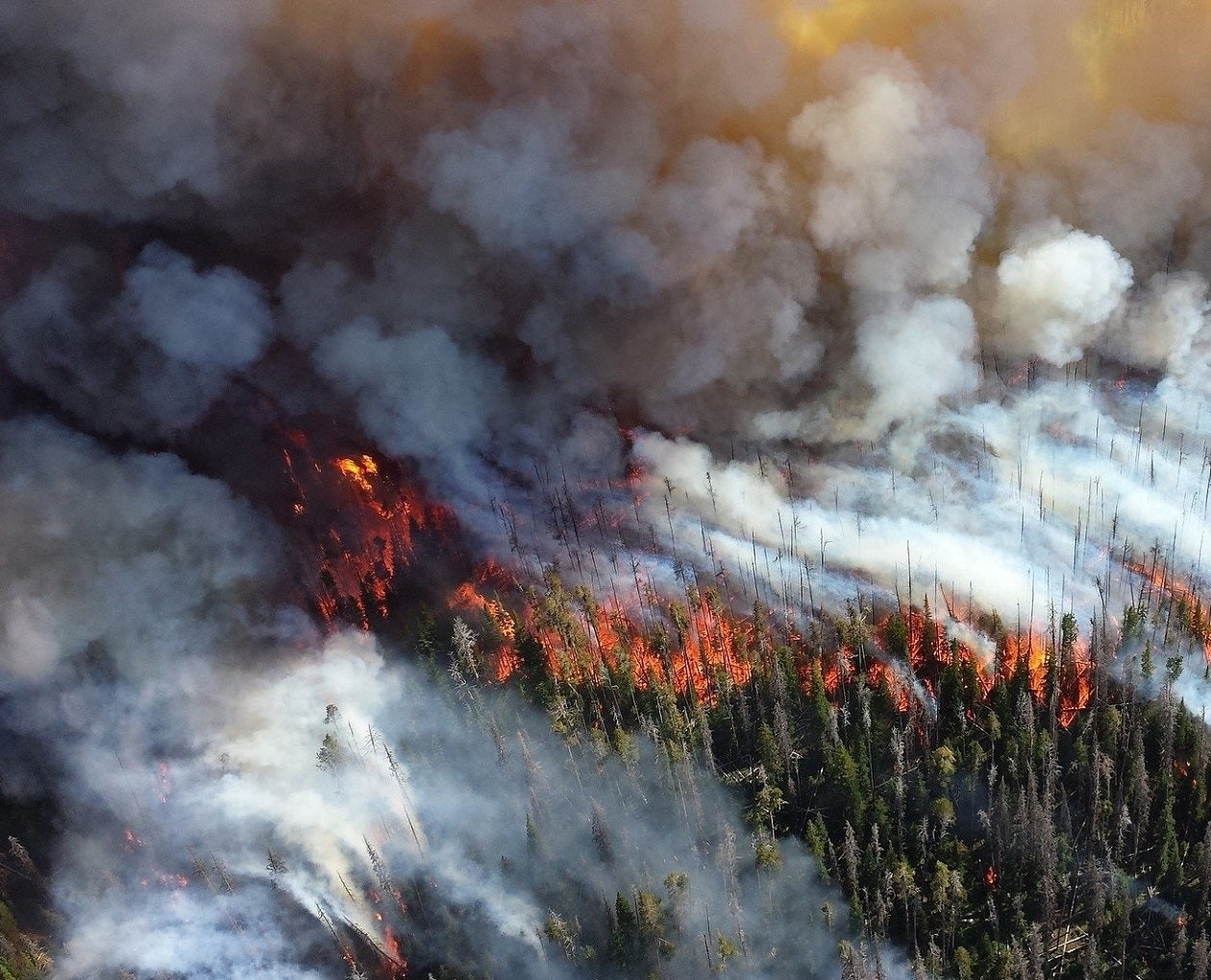 As Oregon faces another out of control wildfire season, the state's lead environmental agency, the Department of Environmental Quality (DEQ), just released regulatory language for its Climate Protection Program, a program intended to be a pillar of the state's strategy to meet the ambitious climate goals Governor Brown committed the state to in 2020.
The stakes are high for this critical rulemaking, which will decide whether Oregon truly follows through on its climate commitments. In a recent New York Times op-ed, Governor Brown wrote that Oregon is "working to lead the way" on climate change. With the latest IPCC report underscoring how climate change is affecting every inhabited region across the globe and how many damaging impacts are accelerating, we are at a moment where climate leadership is desperately needed.
But at this critical moment, the DEQ's proposed Climate Protection Program falls far short of what we expect from effective climate action. There's still time for the program to be strengthened as the public comment period for the program is only just beginning, but Oregon's decision-makers must ensure that the Climate Protection Program will deliver the swift, equitable and ambitious climate action that Oregon needs.
What will it take for Oregon's program to be successful?
It needs to hit these three marks:
1. It must be ambitious enough to ensure that the state hits its science-based, economy-wide targets for greenhouse gas emission reductions. The state legislature and Governor Brown have already committed to these targets, and Governor Brown's executive order from last year made it clear that state agencies must use all available authority in order to achieve them. Now Oregon needs strong rules that will make sure that these targets are attainable, and not merely aspirational.
2. It must include a binding limit on climate pollution, with quantifiable and enforceable results. Otherwise, Oregon will fall short of its goals, therein missing a huge opportunity to protect a stable climate, create family-wage jobs in the clean energy sector, and create a strong climate policy roadmap other states can follow.
3. It must be equitable, delivering outcomes based on input from the communities that have historically been, and continue to be, most directly impacted by climate and air pollution: communities of color, tribal communities, and low-income Oregonians. DEQ previously pledged to create a Climate Protection Program that places equity at its core — but Oregon's policy is likely to provide value to polluters that far outweighs the tangible climate investments potentially available to communities.
Oregon-based environmental justice and tribal groups are raising the alarm about the lack of equity in the program's design as it currently stands. In a joint letter to DEQ, Oregon Environmental Justice groups Rogue Climate, Verde, Native American Youth and Family Center (NAYA), and Coalition of Communities of Color wrote:
"Throughout this rulemaking, DEQ has pledged to give at least as much weight to equity as it gives to controlling costs for businesses in deciding how to reduce greenhouse gas emissions. But the draft rules do not reflect that commitment to equity."
If Oregon wants to boldly lead on climate, DEQ's proposal must be stronger.
Here's why the current proposal falls short:
The Climate Protection Program doesn't do enough to ensure that Oregon meets its economy-wide climate targets. DEQ had the opportunity to create a program that would work alongside Oregon's other climate policies to guarantee that the state achieves its goals and protects Oregonians from the most devastating impacts of climate change. But that economy-wide ambition has been missing from the discussion at DEQ. That's a major oversight that would leave Oregon at risk of missing its climate targets. The Climate Protection Program must ensure that Oregon's major sources of pollution are subject to a firm limit on climate pollution, and DEQ needs to make sure that any emissions budget available for covered sources is stringent enough to ensure that the state meets or exceeds its goals.
The program's proposed rules miss opportunities to curb major sources of pollution, exempting several key sources of greenhouse gas emissions from the Climate Protection Program's cap. For example, under DEQ's proposed program design none of Oregon's industrial emissions, which includes emissions from manufacturing plants, will be directly covered by the CPP's cap. DEQ's economic modeling predicts that, under business as usual, the industrial sector will represent 8% of Oregon total emissions in 2030 and 12% in 2050, while also being responsible for a whopping 318.9 MMT CO2e of cumulative emissions from 2022 – 2050. Under DEQ's proposed rules, these emissions will not be subject to a mandatory, declining limit on emissions. Exempting these major emissions puts Oregon's ability to meet its targets in jeopardy.
And another exemption: Electricity plants that export power out-of-state can keep polluting unchecked. Under the current proposal, power plant emissions remain completely unregulated by the Climate Protection Program despite clear direction in Governor Brown's Executive Oregon to cap and reduce emissions from large, stationary sources of greenhouse gas emissions. In July, Governor Brown signed into law a clean electricity standard with one of the fastest timelines for driving down power sector pollution in the country. However, neither Oregon's clean electricity standard nor the Climate Protection Program cover fossil fuel-burning electricity generators that export out-of-state. That leaves nearby communities exposed to pollution and its subsequent impacts on their health and livelihoods.
DEQ's program doesn't do enough to capture program value for the benefit of Oregonians. The Climate Protection Program will require entities that are covered under the cap to hold one allowance for every ton of greenhouse gases that they emit. Those allowances have measurable monetary value because they can be traded or sold. But from the beginning of the process, DEQ has proposed giving 100% of those allowances directly to regulated industry for free. Free allocation of allowances doesn't impact the stringency of the cap, but it does determine how the program creates value, and for whom. Using DEQ's modeling projections, EDF found that DEQ's proposed approach would award out-of-state oil companies with at least $14.3 billion in free allowances over the course of the program. This reflects a huge missed opportunity to capture program value in an equitable way that supports Oregon's transition to a clean economy and safe environment.
In short, DEQ's proposed rules don't hit a number  of the key metrics for success: It's not ambitious enough, exempts major sources from its cap on climate pollution, and will give billions of dollars' worth of allowances directly to out-of-state oil companies for free.
How we can strengthen these rules
What can we do to enact a truly meaningful climate protection program? Oregon residents can share their thoughts and feedback with DEQ right now during the public comment period, which goes until early October. By the end of the year, the Environmental Quality Commission—DEQ's policy and rulemaking board—will vote and make the final decision for whether or not to adopt DEQ's proposed rules. If they receive a large amount of feedback from Oregonians calling for stronger rules, there's a greater likelihood that DEQ will strengthen the program.
The next decade is critical for climate action, and it's too late in the game for Oregon to put forward climate policies that won't deliver. The decisions the DEQ and the EQC will make will determine whether Oregon can achieve its climate goals and protect the lives and livelihoods of Oregonians. These rules will determine whether Oregon enacts a strong climate protection, or simply creates a program that looks good at a glance but isn't nearly protective enough to create meaningful change.
TAKE ACTION: Oregon residents, tell Governor Brown that DEQ's proposed rules for the Climate Protection Program do not live up to the ambitious climate commitments that Oregon has made.