Last year tied for the hottest year on record. Increasing heat and flood risks from climate change, the result of historical and ongoing emissions of heat-trapping gases, threaten infrastructure, agriculture, and public health throughout Pennsylvania. The federal government, Wall Street, and Americans across the country have awakened to the challenge of climate change and are aggressively taking steps that move our country into the carbon-free future. At this point, the costs of inaction are too big to ignore: Every ton of climate pollution we emit matters.
Consequently, the costs of delaying entry into a program like the Regional Greenhouse Gas Initiative (RGGI) are real – and alarming – for Pennsylvanians. The commonwealth now has the fourth dirtiest power sector in terms of carbon pollution in the nation. The decisions Pennsylvania makes have clear consequences for the health and welfare not only of Pennsylvanians, but the entire U.S. After more than a decade of delay to act on climate in Pennsylvania, there is no reason to slow implementation of RGGI.
Pennsylvania has been on the path to this proven program for years
As shown below, this policy has been under discussion for several years and has enjoyed robust public engagement. Pennsylvania's RGGI rule stems from a proven, flexible, market-based cap-and-trade program that has been around for over a decade and is being implemented by Republican and Democratic governors from Maine to Virginia, bringing in billions in proceeds for investment over the life of the program. RGGI leverages the power of a broad, multi-state marketplace which makes carbon emissions reductions even more cost-effective than if Pennsylvania were to go it alone with its own program (more on how larger carbon markets can drive emission reductions more cheaply here).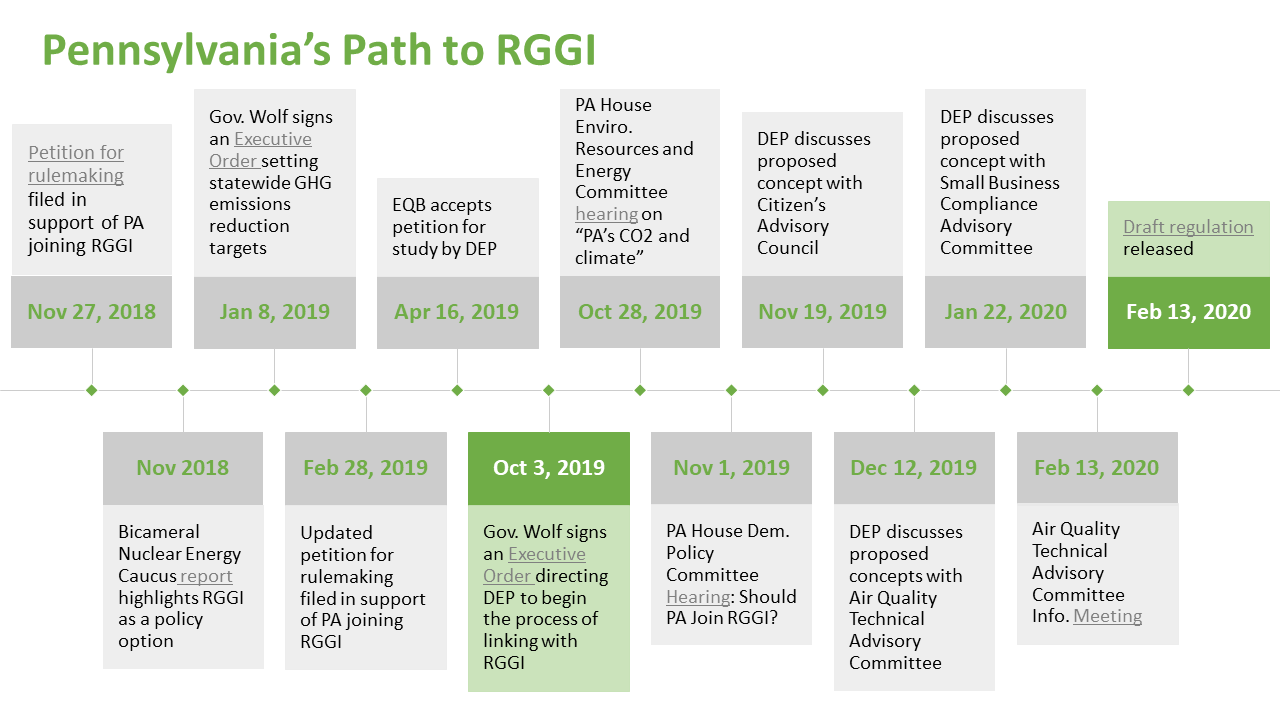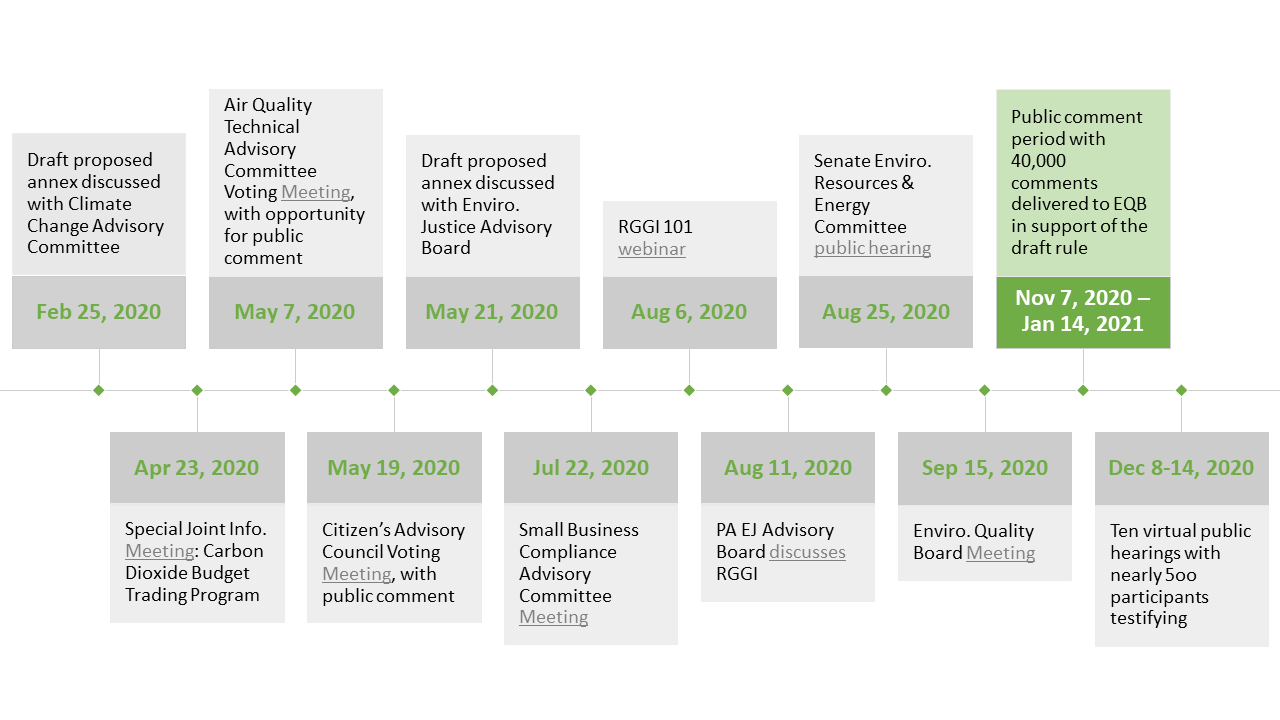 This is not the first time we have heard pleas for delay and more time needed (with little actual reasoning given for what this delay would achieve). Below is another timeline showing how long Pennsylvanians have been waiting for action on climate change and a few examples of obstructionist actions that have been taken to address climate change.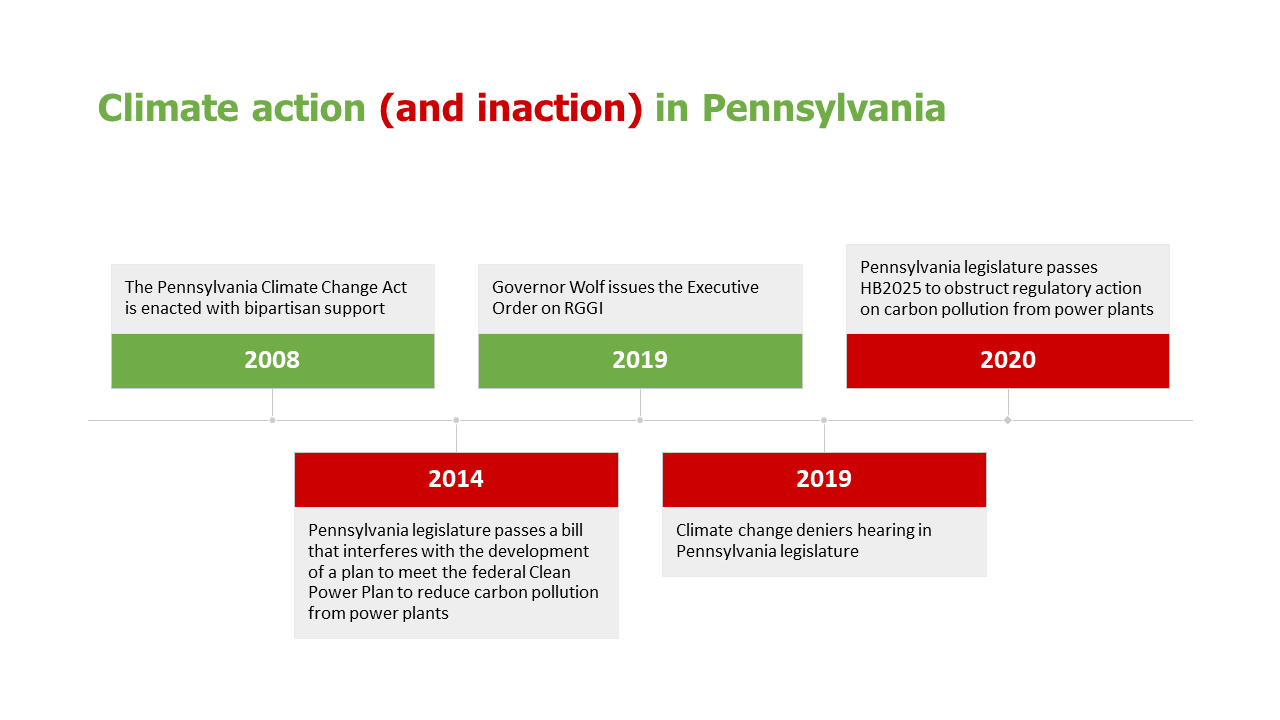 Simply put, climate plans are not helping Pennsylvanians plan on climate if they are not being put into action. Similarly, more time to consider RGGI means less time the program is actually helping Pennsylvanians.
More delay means more consequences for health and climate
Every year RGGI is not in place means more carbon, soot, and smog pollution impacting Pennsylvanians' health and welfare. The longer Pennsylvania waits to adopt declining limits on carbon pollution, the harder it will be for Pennsylvania to meet its near- and long-term climate goals.
Additionally, while much more progress needs to be made, DEP noted that as of 2016 "Pennsylvania has already exceeded its 2030 CPP goal… through a combination of market-driven techniques like fuel switching and renewable energy standards while maintaining its status as a net energy exporter," which makes it clear that carbon emissions reductions can be quickly achieved in Pennsylvania while maintaining a reliable electric grid.
Furthermore, there are looming retirements of zero-emitting nuclear power plants in Pennsylvania that could be implicated by a delay. If those plants retire, they will likely be replaced by higher-emitting generation resources that could lock in emissions for decades and also would require additional capital expenditures to build. Sinking more resources into polluting power plants now could mean that Pennsylvania risks being left behind in the climate and clean energy transition at a time when we are seeing major shifts in federal climate policy. There is also increasing recognition in the marketplace and among investors of the importance of a zero-emissions future, and major companies are moving aggressively to achieve their own climate targets.
The RGGI program also includes flexibilities like a three-year control (compliance) period with requirements that regulated entities hold auction allowances to cover at least 50 percent of their total emissions for each of the first two years of the control period – meaning they don't have to buy all the allowances they need immediately and can defer some purchase of emissions allowances, if preferred, to later in the three-year control period.
Investments from RGGI are needed now
Additionally, a core feature of the RGGI program is that proceeds can be invested immediately (starting in 2022 in Pennsylvania) in a variety of programs and projects that further reduce emissions, deploy clean energy and efficiency, and assist with ensuring fairness for workers and communities impacted by the decades-long decline in coal-fired power generation across the state. Pennsylvania could see hundreds of millions of dollars in proceeds in its first year – even up to nearly half a billion dollars, based on recent RGGI auction prices. These investments can provide meaningful relief to citizens and communities clamoring for results, not platitudes, while ultimately preparing the state for the zero-emissions power grid that is coming.
Numerous power generators, clean businesses, and investors have weighed in on Pennsylvania's draft RGGI rule, underscoring the significant opportunity it provides and the need for immediate action. Below are some highlights from a handful of comments offered during the Environmental Quality Board public comment period on the draft RGGI rule.
Pennsylvania's power sector is at a true crossroads, and inaction is not an option if Pennsylvania hopes to achieve its climate goals, slash air pollution, and invest in communities on the front lines of pollution, as well as the energy transition, at the pace and scale needed.  Pennsylvania also cannot sit on the sidelines if it wants to remain competitive in a carbon-constrained world. By moving forward with RGGI, Pennsylvania can attract companies that are looking for states with climate-friendly policies that will help them meet their own goals and obligations to address climate change, and this translates to the jobs of the future that we will need more than ever as we rebuild post-pandemic.
The commonwealth is ready to step into a cleaner energy future. Delaying progress on RGGI will make it much harder to catch up.