This has been a busy election season in New Mexico with a ballot that included every seat in the state legislature, an important constitutional amendment and a critical presidential contest.
On top of that, the state released its second annual interim climate report, with the key findings highlighting the need for further emissions-cutting action to achieve Governor Michelle Lujan Grisham's climate goals.
All in all, it's a lot to process.
Here are the key takeaways from this busy season that will shape the climate and environmental agenda in the months to come, including a new legislative session.
New Mexicans reward climate champions at the ballot box
The state legislature just got friendlier on critical issues like reducing pollution and protecting the health of local communities. New Mexicans understand how climate change has the state in its crosshairs with increased droughts and wildfires becoming a too common occurrence.
An August 2019 poll found that two-thirds of New Mexico voters want strong limits on statewide carbon emissions, zeroing out such pollution by 2050. This cycle, polling in key, targeted legislative districts found that voters strongly support by a two to one margin action to place limits on carbon emissions and are willing to support candidates that will address climate change through a limit on carbon pollution that declines over time. Voters in these districts delivered, sending key new conservation allies like Katy Duhigg, Carrie Hamblen and Brenda McKenna to the State Senate and Kristina Ortez to the House while protecting champs like Representatives Melanie Stansbury and Matthew McQueen as well.
In all, more than 80% of candidates for the state legislature endorsed by Conservation Voters New Mexico won, which is great news for Governor Lujan Grisham and legislative leadership as they look to go big on codifying climate limits in the next session beginning in January.
Voters reform the PRC to usher in cleaner energy future
Clean energy and good government also chalked up a big win as an initiative reforming the state's Public Regulation Commission (PRC) passed by a wide margin. This victory ensures qualified experts in energy policy and utility regulation will make up the board going forward.
This reform, a key priority of Gov. Lujan Grisham and legislative leaders like Senate Majority Leader Peter Wirth and House Speaker Brian Egolf, and supported by groups like Environmental Defense Action Fund (EDAF), cleans up a commission that has a long troubled history with corruption and lack of qualified members. It also removes a stumbling block for the governor's strong efforts on clean energy and climate change. These reforms will help ensure a cleaner energy future for the state.
State climate report underlines leadership and needed next steps
Meanwhile, the New Mexico Climate Change Task Force released its second annual report just days before the election, detailing the state's progress toward reducing greenhouse gas emissions and adapting to climate impacts already occurring. Importantly, the report includes an analysis showing that current and proposed climate policies will make a dent in greenhouse gas emissions, but the state will need further action to reach Gov. Lujan Grisham's strong, science-based goal of 45% emissions reduction by 2030.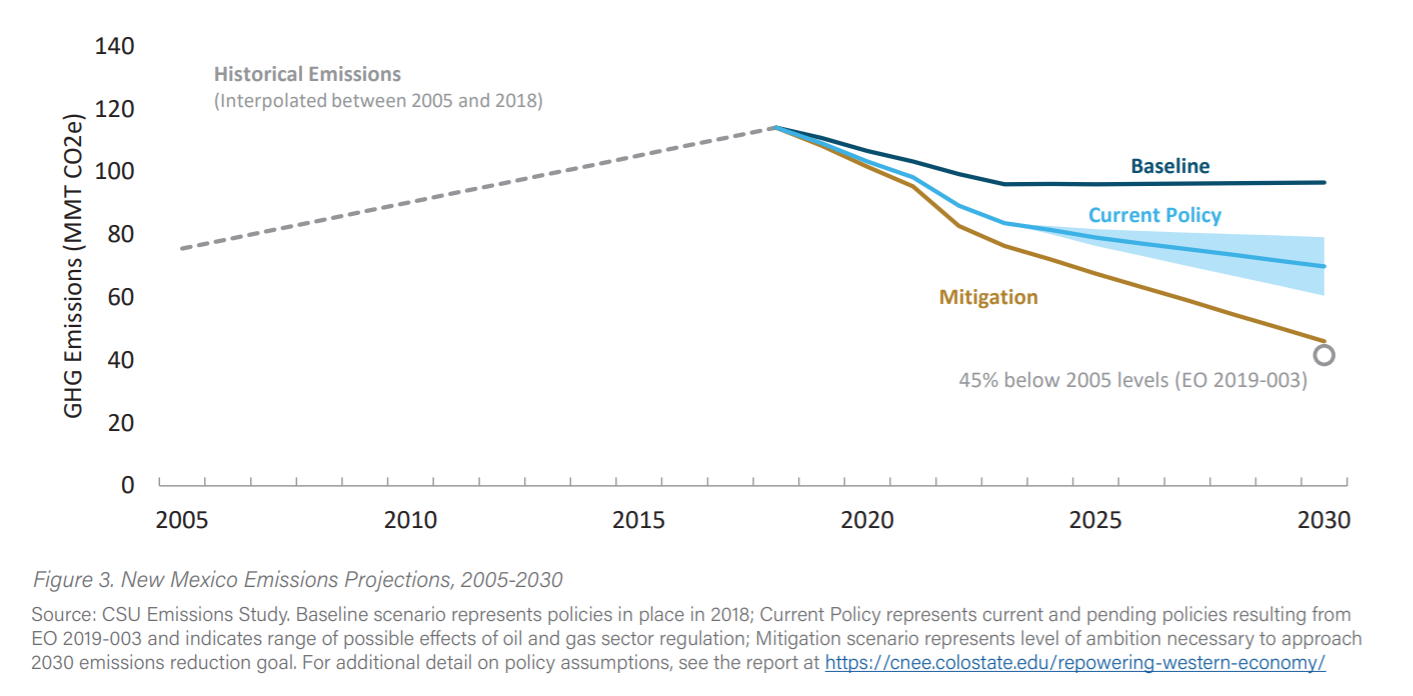 The report puts an emphasis on a broad, inclusive stakeholder conversation in 2021 around the sorts of tools that will be utilized to meet the reduction goals. Including a framework for climate equity that is developed with environmental justice communities is essential, as well as examining both direct regulation and market mechanisms that will be important to ensuring the best decisions are reached for the benefit of all New Mexicans
Critically, the report also underlines the need for New Mexico's regulators to do more to close loopholes in their draft methane rules given that oil and gas emissions are the largest source of climate pollution in the state. If the loopholes are not addressed, Gov. Lujan Grisham's administration will fall short of their ambitious and needed targets.
Climate action, clean air on the agenda as we look ahead to the next legislative session
All these results – from the ballot box to the state's newly updated climate analysis – point to the opportunity for strong climate and clean air action when the legislature convenes in January.
Speaker Brian Egolf has made a climate policy package a priority for next session, a critical opportunity for legislators to build on – and complement – the important groundwork that Gov. Lujan Grisham has laid beginning with her January 2019 Executive Order to reduce greenhouse gas emissions.
Legislative efforts should include key policy pieces such as codifying these climate targets into law and directing the New Mexico Environment Department (NMED) to implement rules by a date certain to ensure the pollution reduction goals are met. And eliminating the harmful "no more stringent than" provision that for far too long has handcuffed New Mexico's environmental agency from creating air pollution protections more stringent than federal regulations and addressing key environmental justice issues.
Voters across New Mexico turned out this election to support strong climate action. And that action should begin now.