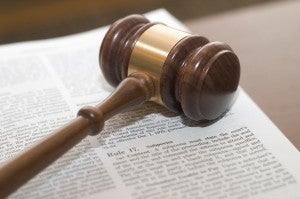 (EDF Legal Fellow Samantha Caravello co-authored this post)
A U.S. District Court judge has halted Interior Secretary Ryan Zinke's latest effort to suspend the Bureau of Land Management's (BLM) Waste Prevention Rule.
The judge issued a preliminary injunction last night in response to legal challenges brought by the states of California and New Mexico, and by EDF and a coalition of conservation and tribal citizen groups.
The court decision ensures that the Waste Prevention Protections are in full force and effect, delivering important benefits to tribes, ranchers and families across the West. It also demonstrates that facts matter, and that public input matters — and, as the court recognized, Zinke ignored both when he suspended the Waste Prevention Rule.
Here are some key takeaways from the court's decision.
Zinke's suspension would have resulted in immediate and irreparable harms
The Waste Prevention Rule requires that oil and gas companies take common sense actions to prevent the waste of valuable natural gas on federal and tribal lands. These actions also reduce harmful air pollution including methane, and smog-forming and toxic pollutants.
Judge William Orrick, of the U.S. District Court for the Northern District of California, found that Zinke's attempt to suspend the Waste Prevention Rule would have real, immediate, and irreversible effects on public health and the environment.
In reaching this conclusion, the judge highlighted the severe health threat that Zinke's suspension would pose for people living near oil and gas operations.
He cited:
"[T]he waste of publicly owned natural gas, increased air pollution and associated health impacts, and exacerbated climate impacts." (Order, page 2)
The judge referred to declarations from EDF experts and members that documented these health and climate harms, including:
"Environmental Defense Fund member Francis Don Schreiber, for example, resides on a ranch in Governador, New Mexico, where there are 122 oil and gas wells either on or immediately adjacent to his land, all managed by BLM and subject to the Suspension Rule…. He notices an 'extremely strong' 'near-constant smell from leaking wells,' which 'make[s] breathing uncomfortable' and causes concern that he and his wife 'are breathing harmful hydrocarbons…' As Schreiber suffers from a heart condition and has already had open heart surgery, he is 'at a higher risk from breathing ozone,' and is 'constantly concerned about the impact of the air quality on [his] heart condition.'" (Order, page 26)
"Dr. Ilissa B. Ocko, climate scientist, states that the 175,000 additional tons of methane that will result during the one-year suspension is 'equivalent to the 20-year climate impact of over 3,000,000 passenger vehicles driving for one year or over 16 billion pounds of coal burned.'" (Order, page 25)
"Dr. Renee McVay, whose research focuses on atmospheric chemistry, estimates that approximately 6,182 wells subject to the Waste Prevention Rule are located in counties already suffering from unhealthy air with elevated ozone levels… The Suspension Rule will result in additional emissions of 2,089 tons of VOCs in these already at-risk communities, where many of the conservation and tribal group plaintiffs' members reside, leading to and exacerbating impaired lung functioning, serious cardiovascular and pulmonary problems, and cancer and neurological damage." (Order, page 25)
The court concluded:
"Plaintiffs list several environmental injuries with effects statewide, to the general public, and on the personal level, any of which might be sufficient to establish likely irreparable harm." (Order, page 27)
Facts and analysis matter
In addition to these irreparable harms, the court found that EDF and our allies were likely to succeed on the merits:
"Plaintiffs have provided several reasons that the Suspension Rule is arbitrary and capricious, both for substantive reasons, as a result of the lack of a reasoned analysis, and procedural ones, due to the lack of meaningful notice and comment." (Order, page 29)
Under the law, when a federal agency seeks to change a prior policy – as Zinke did when he sought to suspend the common sense requirements in the Waste Prevention Rule – that agency must provide "good reasons and detailed justification." (Order, page 12)
The court found that Zinke fell short of these important requirements because he repeatedly "fail[ed] to point to any factual support underlying [his alleged] concern[s]" over the Waste Prevention Rule. (Order, page 14)
The court carefully evaluated each alleged justification for the suspension put forth by Zinke, and found them all lacking.
For example, the court noted that with respect to Zinke's "concerns" regarding production wells:
"[C]ounsel for the government essentially conceded that it was in possession of no new facts or data underlying this 'newfound' concern.'" (Order, page 14)
Ultimately, the court found:
"[I]t appears that BLM is simply casually ignoring all of its previous findings and arbitrarily changing course." (Order, page 17, internal quotation omitted)
The court's careful analysis underscores that these facts matter, and that Zinke cannot ignore the substantial record evidence supporting the common sense standards in the Waste Prevention Rule.
Public input matters
The court also found that Zinke attempted to ignore key input from the public on the suspension of the Waste Prevention Rule by deeming comments on the importance and effectiveness of the Waste Prevention Rule "outside of the scope" of his action. (Order, page 23)
The court found Zinke's "refus[al] to consider" this important input on "integral" issues was inconsistent with bedrock requirements of administrative law.
The fight to protect these safeguards is not over
The court has now determined that EDF and our allies are "likely to succeed on [our] claim that BLM failed to consider the scope of commentary that it should have in promulgating the Suspension Rule and relied on opinions untethered to evidence." (Order, page 24)
Next, the case will proceed to the merits stage, in which the court will issue a final decision on the legality of Zinke's suspension of the Waste Prevention Rule. A schedule has not yet been set for this next phase of the litigation.
However, just as the court was blocking his suspension, Zinke was separately trying to rescind nearly all of the key provisions of the Waste Prevention Rule that he was also trying to suspend.
Zinke acknowledges that this rescission will cost taxpayers millions in lost royalties, and will result in additional emissions of climate-warming methane as well as smog-forming volatile organic compounds and hazardous air pollutants – but he nonetheless is proposing to eliminate the protections in the Waste Prevention Rule.
BLM is accepting public comment on the rescission proposal until April 23. It is important that Zinke continue to hear from the public about the harmful impacts that will result from his actions to remove these common sense protection. Comments on the proposal can be filed here.