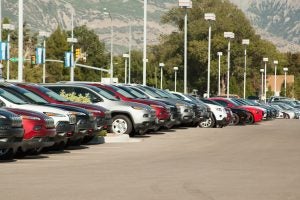 The past couple of weeks have seen a whirlwind of announcements related to the U.S. auto industry.
The century-old industry has been hailed as the fastest U.S. job creator – expanding payroll by "nearly 35 percent" in recent years. Manufacturers have introduced dozens of new, fuel-efficient models. Technology companies and automotive manufacturers are collaborating more than ever to add features, and to get the world ready for self-driving vehicles.
The need for climate action has been a critical driving factor in each of these trends.
The Clean Car Standards have been focusing auto industry investment and innovations since they were finalized in 2010. Over that time, the automobile industry has made a dramatic return to profitability and added jobs – all while exceeding the Clean Car Standards. The industry has also started to bring to market a new generation of fuel-saving solutions.
Confirmation of these trends could be found at the recent Consumer Electronics Show and the Detroit Auto Show, where manufacturers paraded out their latest developments.
Ford stated that it expects sales of electric vehicles will overtake sales of gas-fueled vehicles within 15 years. Ford showcased its ability to improve conventional vehicles by unveiling the 2018 model Ford F150 – the best selling vehicle in the U.S. – with options for a more fuel efficient 3.3 liter six cylinder engine and automatic stop-start technology. It also announced new hybrid versions of the F-150 and Mustang by 2020. The company promised a new fully electric SUV vehicle with 300-mile range by 2020.
General Motors (GM) celebrated having the fully-electric, 238-mile range Chevy Bolt awarded the North American Car of the Year or Truck of the Year. The Chevy Bolt was previously awarded Motor Trend Car of the Year. The Bolt, which came to market last month, is also at the center of GM's work on self-driving vehicle technology
Nissan announced a new generation of its LEAF electric vehicle, with "autonomous drive functionality" for highways.
Honda publicized its plan to introduce a new, U.S.-made hybrid vehicle in 2018 and roll out its Clarity Electric and the Clarity Plug-In Hybrid vehicles.
Toyota appointed its president (grandson of the company's founder) to lead their newly formed electric car division, in an effort to "speed up development of electric cars." 
Volkswagen – unveiled a prototype electric van capable of a 270-mile range and with room for eight-passengers. The company has committed to have at least 25 percent of its global sales be electric vehicles by 2025.
Samsung introduced a new lithium-ion battery cell for electric vehicles. The battery promises over 350 miles of range and a 20-minute fast charge. The battery is slated for production in 2021.
Tesla declared that its gigafactory for battery production was open for business. The Reno, Nevada facility already employees almost 3,000 workers, and is ultimately expected to employ 6,500 in full-time positions.
Mercedes announced in Paris last year that electric cars would account for 25 percent of the company's deliveries in 2025, backed by plans to invest $1.1 billion in battery technology.
As these developments show, automakers and their suppliers are investing and bringing to market clean vehicle solutions beyond what even the Clean Car Standards require.
These companies are making these investments because there is a robust domestic market for clean cars. Electric vehicle sales in the U.S., for example, were up more than 50 percent in the second half of 2016 (compared to 2015).
Companies are also making these investments to stay competitive in a global race that will define the next chapter of mobility. GM, for example, had a third of its global sales in China in 2016. China is the largest market worldwide for electric vehicles and plug-in hybrid electric vehicles, and if U.S. automakers want to be competitive there they will need to stay on the leading edge of the technology curve. Autotomy and electrification will be the hallmarks of this new, global chapter.
By driving more investment in future offerings, the Clean Car Standards help position U.S. manufacturers to win this race at home and abroad.
This perspective was recently voiced by the United Auto Workers, which noted:
"Our competitors around the globe are working to strengthen environmental standards and it would be counterproductive to enact policies that provide disincentives for investing in advanced technologies and improving efficiency. History has taught us that a diverse fleet is essential for strong export sales and keeping jobs in the United States. Efficiency and emission standards can and must continue to be a win-win for the environment, working families, domestic manufacturing and the overall economy."
We couldn't agree more.