More fuel efficient, lower emission heavy trucks are good for business, good for consumers, and good for combating climate change. By deploying existing and emerging technologies to improve truck efficiency, the U.S. can save billions in fuel expenses while cutting harmful climate pollutions by millions of tons.
EDF is calling on the Obama Administration to set new fuel efficiency and greenhouse gas standards for heavy trucks that cut fuel consumption by 40 percent compared to 2010 levels. These standards would apply for freight trucks and heavy-duty work trucks, such as box delivery trucks, bucket trucks, beverage delivery trucks and refuse trucks.
Analysis by leading environmental and energy efficiency advocates, including EDF, demonstrates that bold heavy truck standards are technically feasible and will be effective in cutting oil consumption and climate pollution.
Strong standards will be good for American business and consumers too.
EDF and Ceres examined how strong standards would affect the cost of moving freight by trucks. The results are unequivocal — strong standards will save companies money.
For example, an owner of a new tractor-trailer unit stands to save between $21,000  and $36,000 during the first year the truck is in service.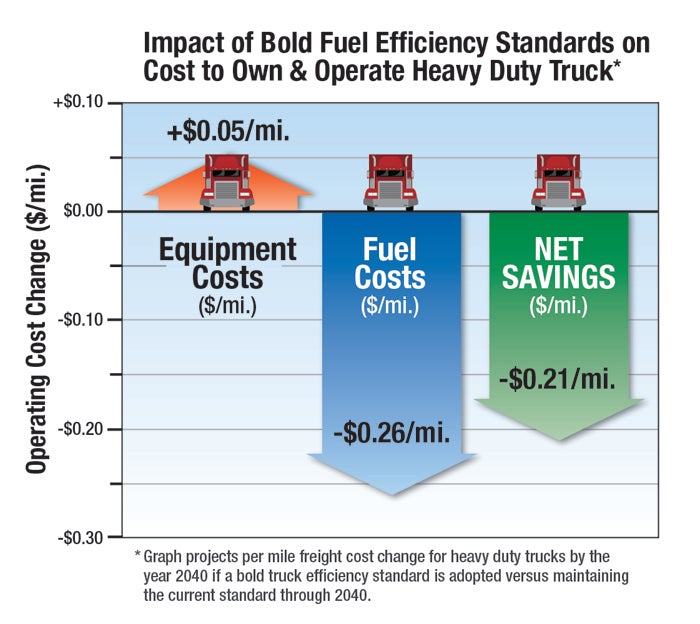 By 2030, the combination of both phases of standards will cut fuel use by 1.4 million barrels per day and reduce carbon pollution by 270 million metric tons, compared to the fuel use and emissions that would occur without fuel efficiency improvements.
Companies stand to save nearly $8 billion dollars in 2030 too, as the cost-per-mile to move freight will decrease by $0.07 a mile as a result of the second phase rules alone.
By 2040, these savings could grow to $25 billion annually, as the net effect of the second phase of the standard alone could be to reduce the per-mile cost of moving freight by 21 cents.
Our finding of significant financial benefits of strong fuel efficiency and GHG standards is consistent in magnitude with previous analysis. A recent report by the Consumer Federation of America looked at similar Phase 2 standards and found net savings of $250 to consumers, rising to $400 per household in 2035 as fuel prices and transportation services increase.
With such savings at hand, a natural question is why do we need new standards in the first place? We need new standards because well-designed federal standards foster the innovation necessary to bring more efficient and lower emitting trucks to market.
Strong standards break down barriers that keep technologies from moving from the test track to the assembly line.
Manufacturers need to be confident in market demand in order to develop and launch efficiency improvements. Strong standards give them the certainty they need.
Fleets are often weary of investing in advanced technologies; as such capital investments could put them at a disadvantage if fuel prices drop suddenly, like they did in 2008. For-hire trucking fleets also directly pass on a large percentage of their fuel bill through fuel surcharges to their customers, thus distorting the economic incentive to invest in efficiency.
Manufacturers and fleets can benefit significantly from strong standards. As the EDF analysis demonstrates, manufacturers will have a market for more valuable equipment; while fleets will achieve significant overall savings.
In fact, this is just the type of impact we are seeing from the first phase of heavy trucks standards, which went into effect at the start of this year. Fleets and Manufacturers are praising the rule and new, cost-effect offerings have come onto the market.
Moving forward on strong heavy-truck efficiency and emissions standards is a step that our country needs to take.