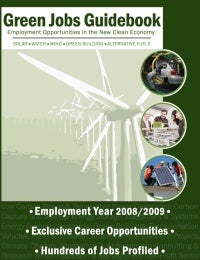 Today we're launching a resource for people who want to enter the green job market. Our new Green Jobs Guidebook is a first of its kind, addressing everything from where to get training, to where to find good-paying jobs that help the environment. The guide focuses on California, but much of the information is applicable anywhere in the country.
I co-authored the guide with California Green Jobs Associate Amy Pasciucco. Together we painstakingly researched green employment opportunities and expected salaries, compiled growth projections, and identified the experience and education levels required by employers.
And we didn't stop there.
The Green Jobs Guidebook identifies job training and placement assistance programs across the state of California. The training programs are at all levels, ranging from paid union apprenticeships to free non-profit organization job training to formal degree programs. We combed through hundreds of community college program listings to identify schools offering green curriculums and apprenticeship programs.
Our research showed there are tremendous opportunities in the green economy for people at all skill levels. Whether you're looking for a job right out of school or you'd like to gain new skills, you should find the guide useful.
We created the Green Jobs Guidebook to connect job seekers with opportunities. Please take a look and tell us what you think.
This post is by Tim O'Connor, an attorney and climate change analyst for the California Initiative at Environmental Defense Fund.