Editor's note: This post was last updated April 21st, 2021.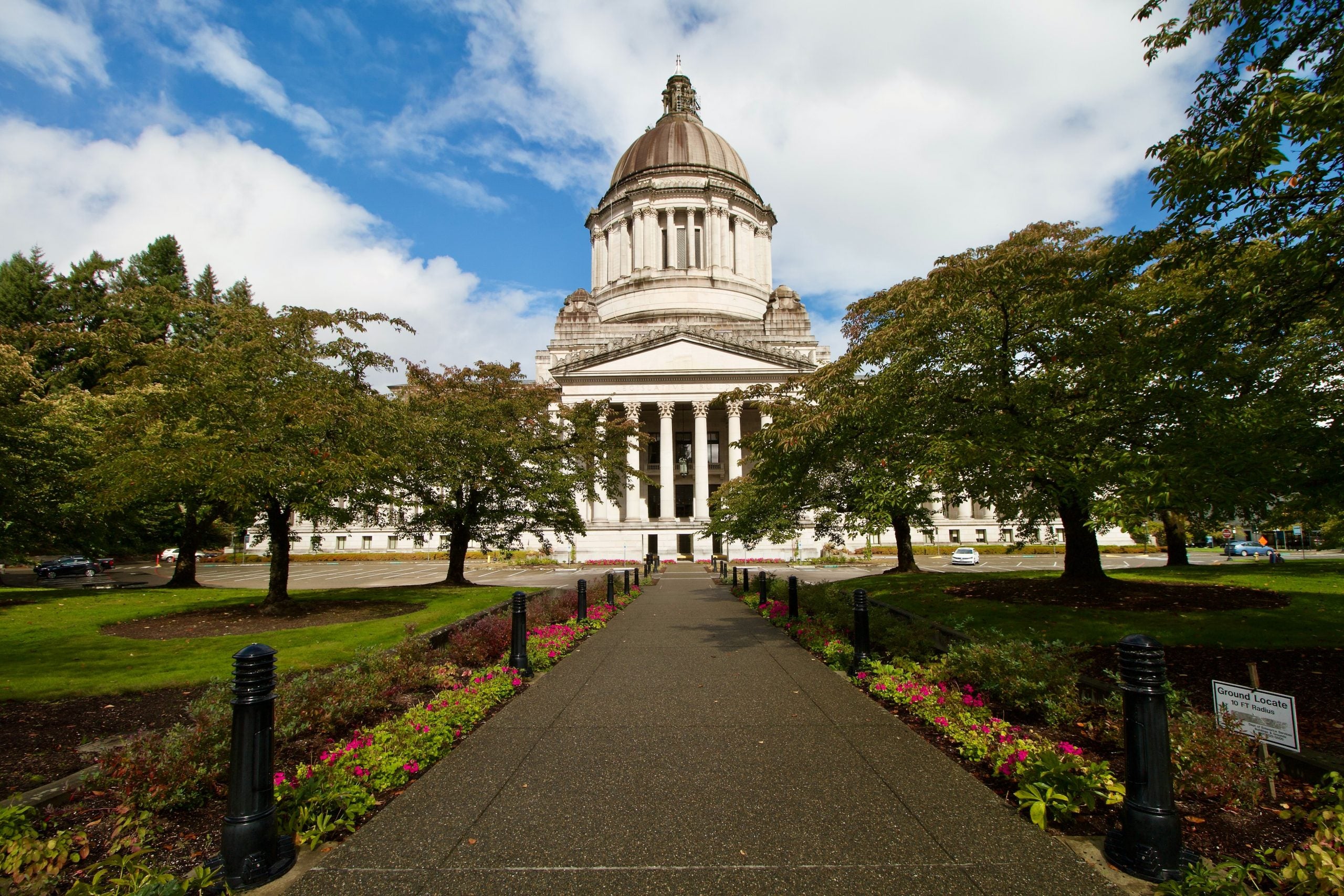 Washington has an opportunity in the Climate Commitment Act to adopt transformative climate policy. It would enable the state to slash greenhouse gas emissions at the pace and scale necessary to fight the climate crisis, help address the disproportionate and historic pollution burden in many low-income communities and communities of color, and provide a policy model for other states on how to achieve their emission reduction goals.
There are many reasons the Legislature should act swiftly to ensure this landmark policy becomes law. Here is a rundown of the key features, how they work and why they matter.
Key features of the Climate Commitment Act
Setting a cap on greenhouse gas emissions: To ensure that emissions are cut in line with Washington's 2030, 2040 and 2050 greenhouse gas reduction goals, the Climate Commitment Act would place a binding, declining limit on greenhouse gas emissions. All major sources of pollution in the state would be covered under the emissions cap. This limit provides the greatest possible certainty that Washington will meet its goals, all the more essential since Washington is not currently on track to meet its 2030 goal without new policy.
The cap—or pollution limit—is the most important part of the proposed climate program, and maintaining the integrity of the cap is paramount. The cap declines annually, and is enforced through emissions permits—also known as allowances. Every polluting facility covered under the program needs to hold one allowance for every ton of greenhouse gas that it emits—and, critically, each year the Department of Ecology would create only as many allowances as the cap allows (one allowance per ton). With this framework, total greenhouse gas pollution from covered sources cannot be greater than is allowed under the limit.
Allocating allowances to stay under the emissions cap: Once the state determines the number of allowances to be created so that Washington doesn't exceed its emissions cap, there are many options to distribute those allowances. The Climate Commitment Act uses a combination of methods, similar to California:
Direct allocation to utilities for the benefit of ratepayers. The purpose of this is to prevent sudden increases in utility prices, especially for lower-income households.
Direct allocation to some industry to prevent leakage. This is to prevent business in Washington from moving over the border to avoid greenhouse gas regulation – but simply polluting in another state without facing any carbon price and taking jobs with them.
Auction of allowances. Any allowances that are not given to regulated companies are auctioned off by the Department of Ecology to entities that need them for compliance. As the number of allowances declines, pollution will go down. For emissions that remain, though, there is a "price" for every ton of pollution. This is where the carbon price is determined: the cost of purchasing an allowance at auction is set by the market.
Because the overall number of allowances declines each year, companies will receive fewer allowances each year, and allowances that are sold will become ever more expensive over time. Entities that do not secure enough allowances will face significant penalties. This is how a firm, declining cap guarantees emission reductions: as allowances become more scarce and expensive, companies are incentivized to make greater investments in reducing their emissions.
The more allowances that are auctioned directly, the more revenue generated for Washington. And as long as the total number of allowances created does not exceed the emissions cap, the environmental integrity will be intact.
Securing emissions data and compliance:  The Department of Ecology will collect annual, verified greenhouse gas emissions data from every entity covered by the emissions cap. This will determine how many allowances each entity needs to turn in for compliance with the cap-and-invest program. Entities will turn in any allowances they have been given by Ecology, and any they have purchased, to "cover" all of their emissions.
If an entity fails to turn in sufficient allowances for compliance, they are "fined" and required to turn in four allowances for each ton of greenhouse gas emissions. This makes their compliance obligation four times what it would otherwise be, a significant penalty for not complying in an accurate and timely manner.
Allowing offsets to help cut emissions in limited cases: The Climate Commitment Act allows a small number of offsets to be used for compliance, in addition to allowances.
An offset is a credit for activities that reduce greenhouse gas emissions outside of capped sectors, as long as those emission reductions are permanent, verifiable, and would not have happened anyway. Each offset would create one ton of emissions reductions, and Ecology will reduce the total amount of allowances issued each year to "make up for" the allowed level of offsets to ensure that the overall amount of allowances and offsets together does not exceed the level of the emissions cap. In the legislation, the use of offsets is very constrained, requires that at least half of offsets come from activities that provide direct environmental benefits to Washington, and includes specific set-asides for offsets from tribes. This approach provides a pathway to reduce emissions from other sources without compromising how much pollution declines from the sources covered by the cap.
Well-designed, high-integrity offsets can provide important environmental benefits by protecting vulnerable forestland, capturing methane, restoring grasslands and more. While it is essential to maximize emission reductions directly from pollution sources, offsets are an important feature for generating near-term climate benefits where reducing onsite emissions is not yet feasible.
Opening the door for potential multi-state collaboration: This bill would allow for the possibility of linking Washington's climate program with California and Quebec's and other states in the future, which would lower the cost of the overall program. This matters because lower costs will enable earlier and faster reductions, helping us minimize the build-up of harmful emissions in the atmosphere.
The legislation requires that Washington ensure any program they consider linking with would not hinder Washington's ability to meet its greenhouse gas reduction goals, and makes clear the state must retain control of policy design.
Adjusting through regular program review: Lastly, the Climate Commitment Act builds in regular program reviews to ensure that Washington is on track to reduce its emissions in line with its climate goals. This regular review, at predetermined times, ensures that there is predictability for the regulated entities. It also creates a standing opportunity to adjust the program as needed at some point in the future if there was an opportunity or need to increase the ambition of the program, including by reducing the number of allowances.
Equity innovations in the Climate Commitment Act
Washington is not the first state to adopt or consider a cap and invest-type program, but the Climate Commitment Act makes a number of important advances in addressing equity and local air quality. These aspects of the bill also build a model for other states to follow in updating or developing their own comprehensive climate and air quality programs.
Cutting local air pollution in communities bearing heavy cumulative burden: This transformative provision sets a new bar for other cap and invest-type programs to meet. Under the Climate Commitment Act, the Department of Ecology has to identify communities in Washington with high cumulative pollution burdens, and engage with those communities to deploy air pollution monitors and evaluate every two years if pollution in those specific communities is decreasing. If pollution is not declining, then Ecology must place additional requirements on facilities contributing to that cumulative burden, including air quality standards or emission limits on criteria pollutants. Importantly, this includes an equity innovation by which Ecology can further limit the use of offsets by facilities in overburdened communities.
This explicit connection between global climate pollution and local pollution burden is a massive leap forward in climate policy, and is a new level of accountability for impact on communities for both emitters and regulators.
Ensuring environmental justice review of state collaboration: The Climate Commitment Act allows for potential, future linkage with other state climate programs. But critically, it adds a provision that previous cap and invest-type programs have not used. To participate in a linked program, there must first be a determination that linking the programs will not cause adverse impacts to overburdened communities, and there must be meaningful benefits to these communities.
Providing direct benefits through climate investments: Revenue raised from the sale of allowances will help fund activities that build climate resilience, improve air quality, and create green jobs. The Climate Commitment Act requires at least 35%, with a goal of 40%, of these investments to provide direct and meaningful benefits to communities that are disproportionately burdened with environmental harms and health impacts, and for these investments to be guided by an environmental justice assessment. An additional 10% of the investments must also go to tribal projects and programs.  Additionally, revenue will help support the as-yet-unfunded Working Families Tax Credit.
Importantly, these investments will be guided by an environmental justice assessment to ensure that these funds are used to alleviate environmental disparities. It will be essential that transportation investments from the forward flexible account are also subject to a minimum of 35% of funding to benefit overburdened communities, who breathe a disproportionate share of vehicle pollution.
Maintaining meaningful engagement through a standing environmental justice advisory committee: It is vital for frontline communities and tribes to have a continuous voice in all aspects of implementing this act – not just when there are program reviews. The Climate Commitment Act establishes a standing Environmental Justice and Equity Advisory Panel, with representation from overburdened and tribal communities across the state, as well as unions. The group is tasked with advising on policy design, revenue investment and any potential program linkages. The Advisory Panel will also hear annual reports from agencies spending cap-and-invest revenue to ensure its meeting the environmental justice and workforce development goals of the bill.
Adopting the Climate Commitment Act could be a tipping point to catalyze action across the United States – both in slashing climate emissions but doing it in a way that addresses localized pollution as well. This could be the new gold standard for other states to follow. We encourage the Washington House of Representatives to take swift action to support the Climate Commitment Act.