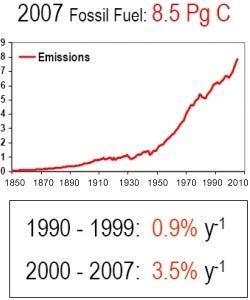 Last Thursday, the Global Carbon Project released its annual report on the state of the carbon cycle, Carbon Budget 2007 [PDF]. It emphasizes (as we reported earlier this year) that CO2 levels are continuing upward, and the rate of increase is accelerating.
One reason for the acceleration in CO2 concentrations is higher fossil fuel emissions. Despite rising fuel prices, global CO2 emissions from fossil fuels rose 3 percent in 2007. That's just slightly below the average increase of 3.5 percent per year since 2000.
The rate of increase for emissions lies at the upper end of the range projected by the IPCC, suggesting that we're headed towards the most disruptive scenarios they envision. Action to stop climate change is urgent.
Check out the full report for details on what factors account for the increase. Also, the Dot Earth and Climate Progress blogs have interesting takes on the report.
This post is by James Wang, Ph.D., a climate scientist at Environmental Defense Fund.