This post is by James Wang, Ph.D., a climate scientist at Environmental Defense Fund.
Last summer we saw record-shattering shrinkage of Arctic sea ice caused, in part, by human-induced global warming. Last week I listened in on a NASA briefing on polar sea ice, and this year looks no better.
This winter was relatively cold due to a strong La Niña, so the Arctic saw a modest increase in overall sea ice (slightly above the record low of 2005-2006, but still below the long-term average). However, the older, thicker ice that lasts through the summer has declined sharply, and this is very worrying.
There are two kinds of sea ice:
Perennial or multiyear – ice that has survived at least one summer melt season.
Seasonal or first-year – ice that typically forms each winter and disappears the following summer.
Seasonal ice is thinner than perennial – at most four feet thick versus 15 feet for perennial ice – so it breaks up and melts more easily.
Most of the ice cover in the Arctic this year is seasonal. Scientist Walt Meier described this winter's ice as "a façade" like buildings in a movie set that look solid but are actually empty shells.
Perennial ice used to cover 50 to 60 percent of the Arctic. This year it covers less than 30 percent. Very old ice (existing for 6+ years) has shrunk from over 20 percent in the late 1980s to just 6 percent this winter.
Vast regions that used to be covered by multiyear ice are now covered by first-year ice (shown in red below):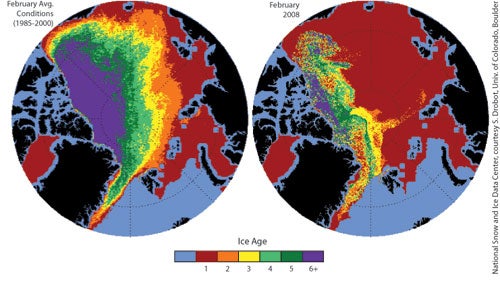 Left: February distribution of Arctic ice by age, 1985-2000 average. Right: February 2008 distribution of Arctic ice by age. Source: National Snow and Ice Data Centre.
The amount of perennial sea ice in the Arctic is at a record low. One contributing factor is last summer's record melt season. Some of the remaining perennial ice was pushed out of the Arctic by ocean currents, resulting in further loss.
The high proportion of seasonal ice means the ice pack is especially vulnerable to melting during the summer season – very bad news for polar bears and traditional hunting societies.