This post is by Lisa Moore, Ph.D., a scientist in the Climate and Air program at Environmental Defense.
January 2008 was the coldest month in several years, according to the scientific groups that track global temperature. Is it true, as DailyTech concludes, that January's cold "wipes out a century of warming"? Has global warming stopped?
In a word, no. A single month does not make for a climate trend. Let's look at the data.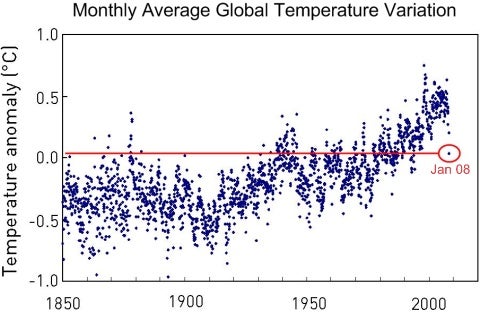 Source: Raw data from the U.K.'s Met Office Hadley Centre (see description of data).
This graph shows "temperature anomalies" – that is, the variation from a long-term average of temperatures between 1961 and 1990. A temperature anomaly of zero would mean the temperature is exactly equal to the long-term average – neither warmer nor colder. (For more on how scientists take the globe's temperature, see our previous post.)
As you can see from the graph, temperatures are trending upward over time in a zigzag pattern, not unlike the stock market. A shallow dip is followed by an even greater rise. Short-term dips should not be mistaken for long-term trends – in the stock market, or in climate!
January 2008 (circled in red) is cooler than other months in the past decade, but still significantly warmer than previous decades. Global warming isn't likely to have stopped in January 2008 any more than it stopped in March 1976, December 1984, November 1992, or February 1994. These are all short-term dips in a long-term trend.
Global warming is a process that occurs over decades. It can't be proven or disproven by a single month's temperature.