Richard Denison, Ph.D., is a Lead Senior Scientist. Lindsay McCormick is a Project Manager.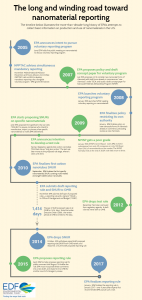 Today, EPA issued its long-awaited rule to gather risk-relevant information on nanoscale materials. The new rule will finally allow EPA to obtain basic data on use, exposure, and hazards from those that manufacture or process these materials, which has long been recognized by experts as essential to understand and manage their potential risks.
Nanomaterials – a diverse category of materials defined mainly by their small size – often exhibit unique properties that can allow for novel applications but also have the potential to negatively impact our health and the environment.  Some nanomaterials:  more easily penetrate biological barriers than do their bulk counterparts; exhibit toxic effects on the nervous, cardiovascular, pulmonary, and reproductive systems; or have antibacterial properties that may negatively impact ecosystems or lead to resistance.